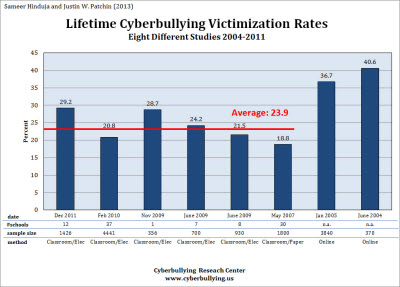 If you pay attention to the news reports of cyberbullying incidents (like we do), you would probably think that these inappropriate online behaviors are happening at epidemic levels. When we first started studying cyberbullying over a decade ago, Sameer and I would literally print out any news article we saw that talked about a cyberbullying incident – because they happened (or at least were reported) so infrequently. Now, it seems, cyberbullying occurs (and is reported) at an almost constant rate. To test this theory, set up a Google alert with "cyberbullying" and see how many articles come through every day. Your inbox will be inundated.
In contrast to this perspective, the argument has been advanced that cyberbullying is not occurring at levels that require our significant attention. Specifically, Professor Dan Olweus, who has done more to advance the scholarship of school bullying than anyone else in the world recently published an article in which he argued that "…cyberbullying is a basically low-frequent phenomenon and that there has not occurred a marked increase in the prevalence rates of cyberbullying over the past five or six years." We agree with Professor Olweus on most issues but believe that the nature and extent of cyberbullying does warrant independent empirical, legal, and educational attention. We were honored to be invited to write a commentary on Professor Olweus' remarks and those who are interested in this exchange can read our response here (you can also email us if you would like a copy of our paper).
So how much cyberbullying is really occurring? Is it an epidemic or a rarity? Well, the answer as you might guess is somewhere in between.
To be sure, we have covered this ground many times on this blog. You can also take a look at much of our original research that we include here. In Cyberbullying Prevention and Response: Expert Perspectives we reviewed all of the empirical research that had been published as of 2011 and found that across 35 refereed articles 5.5 to 72 percent of students had been cyberbullied and 6 to 30 percent of students had admitted to cyberbullying others. The School Crime Supplement of the National Crime Victimization Survey (which utilizes a representative sample of students in the US) added a handful of cyberbullying questions to their survey in 2009 and those data showed that 6% reported being bullied "by electronic means anywhere." Many additional articles have been published in the last two years but we rarely see numbers lower than 10% or higher than 40%.
In our own work, we've now surveyed nearly 14,000 middle and high school students from a variety of schools across the United States. Our first studies were online convenience samples, intended only to gather early information about an emerging problem. The last 6 studies we have done, however, have all been conducted among random samples of known student populations in schools. Across those samples, the percent of students who reported being the victim of cyberbullying ranged from 18.8 to 29.2 percent (average 23.9%). Similarly, 11.5 to 19.4 percent of students admitted to cyberbullying others at some point in their lifetimes (average 16.9%). (for more information about our methodology, please click here).
Even though we have done 8 different surveys over the past 9 years, we aren't able to look at these data in a way that identifies trends because most involved different school populations. We have surveyed students in "District A" three separate times but don't see much of a pronounced trend that shows the behaviors are increasing or decreasing. Our friends at the Crimes Against Children Research Center at the University of New Hampshire have collected data from students across the U.S. in 2000, 2005, and 2010 and saw a modest but steady increase in cyberbullying between 2000 and 2010 (from 6% to 11%). Their numbers are lower than ours because of the different way they conducted their research, but since they have looked at cyberbullying the same way in three different national studies we can use the results to estimate that cyberbullying in general seems to be increasing.
So where does this leave us? Professor Olweus is right that cyberbullying isn't some new phenomenon that is completely distinct from the bullying that has been perpetrated by and toward teens for generations. But it is occurring at levels that demand our attention and initial evidence suggests that it is increasing. We know that most cyberbullying is connected to offline relationships and that most teens who cyberbully also bully at school. Cyberbullying is neither an epidemic nor a rarity. But is it something that everyone has a responsibility to work toward ending. What are you going to do?