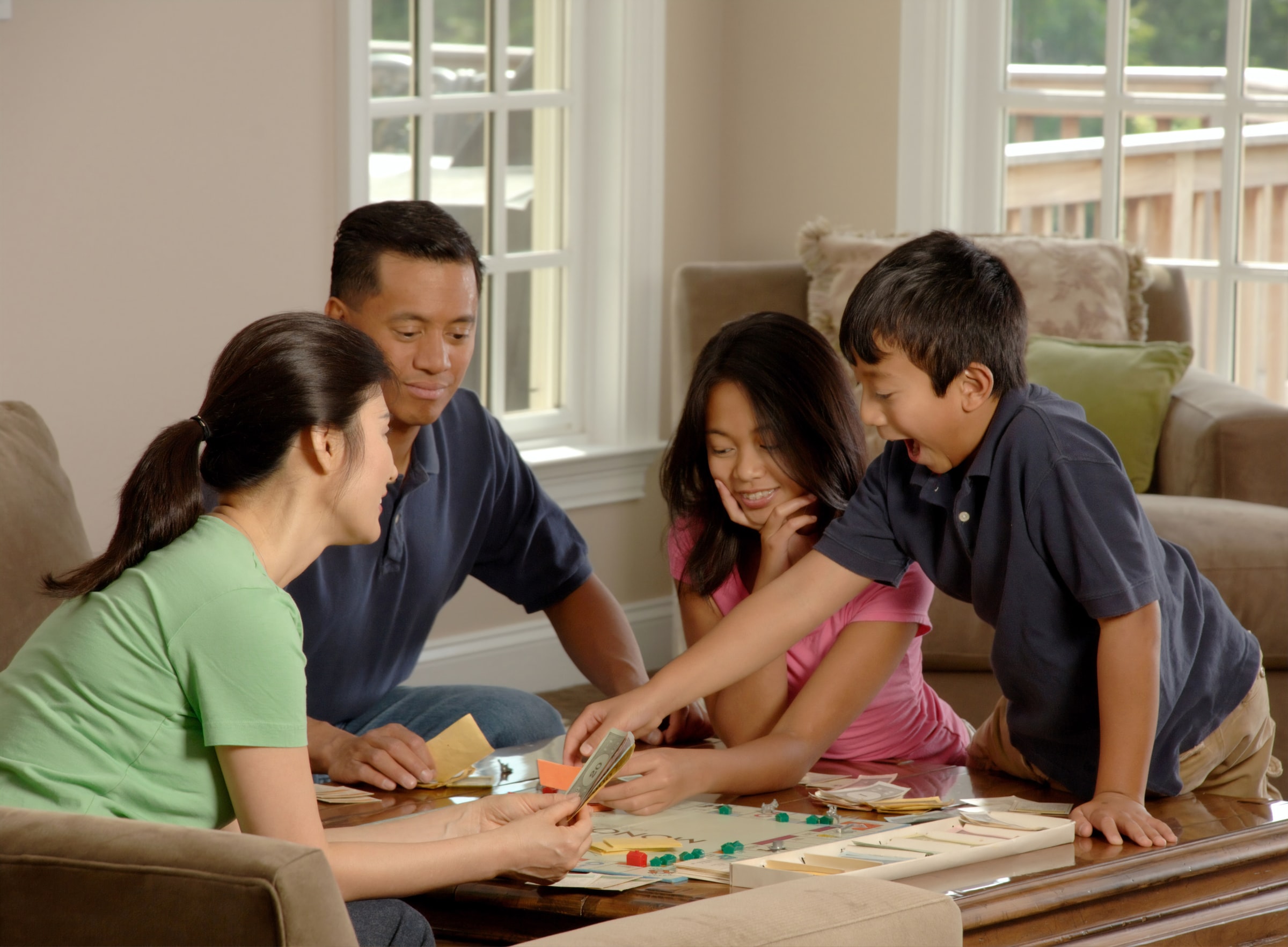 Lately we've been more directly exploring the role of parenting in preventing cyberbullying and other online problem behaviors. To be sure, parents* have a responsibility to be directly involved in monitoring and influencing the early online activities of their children. This could mean occasionally reviewing messages and regularly checking security settings, but should also include collaborative exploration (watching funny YouTube videos or playing online games together). As they get older, however, parents need to give their kids more freedom, autonomy, and privacy. The reality is that parents cannot (and probably should not) watch over everything their kids are doing online. The lessons learned and habits instilled early on can help ensure safer and more positive online choices and experiences later.
Because direct monitoring is unsustainable and too much for too long could actually impede the development of a child's independence, parents need to rely on another potent mechanism to encourage prosocial behaviors: the emotional bond. Children who are strongly bonded (emotionally attached) to their parent(s) will be less likely to misbehave in serious ways online and off.
The Importance of the Parent-Child Bond
John Bowlby, the English psychiatrist who first noted the importance of parent-child emotional relationships in the 1950s, characterized attachment as a "lasting psychological connectedness." He argued that all children have an innate desire to be connected with another (primarily their mother), and that this was functional from an evolutionary standpoint as a newborn is reliant on others for survival. While Bowlby was particularly concerned with the relationship between the child and his or her mother, subsequent research has identified the value of the father-child relationship, as well as other familial (grandparent, aunts/uncles) and non-familial (teachers, coaches, mentors) relationships in child development.
Children who are strongly attached to their parents will seek them out in times of strife or stress. The person with whom they are bonded will be their safe haven and their protector. Having this safety net in place allows children to explore beyond their comfort zones early in life, but also provides older children (especially adolescents) a place to turn when they confront adversity. A solid emotional connection is also associated with "less engagement in high-risk behaviors, fewer mental health problems, and enhanced social skills and coping strategies." The key in all of this, of course, is the positive emotional relationship.
For the most part, children are pretty good at following the rules when mom or dad is right there watching over them. If parents have developed a strong emotional connection to them, they won't want to make the parents upset by misbehaving in front of them. But what about when parents are not around? That is where the full influence of a positive emotional bond emerges.
Vicarious Supervision: The True Power of the Positive Bond
Indirect or vicarious supervision, as I call it, is the process by which children behave as if they are being supervised even when they are not. In criminology, theorist Travis Hirschi referred to this as "virtual supervision," a term that has lost some of its inherent meaning in the half century since he first used it. Of course, Hirschi wasn't talking about stalking a child's Snap story back in 1969. He was referring to the idea that children who are strongly bonded to their parents will not want to let them down by disobeying them, even when the parent isn't immediately present. That is, a child would stop to consider how a parent would feel if they found out about something the child did even when the parent wasn't there to witness it. And if child deduced that their parent would be displeased, they wouldn't do it. This can only work when the child is strongly bonded (emotionally attached) to the parent.
Our research regularly reveals that adolescents care what their parents think when it comes to what they are doing online. Almost a decade ago we published a paper that showed perceived parental (and school) punishment was associated with lower involvement in cyberbullying. More recently we published another paper which found that middle schoolers were less likely to participate in bullying and cyberbullying when they believed their parents would punish them for those behaviors. In fact, perception of parental punishment was more influential on constraining their behavior than possible punishment from educators or from the police.
We explored this relationship even further in our 2019 survey of 2,500 middle and high schoolers. We began by asking them whether their parents knew what they were doing online. Most (nearly 60%) reported that their parents knew "most of the time" or "always." We don't necessarily know how they knew, or even if they really did know, but at least from the perspective of the child, they thought their parents knew what they were doing online. It appears that this belief about parent awareness matters when it comes to inappropriate online behaviors. Children who reported that their parents knew what they were doing online "never" to "half the time" were more than twice as likely to have also reported that they cyberbullied others (17.7% vs. 8.2%) or sent a sext to others (19.4% vs. 7.8%) compared to those who said their parents knew what they were doing "most of the time" or "always."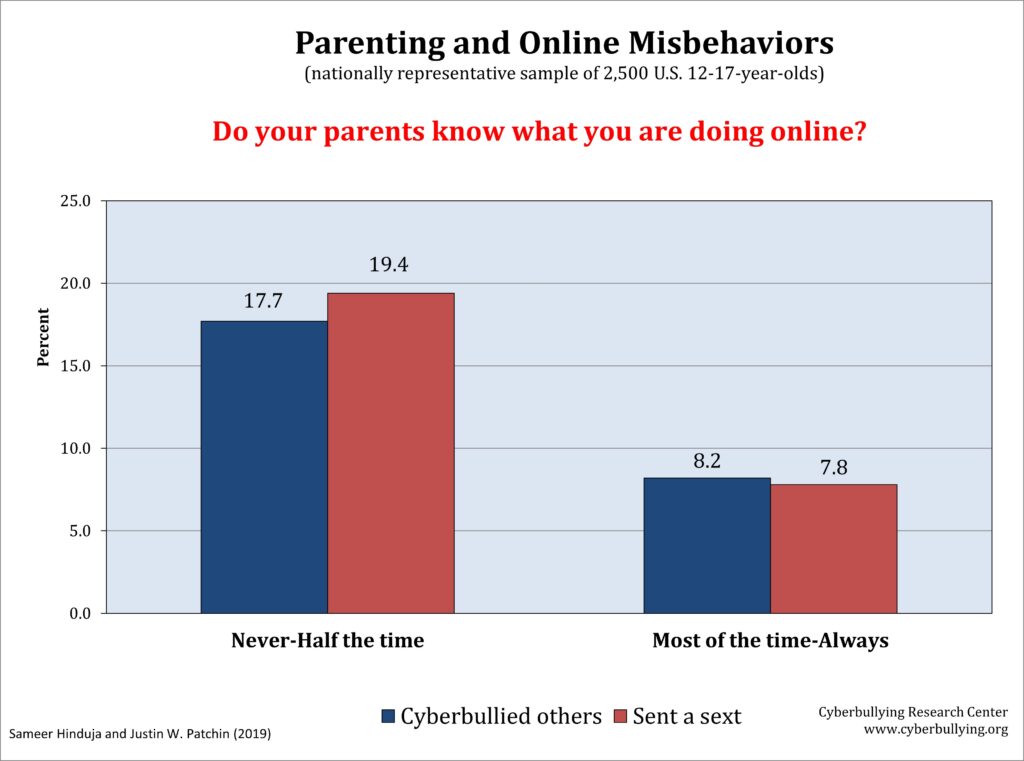 Next, we asked youth whether they think about how their parents would feel if they saw something they posted online. Almost half (45.1%) of the youth said they consider this "most of the time" or "always," and those who did were significantly less likely to have cyberbullied others (9.8% vs. 14%) or to have sent a sext (9.6% vs. 15%) than those who did not think about how their parents would feel (or only sometimes did). We also asked the youth to tell us who or what they considered, in the moment, when posting things online. More than half of them said their parents.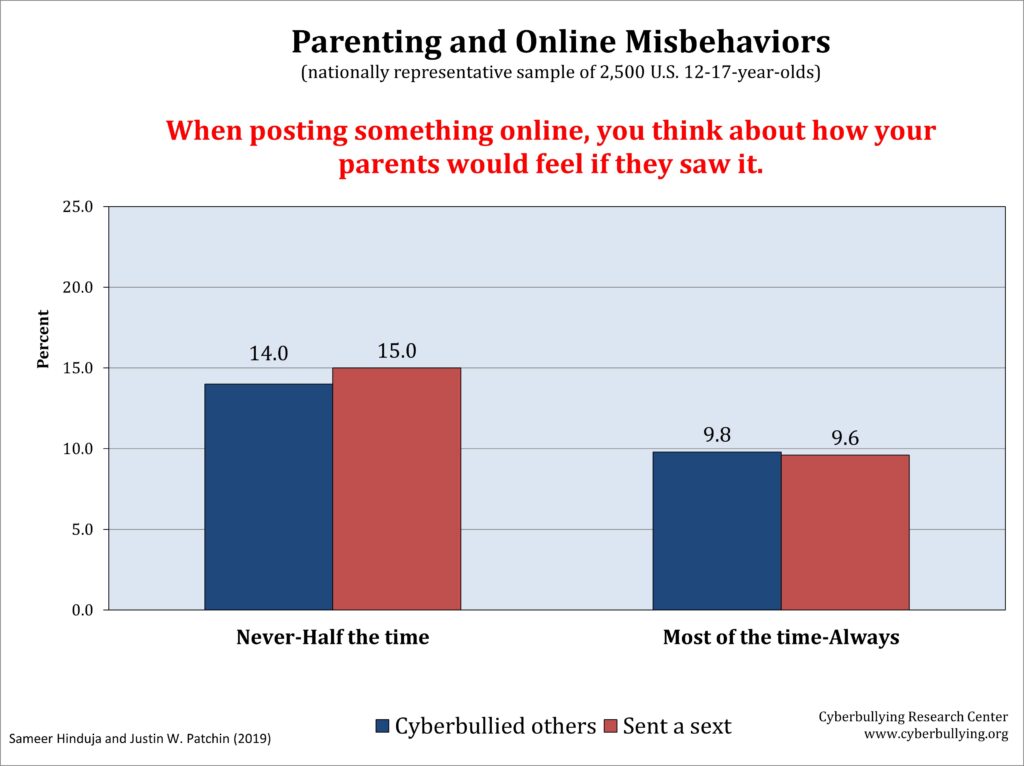 About 80% of the youth in our sample said there is an adult in their life that they "definitely" wouldn't want to disappoint (we didn't ask whether this person was a parent or someone else). These respondents were significantly less likely to cyberbully others (10.9% compared to 16.6%) and send a sext (11.5% compared to 16.6%).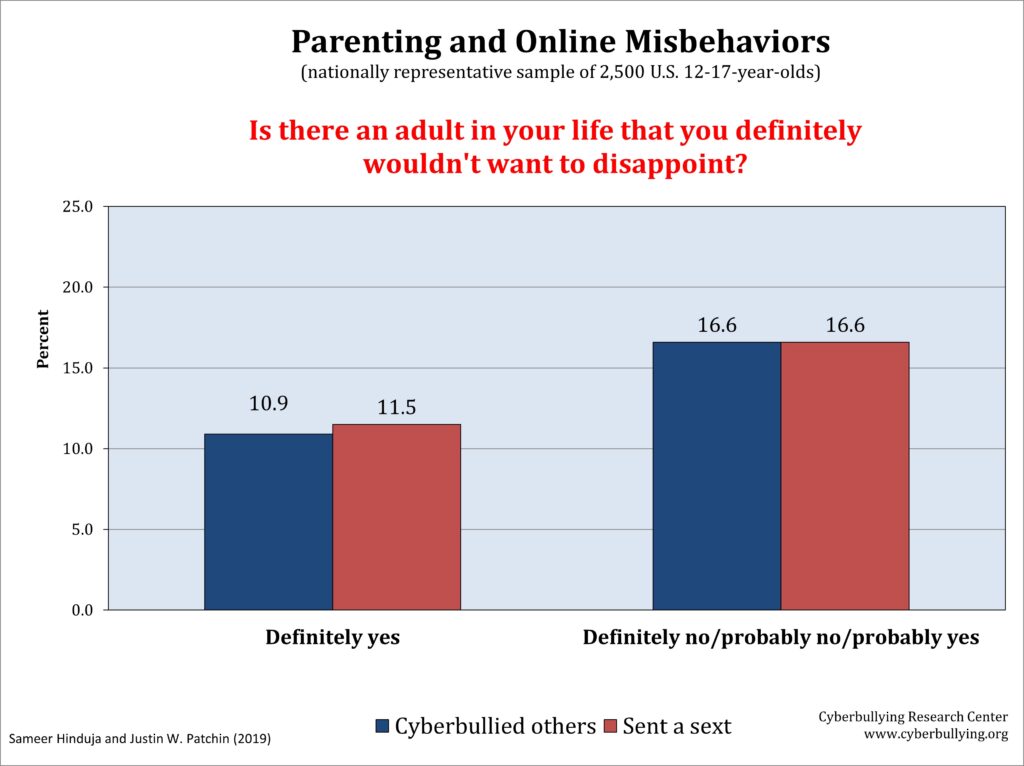 Finally, we asked youth to respond to this question in their own words: "If you've ever stopped yourself from posting something online, what was it that stopped you?" Below are some examples of what they told us.
"My parents don't like me to do bad things so I don't want to do bad things." (17-year-old boy from North Carolina)
"My mom and dad have always taught me to have respect for others, even online. So I would say it's because I don't want to disappoint them." (12-year-old boy from California)
"The thought that my mom might find it. And if I have to think about it and I wouldn't want my mom to know, then I probably shouldn't do it." (13-year-old girl from Kansas)
"I would think about how disappointed my parents would be." (14-year-old girl from California)
"What stopped me was thinking about my parents reaction and how they would feel to know that I posted something like that so I stopped and rethinked the post I was going to make." (13-year-old boy from California)
Scores of students responded to this question with "what mom may say" or "what my parents might think" or "what my parents might think if they saw it." It is clear that parents are on the minds of many kids when they make decisions about how to act online.
Conclusion
The importance of a strong, positive relationship between a parent and child cannot be overstated. Reams of research has shown this to be true. Children who are strongly bonded to their parents do not want to disappoint or upset them. Compassionate authoritative parenting with an appropriate balance of responsiveness and demandingness is key to developing the kind of relationship where kids will act in accordance with parental expectations, even in their absence.
Our goal as parents is to instill in our children self-regulation and the kind of values that result in caring and helpful behaviors in all circumstances. They will have many unsupervised opportunities to misbehave in adolescence and beyond, and perhaps the only thing stopping them from acting on these is the fear of disappointing a parent.
There is still a lot of research needed to better understand the role of vicarious supervision in cyberbullying (or other misbehavior) prevention, but the preliminary results shared here show that the idea holds great promise. Future research should better connect vicarious supervision to the emotional bond between the parent and child. While I believe the bond to be a necessary element to allow for effective vicarious supervision, we haven't yet directly tested this assertion (because we didn't directly ask youth about the nature of their relationship with their parent(s). We also need to know more about the best way to measure vicarious supervision. Our efforts here are just the first step, and we intend to continue exploring this concept in our future studies.
*NOTE: In this post I use the term "parent" inclusively here to mean any caregiver with direct regular responsibilities for a minor.
Cover image: cri on unsplash