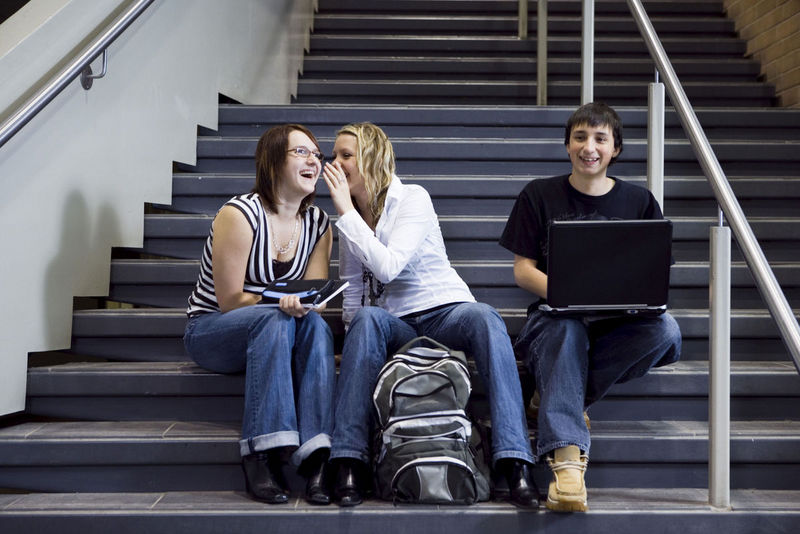 Last week I presented at the International Bullying Prevention Association's annual conference in San Diego, CA. This was the second time that I have participated in this event, and both experiences were enjoyable and educational. The attendees (over 700 strong this year) are generally very interested in the work that we are doing at the Cyberbullying Research Center, and the other presenters are uniformly among the best in the business.
The conversations that occur between the formal presentations are just as enlightening and thought-provoking as anything within the scheduled sessions. Talking with attendees and other speakers sparks insights about issues we are working on and allows us to view our research and writings from the perspective of informed others. It was a couple of these conversations that sparked my interest in writing this post.
Right before my first presentation, I got to talking with Stan Davis about how bullying is defined and specifically whether intent was a necessary component. Most definitions include this element, and ours is no different. Specifically, we define cyberbullying as "willful and repeated harm inflicted through the use of computers, cell phones, or other electronic devices." Like most others, we argue that to be considered bullying, the behavior in question needs to be intentional.
Stan suggested that whether a behavior was deliberate or not was beside the point. If it was hurtful, or if the person doing it should have known that it could have resulted in harm to another, then it is bullying. His position was supported by Elizabeth Englander, another researcher at the conference whose work I very much respect. She added that the problem with including intent as a defining criteria is that it requires teachers in the classroom to get into the heads of students to try to figure out what they were thinking when they did what they did. This is a fair point, though one easy way to determine intent is to see if the behavior was repeated after some initial intervention. If the student is made aware that their behavior is causing harm to another (either by the target, a bystander, or other third party), and yet they continue to behave in the same way, then it's clearly intentional.
After my presentation, Lori Ernsperger, another speaker who attended my session, came up to me to also discuss whether intent was really a necessary component of bullying. Lori and I chatted briefly about our respective positions on this issue, but because others were waiting to speak with me, we weren't able to dig into the details enough to clearly explain where each other was coming from. I don't think that Stan, Elizabeth, and Lori collectively conspired to critique this component of my presentation, so I did feel the need to consider this question further.
That's why I was happy to receive an email from Lori shortly after the conference with additional information about why she felt it was imperative that we adjust our definition by removing the element of intent. She was particularly concerned with the implications of requiring intent to define something as bullying when it came to behaviors targeting students with disabilities. "Disability harassment," she argued, "does not consider the intentionality of the bully, only if it is 'unwelcome conduct.' When the term 'willful' is used for defining bullying it requires schools to have separate policies and definitions for students within protected classes."
She presented me with a hypothetical incident to consider:
A 16-year-old high school tennis player has a genetic disorder and diabetes. His teammates have been harassing him about going to the nurse's office and requiring more snack breaks during practice. This goes on for a year. Coaching staff have observed this, but as required by law (FERPA), most school personnel do not know he is a child with a disability. After repeated teasing, he stops going to the nurse and eventually drops out of tennis. This is a clear violation of his civil rights, but the school said it was not "intentional" on the part of the other students ("they were good kids from good homes and did not mean it") and they did not see this as willful behavior. But is does not matter, it was unwelcome conduct that changed this student's educational experience. All school personnel should observe and intervene regardless of the intentionality.
First of all, regardless of intent, I agree wholeheartedly with the final sentence in her vignette. School personnel should intervene whether the behavior is defined as bullying or not. One thing is clear, the tennis players were being mean toward their teammate and that should be addressed. But was it bullying? If the students involved in harassing the tennis player for a whole year genuinely didn't realize that what they were doing was harming the target, then it isn't bullying. Or, if a reasonable person would have known that the behaviors were causing harm, then it would be intentional and be accurately categorized as bullying. As I have previously written, best friends can say things to each other that appear to be mean or that could unintentionally make someone upset. But are these things really bullying?
As a comparable example, maybe I say something to someone on a repeated basis, just thinking I am being funny, and that person completely ignores or even laughs along with what I am saying. But it turns out that the person is actually very hurt by my comments, yet he never expresses that to me (nor does anyone else). What I am saying may be mean or rude, but it isn't bullying. Should it be addressed? Of course. Should it stop? Absolutely. If we were students at the same school it would be completely appropriate for a teacher or counselor or whomever to make me aware of the harm that I am causing. At that point, I should definitely apologize and not do it again. If I do repeat it, then that clearly demonstrates willfulness because I was informed of the hurtful nature of what I was saying, but still continued. And that would be bullying.
Lori insisted that the "unwelcome conduct" standard is really what matters. If something is unwelcome, then it is bullying. I don't think it is that simple. What if I bump into someone in the hallway? Or spill my hot tea on someone's lap? What if I crash into another vehicle when that person is stopped at a stoplight? These are all clear examples of unwelcome conduct, are they not? Would it be accurate to classify these as bullying—even if they were isolated events and completely accidental? Plus, in order for any of these behaviors to be considered "harassment" in a technical/legal sense, one would have to prove that they were done because of a person's status (based on race, class, gender, disability, etc.). Harassment is different from bullying. Some bullying behaviors could accurately be classified as harassment, and some harassment could be bullying. But the overlap is not 100%. For example, harassment (again, as formally defined) is always based on a protected status, whereas bullying is not. Harassment could be a singular incident (though often not), whereas bullying is always repetitive (or at least presents an imminent expectation of repetition). I still can't think of an example of a behavior that should be accurately defined as bullying where intent to cause harm is not present.
The bottom line is that we simply cannot call every harmful or hurtful or mean behavior between teens "bullying." That dilutes the problem and is confusing to everyone involved. Bullying is a specific and more serious form of interpersonal harm and the term needs to be reserved for behaviors which are repeated and intentional.
That's what I think. What about you?