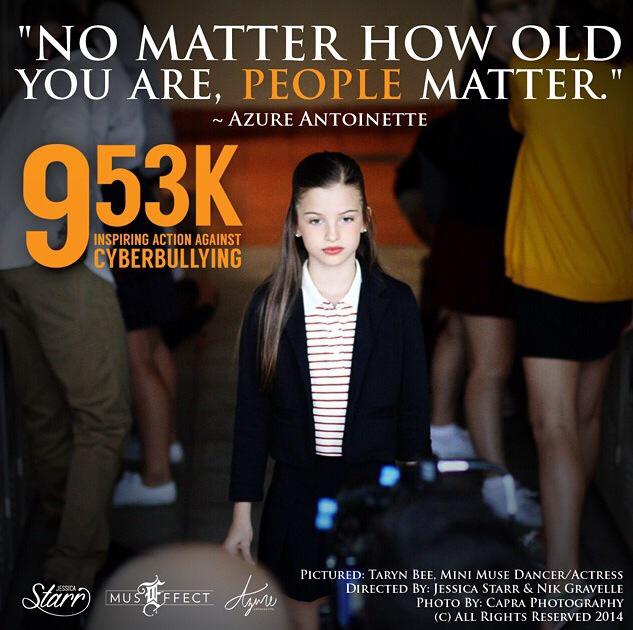 As National Bullying Prevention Month rolls on, we continue to highlight extraordinary movements and projects designed to combat cruelty and rekindle kindness, tolerance, and respect. Today, I want to feature the efforts of MusEffect, a very talented dance company out of Los Angeles. I have been in touch with their director, Jessica Starr, because I was so inspired by the Public Service Announcement video she and her team dreamed up, choreographed, and organized against the powerful and passionate backdrop of spoken word poetry performed by Azure Antoinette. My attention was captured because 1) I had heard some of Azure's work years ago 2) My sister and I grew up in dance and the performing arts 3) the storyline is compelling and leaves an impact after watching it with your full attention. To be honest, there are a lot of "meh" PSAs that have been created with the best of intentions, but fall short in stirring emotions and inciting action. And I've seen so many over the years. This one, on the other hand, stands apart like few that have gone before it. From our conversations, Jessica doesn't just care about dance – she cares about social change and social responsibility, and above all else simply wants to make a difference. And that draws me towards their efforts all the more. Here are her thoughts:
As a company our number one purpose is to affect people. We don't look at dance as merely a form of entertainment or art, but rather a way of moving people into action. When our audiences feel our work and relate to the subject at hand, we are creating a lasting impression on them – which leads to change. MusEffect's mission is to use our art (which houses dance, spoken word and film) to bring awareness to some of the social causes that need it the most. Our hearts are huge and our dedication is real, and we are committed from the beginning to spread our work to the masses. We know that our intentions would be felt by the people who need to hear it the most.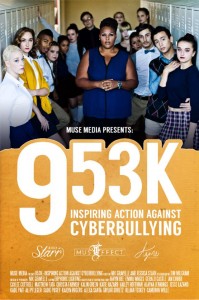 We feel like cyberbullying is one of the least talked about but most harmful forms of bullying in today's youth generation. So much of our self-worth is placed on how many people like your Instagram post, who accepts your friend requests, and who actually takes the time to comment on our pictures. We place far too much value on our relationships in cyberspace, and it has truly changed the way we interact with people face to face.
We think what we've done here really stands apart – and that was our goal. "Being unique" is challenging to achieve in today's society. There are so many variations of expression and art that it is difficult to determine how you can be more original than the person next to you. However, MusEffect as a whole is SINCERE, and 100% authentically involved and invested in our work. The dancers of MusEffect are not just performing rehearsed movements; instead, they understand why they are doing it.  As such, the intention of the piece takes first priority for us. I am confident THAT is what you feel when you see MusEffect perform as a group. Our hearts speak louder than our movement ever could.
It has been so wonderful to see how this project has brought our community together. Our group of artists is sincerely one of the most eclectic bunch of people I have ever known. We are all from different backgrounds, we look different, each have a different artistic style and focus, but we are ALL pulled together by one element, our heart to move people with our art. Building our resumes and receiving a pay check is NOT enough for us. So when the MusEffect dancers, our Muse Media team, and our resident poet Azure Antoinette get together, it is inevitably magic. Creating together for a cause will, without a doubt, strengthen our bond as a company and re-affirm why we make the day-to-day sacrifices that we do.
Now that this video is gaining traction across the nation and even world, we are using this specific month to really encourage action amongst our community and followers. Inspiring people to JUST talk about it will open opportunities for healing and growth. In addition to spreading the video to all who need to see it, we are going to host some face-to-face discussions with various youth groups. This will give them an opportunity to discuss the causes and effects of cyberbullying, and empower them to actively find solutions within their own community.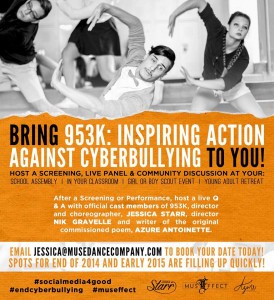 Here are some thoughts from some members of our community, which came together to create this vision and make it into a reality. In their words, you can hear how and why this matters so much to them. And because their hearts were so intimately involved in the process, I believe the final product shined.
Every time Jessica Starr comes to me with an idea, with a concept, I end up a changed human, a stretched writer, a gutted human. I have such a unique family. Personally, professionally. I am whatever is more elaborate than blessed, I am so much more than 'lucky.' That is for leprechauns and cartoons. I am rich, oil sultan rich. Thank you MusEffect – for redefining the human body and movement – what a phenomenal group of human beings you are. And what a brilliant answer to my prayer of always wanting to be surrounded by greatness. ~ Azure Antoinette, MusEffect resident poet
The focus of MusEffect is to bring to light all the topics that people are afraid to talk about, such as cyberbullying. The reason why society is scared of facing it head on is because we all contribute to the issue in one way or another. If we aren't taking a physical stand against it, then we might as well be the bullies ourselves. ~ Matthew Fata, MusEffect dancer, 23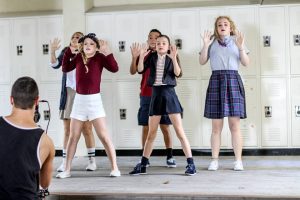 Being a dancer in the company, and having personally experienced being cyber bullied was, in this case, really helpful to me. I was able to tap into what it felt like to be the victim of something that happens to thousands of people all the time. I wouldn't want what happened to me to happen to anyone. My intention during the piece was stronger because I was able to bring my personal connection to the issue. I wanted people to know that they aren't alone and everyone should be aware of how much it really does happen and how much of a negative impact it has on people. ~ Sadie Posey, MusEffect dancer, 16
Having an 11-year-old grow up in this generation, it is very important for them to understand and grasp the concept of true reality vs. social media reality. In today's world kids, are so wrapped up in getting attention via social media (i.e., likes, shares, etc.) it is important to remind them of true friendships. ~ Tanecia Wise – Mother of Taryn Bee, Mini Muse dancer, 11
This video gives parents, teachers, everyone a platform for discussion. A great reminder to all of how we treat everyone not only face to face but also via the Internet. ~ Alayna Jennings – MusEffect Dancer, 21
As a company, our goal is to interest and affect people through artistry and movement. We are taking entertainment to an entirely new level, and this is what makes MusEffect and this PSA so unique. A new angle, a new approach. We focus on many social issues and we walk into every project with the same attitude and belief: if we can instill change in even just one person, if we can affect one person, it is absolutely worth doing.