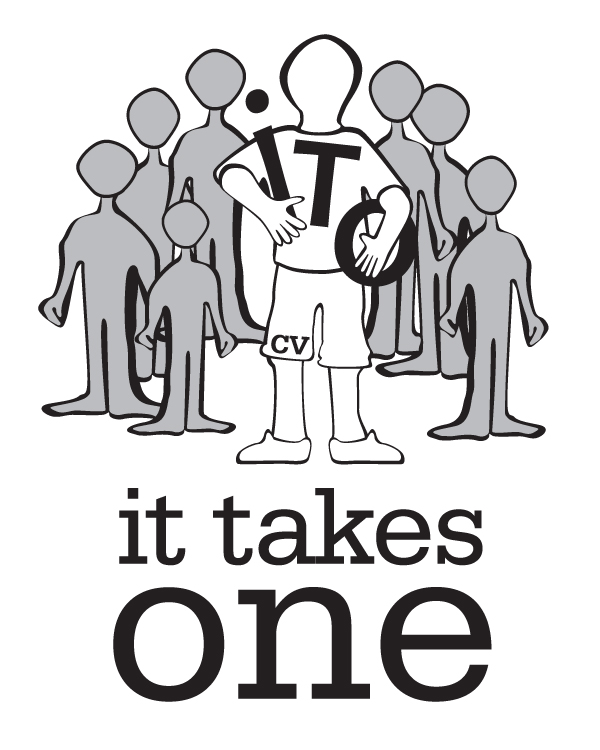 For a few years now, I have admired the leadership and initiative of Ms. Geraldine Johnson, Bullying Prevention Coordinator for Pennsylvania's Cumberland Valley School District. She stands out in my mind as one of the most caring youth workers I have ever known, and it is so inspiring to see the love she has for her students and the love her students have for her. Together, they have proactively sought to combat bullying and create an environment in which kindness, peer respect, and acceptance reign supreme. Central to this effort is their ITO Club, which we featured in our new cyberbullying book for teens entitled "Words Wound: Delete Cyberbullying and Make Kindness Go Viral." ITO stands for "It Takes One" – and that message is the primary thread in the fabric of their programming to really make a difference and transform their school community for good. Here is her story:
In my role as a behavior specialist and special educator for over 30 years, I have done many social skill lessons and bullying prevention lessons that involve role-play with students of all ages. During these discussions and role-plays I found that most students do not agree with the mistreatment of their peers, but do not always know what to do about it. I discovered that – just like when teaching academics – the more we teach students how and what to do, the more likely they are to do it! I decided that in order to get students to support each and to be active bystanders, they need to be taught explicitly what to do.
Most students are able to express how uncomfortable the unkind behaviors make them feel, but do not know how to respond. That is what motivated me to start the ITO (It Takes One) Club – to teach the students that behavior –good and bad – is contagious, and if one person stands up for someone who is being treated unkindly, others will follow. I wanted it to be "popular" and "cool" to be kind. I wanted to have a place for students to learn how to support each other in fun, supportive, and creative ways. ITO has become much more than that…. It has become not only a club, but a place for students to learn to support each other, a major change agent. Students are spreading the message, "It takes one. Be one." And "It takes one. I am one." The emphasis of the club has become not only how to support someone who is being treated in an unkind way, but also how to be pro-active and prevent incidents from happening. Students are being reinforced for "being the change." Our goal is to have all students at CV know that if something unkind is done to them, there will be staff and students there to support them.
Implementing ITO in our schools requires a lot of planning, cooperation, and passion from students and adults. Without the support and cooperation from school and district administration, the ITO program would not be able to thrive. Fortunately, our principals, Mr. Rob Martin (co-advisor) and Ms. Judy Baumgardner are passionate about the program and willing to devote time and energy into making it work. Additionally, Mr. Martin and Ms. Baumgardner model for parents, students, and staff what "treating others with respect" looks like on a daily basis. Being an ITO advisor requires a major time commitment in order to be available to students, to assess the effects of the program, to do research, and to attend club activities and meetings. Besides having a passion for the mission, advisors must also enjoy working with adolescents, knowing when to step back and let students take the lead. Advisors must also be able to encourage students not to be defeated by the naysayers and to keep things positive while prioritizing and assessing our efforts.
Students who lead the club must also model the respectful behaviors we are trying to spread. Our student leaders go through process which includes filling out an application, writing an essay, teacher evaluation, and formal interviews with current ITO leaders and advisors. We have learned that involving students in every level of the process is an important component to making ITO successful. The student leaders become our "eyes and ears" of the school, not about specific behaviors or incidents, but about what students are thinking and what will work to get the message across to them. We have found that both students and staff are much more receptive to information if it comes from students themselves. Our student leaders give our adult bullying prevention team feedback on class meetings and activities in order to make information relevant and student-friendly.
Because our student leaders have such an important voice in planning and intervention, it is also very important that our leaders are educated on the most up-to-date research-based information on bullying prevention and school climate. To accomplish this, we do formal training with our student leaders, using such resources as Dr. Sameer Hinduja's work and resources, combined with the "Olweus Bullying Prevention Program." As a certified Olweus trainer, I bring the most up-to- date information to the leaders so they can be confident in their efforts to spread the word in their presentations, club activities, and in social media. Student leaders must also learn to work as a team and compromise on projects. Our eventual goal is to add the ITO program to the already existing bullying prevention programs in all levels, from elementary to secondary, so every student can benefit from ITO.
Our student leaders meet with us bi- weekly to plan club meetings. The club meetings, also bi-weekly, include activities such as guest speakers, parties, team building activities, socials, and community events. Our leaders use social media to get the word out about meetings. All students are invited to the club activities. We put great effort into getting students from different groups, clubs, and interests to join us. An anonymous referral system that is available to all students, staff and parents is also used to find students who need extra support and possibly intervention. This has helped us to identify teens who have been marginalized for some reason or another, but are incredibly amazing people and who need to get plugged in. Finally, students who are inspired to step up and make a positive change here at our school are recognized and commended by the staff and administration.
In my thirty-plus years as an educator, being the creator and advisor for the ITO program has been one of the most rewarding experiences I have had. Although there have been challenges, I am reminded on a daily basis how these students are making a positive change and affecting the lives of so many in our school and community.
~ Geraldine Johnson, Creator and advisor of ITO, Behavior Support Specialist, Cumberland Valley School District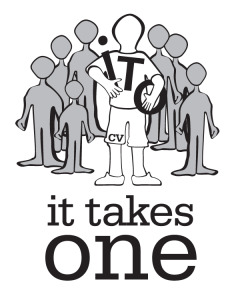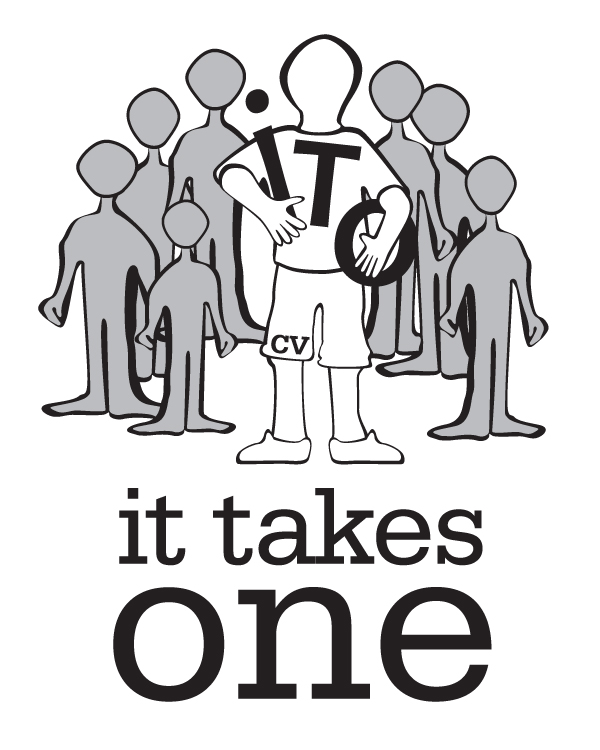 Here are some additional perspectives from students I met while working with Geraldine:
ITO (It Takes One) is an outlet for some, and a safe place for others. ITO for me was both but most importantly it was a club that I could express my passion for preventing something so awful in our school. It has given me more opportunities than ever imagined and a new appreciation for teamwork and compromise. ITO has taught me to still believe in the good hearts of high school students but always be aware that everyone isn't as kind- hearted, but you always have a friend in this club. Personally, this club has taught me invaluable life lessons and I have met life changing people along the way. My personal mission statement is that it is by far "more cool" to be the nice kid and be the kid to stand up for someone rather than turning a shoulder or even engaging in the action. Being nice will be the trait to take you places in this world.
~ Dana Basehore
As a senior leader for ITO (It Takes One) Club, I advise our media relations within the school and throughout social media networks. My goal is to spread our mission as far as the eye can see, and beyond! We work to prevent harassment within our community, and this serves to bring people together. I have seen firsthand how great of an impact our efforts have been through the lives of our high school students, and we have so much more to achieve with our club members this year! My hope is to reach as many students as possible with our message and teach students and community members how to bring people together for a common cause. Learning to be an active bystander has really helped me in difficult situations, and I am honored to be a senior leader for one of the most important clubs that is not only making a change in our school, but also in our society.
~ Aeliana Lomax