Explains how to report cyberbullying, abuse, and threats on Instagram.
Recently, we've discussed general safety tips for teens related to Instagram, and also fleshed out in detail how individuals are cyberbullied on Instagram. Today, I thought I'd summarize the ways in which teens (and adults) should use Instagram and how to report cyberbullying on it to reduce their chances of victimization and to have the most enjoyable and hassle-free experience.
Report Inappropriate/Embarassing Photos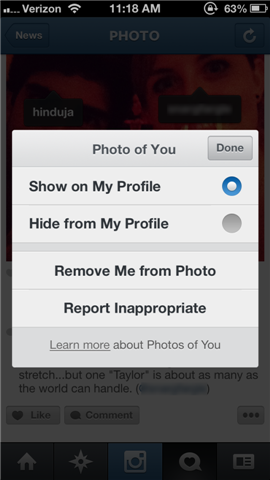 When you're tagged in a photo that you can see that you dislike or is cruel or embarrassing, you can click on it and Hide it from your profile, Remove yourself from the photo, and/or Report it as Inappropriate to the site. All of these options are available by selecting the photo, clicking your name (the tag), and then choosing from the various options presented. They are also available by clicking on the […] button to the right of the Like and Comment buttons at the bottom of every picture.
Always remember that you can report *any* inappropriate picture posted by someone else in that manner – by selecting the […] button. Please know that when you "report" a photo, the person you are reporting against doesn't ever find out that it was you who reported against them. You remain anonymous. Instagram then just simply looks into the matter to verify whether the picture is, in fact, inappropriate. If it is, they will delete it.
Report User Profile/s on Instagram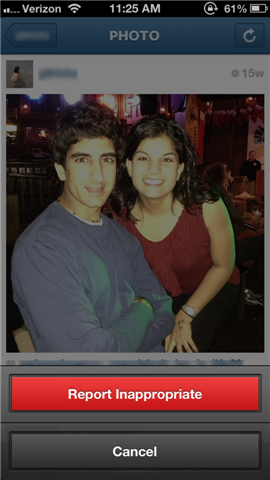 Let's say someone is being a jerk to you on Instagram in numerous ways. If you go to that user's page, at the top right is an icon that looks like a box with an arrow flying out of it (if you use iOS devices, you are very familiar with this icon as it represents "Send…"). Clicking on that button will allow you to Block that user, or Report him/her for Spam. When you block someone, that person can't search for you or view your photos – and they don't get any sort of notification that they have been blocked. If you have mutual followers, though, that person can still see the likes and comments you make on other people's pictures (you don't become completely invisible to each other, like on Facebook).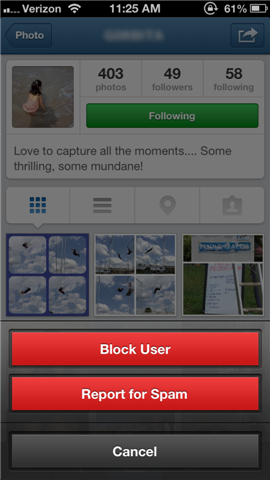 Even if you block someone, you can still be mentioned in captions and comments with your username (in my case, @hinduja) and cyberbullied in that way. What you have to do then is to Block that person, and change your username (under Edit Your Profile, accessible via the right-most button in the main navigation bar at the bottom of Instagram). I know this is a chore, and you probably don't want to do that – but it's an option if absolutely necessary.
Report Cyberbullying Comments on Instagram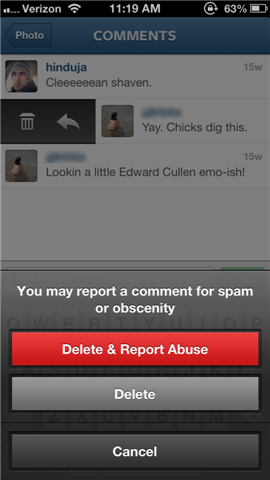 When it comes to comments on pictures, always remember that you can manually delete ones that are harmful or humiliating – or report them. If it is on your picture, click the Comment button, and then swipe on the problematic comment. This will give you access to a trash can icon – allowing you to either Delete it and Report it as abusive, or simply to Delete it. If it is on someone else's picture, do that person (and cyberspace) a favor by clicking the Comment button, swiping on the problematic content, and Report it (using the icon with an exclamation point on a stop sign). Eliminate hate. All the cool kids are doing it. And it's definitely worth the two seconds it takes. Again, the person you are reporting against never learns who flagged them, their image, or their comment.
Finally, a point I made in a previous blog bears repeating: to avoid stress and headaches that might come from dealing with unwelcome interactions from people you don't really want to know or be in touch with, set your Photos to Private. This one step does so much to keep you in control of your content. Try not to simply desire to connect with as many other Instagram users as possible, just to raise the number of your Followers. You'll never be satisfied. Rather, have quality interactions on Instagram with people that you like and know, and want to be in friendship/relationship with. The bonding experiences over pictures and captions and comments and hashtags become so much more meaningful. It's like you're actually sharing your life with people that are in your life. And they're doing the same! Hope this helps!