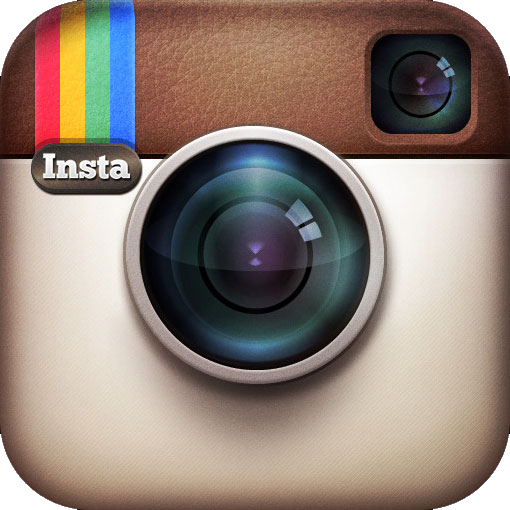 Last time, I shared my viewpoints on Instagram safety in a general way. Today, I'm going to talk about cyberbullying that occurs on Instagram. As I mentioned, Instagram is minimalistic and intentionally doesn't provide a lot of features that you might find on Facebook. This also means that various forms of victimization – identity theft, impersonation, intellectual property theft, grooming by sexual predators, private threats, and hate speech going completely viral – are rarely going to happen. In what ways, though, can you bully, mistreat, or humiliate someone on the site?
1. You can post a malicious or embarrassing photo of a target for all of your followers to see.
2. You can caption a gross or disgusting or otherwise insulting or demeaning photo with a target's username and perhaps a negative sentiment (for example, uploading a picture of a sumo wrestler and then captioning with something like "this reminds me of @hinduja"…I'll let your mind come up with much more offensive and hurtful examples)
3. You can post cruel comments under a photo that someone posts.
4. Different than adding a username in a caption or a comment, you can tag a user through the new "Add People" feature on the Share screen – where the tag is added to the image itself. If your Instagram profile is  public, anyone can see it – and it could go viral. If your profile is private, and the target is not following you, they will not be notified or be able to see the photo, tag(s), caption, comments. Which could be completely awful, where they are humiliated or harassed until a sympathetic friend finally clues them in.
4. You can add hateful hashtags under a photo that you post (in the caption or comments) or that someone else posts (in the comments). For example, #dork or #loser or #fuglyslut or #tryweightwatchers or #crackwhore or #cantbelievesheworethat or #peoplewhoshouldoffthemselves. Once again, I'll let your mind come up with a million more that are so much worse.
5. You can create a fake account to impersonate someone else, and be cruel through pictures, captions, comments, and hashtags.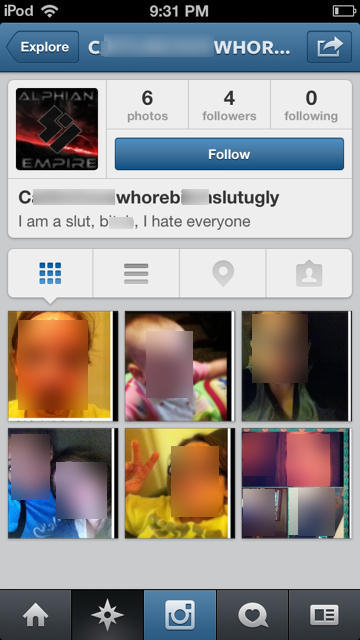 Here are a few stories from some teens who have talked with us about their experiences on Instagram:
"Last year I got an Instagram account made about me. The got pictures off my Instagram and posted it on theirs. I was being called a w****, s***, and a b****. I was so upset, that I self-harmed. But then I realized that I had to stay strong so I stopped. Then on may 2 I got 4 more made about me and doing the same thing except calling me a lesbian. This time I got help, and it got taken down. From this day police are still trying to find out who made the account. Stay. Strong." 13 year-old girl from Tennessee
"I am 18 years old. This year on the 2nd week of school, I parked my car crooked. A girl in my class took a picture of it and put it on Instagram stating that I couldn't park because I was deaf. That picture circulated. A boy in my class posted on twitter the next day "Tomorrow is national Park like a Retard day. AKA park like "MB day". The next day 30 cars parked crooked in the school parking lot. I went to the office and told my principal and he put parking tickets on their windows. My name was all over twitter and Facebook and everyone tried to make an a** out of me." ~ 18 year-old female from Pennsylvania
"I posted a picture of myself on Instagram and people started commeting these awful things like "Eww ur so ugly" "Why don't you go kill urslef everyone would be happier that way" And I KNOW these people…they go to my school. I cried for a good 2 hours. But this wasn't the first time this has happened on all my pictures at least 3 people say something like that. I'm never going on Instagram again. I wish I could disapear so I don't I have to go to school." ~ 12 year-old girl from Colorado
To be sure, these unfortunate, sad, and frustrating experiences could have occurred to youth in any online environment. Instagram is not the problem. Social media is not the problem. Technology is not the problem. It is the underlying issues of peer conflict, immaturity, insecurity, ethics, socioemotional dysfunctions, and behavioral issues that foster instances of online bullying among individuals. And that is something we must all continue to target, so that we can make further headway in safeguarding, equipping, and empowering our youth as they navigate the difficult waters of adolescence. Next time we'll discuss how cyberbullying can be prevented and combated on Instagram.