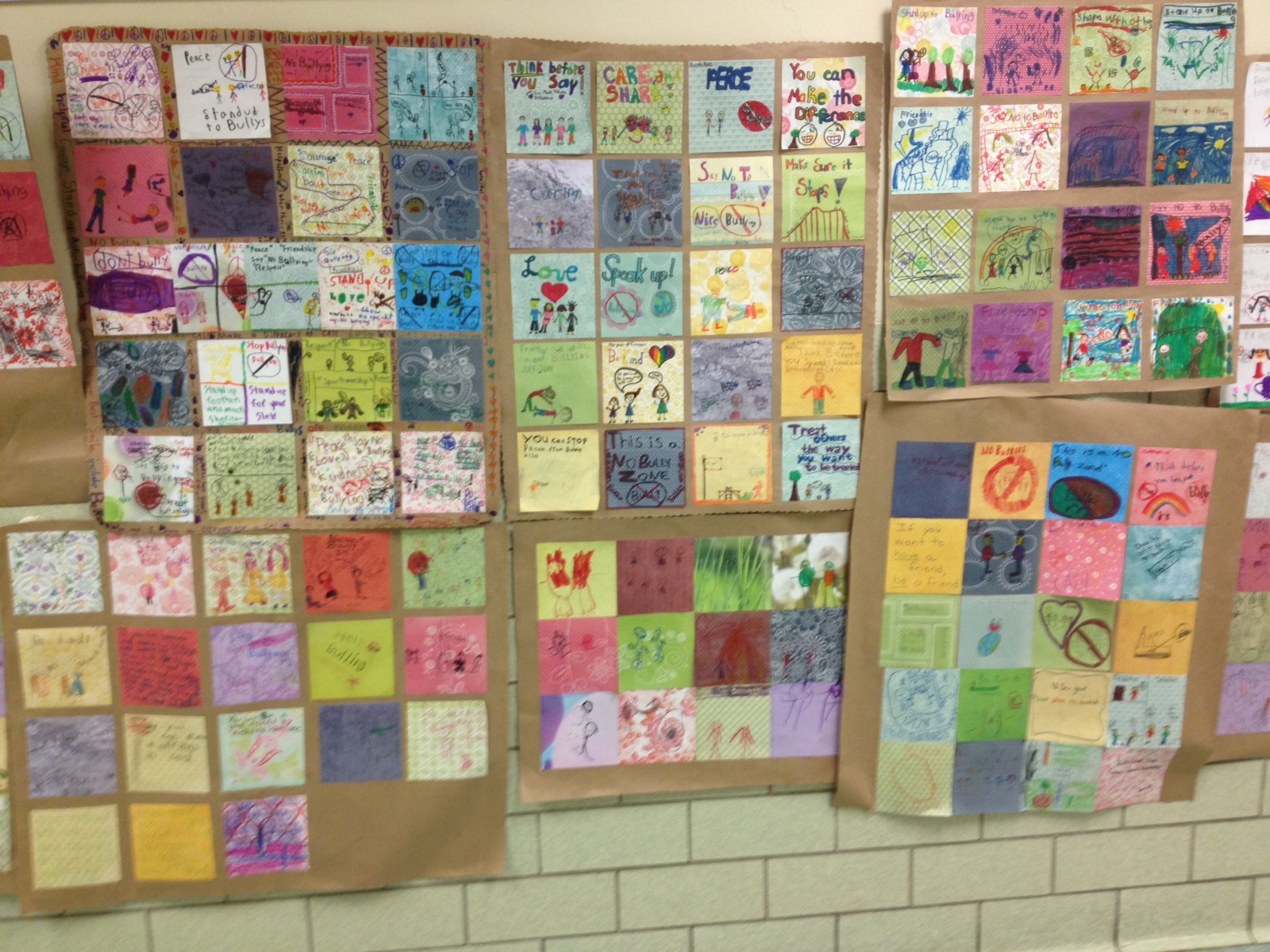 In my line of work, I have the amazing opportunity to meet incredibly passionate educators who care so much about students – and do all they can to create and maintain positive climates in which those students can thrive. I've known Becky Nahrebeski, a 9th grade Global teacher, for a few years now, and finally had a chance to be a part of a Kindness Week she and her colleagues planned and put together in October. We are all about sharing success stories that encourage other administrators and teachers that bullying and cyberbullying can truly be combatted and addressed in creative and meaningful ways that make a real difference. It does take a lot of work, but it is so worth it when you get to see the results. I've asked Becky to share with our readers about the amazing things they've done (and are doing), and her thoughts are below:
Hamburg Central School District is a suburban district about 10 miles south of Buffalo, NY. We have a student body of roughly 3700 students K-12. We are a very high-achieving district. We are always ranked in the top 15 school districts for Western New York. We are ranked 81 in New York State and we are in the top 3% (ranked 682 out of 24,000) of schools nationwide and are a Silver Award winner according to U.S. News and World Report's 2013 school rankings. We have amazing students that, after graduation, make us proud. We have dedicated teachers that love what they do. We have a supportive administration that has the best interest of the students at heart. We have fantastic parents that work with us and support us in any way they can. We have an unbelievable community that stands behind us and helps out wherever they can. Despite all of these fantastic parts working together, we still have students that hurt one another through bullying and cyberbullying.
We, as a district, refuse to ignore this issue. In our district, we have a DASA (Dignity for All Students) committee comprised of counselors, social workers, school psychologists, a teacher, and an administrator to deal specifically with bullying. This committee was started in preparation for the passage of New York State legislation (the DASA Act), and since 2011, we have been working on going through bullying reports to identify "hot spots" and determine our prevention efforts. We have attended countless conferences where we learn the latest research on what is happening. We educate parents, staff, students, and even our bus company on some of the best practices in bullying prevention. We meet monthly to stay on top of everything going on in the district.
One of our most esteemed achievements was the planning of an anti-bullying week for our district K-12. It was a massive undertaking, but well worth the hours we put in planning it. Our preparation leading up to this week included a contest entitled "Create a Culture of Kindness." Students K-12 could enter the contest and compete in different categories. For example, they could write a poem, essay, or song. They could create an anti-bullying poster or public-service announcement video. The goal was for them to take their skillsets and talents and apply them to help transform our school communities by making it cool to care about others. The response we received was truly incredible. It is amazing how perceptive and intelligent our students are on the issue of bullying. It also became clear that it was an issue that our students cared deeply about, as was evident in some of their project submissions. We had well over 100 submissions and it was very emotional and difficult to choose our winners. If you ever are curious how deeply students care about the issue of bullying, put together a contest and you will see how affected your student population is.
Our week began on Monday with a staff meeting with Dr. Hinduja. He trained our staff and shared with us important information about school policy and the best prevention and response strategies that have evolved, and how all stakeholders must play a role. On Monday evening, we held a Youth Rally. We had all our contest entries displayed for everyone to see. We had vendor tables set up in our cafeteria for all to peruse. Attendees had an opportunity to create a link in our chain against bullying. Our band played, and our cheerleaders cheered, and it was a very festive and fun environment with snacks and beverages and a celebration of our students' efforts! We announced all of our contest winners right at the beginning of the evening. Then we announced our guest speaker, Dr. Hinduja, who spoke to our attendees about technology and role of the parents in helping schools to combat the bullying/cyberbullying problem. He also allowed time for Q&A, which was really valuable to our parents.
On Tuesday, we started our day with a survey we gave to all of our students in grades 6-12. We wanted to make sure we could gauge how well all of our efforts were working throughout the course of this year. We plan on doing a post survey later this year to compare our data. All of the questions from our survey came from Dr. Hinduja's book Bullying Beyond the Schoolyard. Then, Dr. Hinduja spoke to our middle school and high school students. He was dynamic and the kids really got a lot out of his presentation. He addressed everything from being smart online, protecting yourself by keeping your information locked down, and the impacts that bad decisions can have on your life. Students raved about how everything he discussed with them applies directly to them right now. They took a lot away from his presentation.
Students also watched the documentary "Bully." This was a tremendous empathy-building opportunity. Students really got a strong message about not bullying and also to be a bystander that acts (upstander). They felt such sadness for the kids that were impacted by the bullying and many felt they would not allow something like that to occur in our schools. Students did debriefing activities for both of these activities where they had some discussion, some writing opportunities. They also made Sorry Slips, and participated in a Paperclip Pledge. A Sorry Slip is a slip of paper on which students can anonymously apologize for something they feel bad about. A Paperclip Pledge is where students vow to not bully, and to step in if someone is bullying. They get a paperclip with a ribbon and make a chain of paperclips, which then serves as a visual reminder of their promise. In all, it was a fantastic day.
On Wednesday, Dr. Hinduja, our high school drama club, and our DASA team traveled to all four of our elementary buildings. Dr. Hinduja spoke twice to each building to students grouped K-2 and again to students in grades 3-5. He was great even with these age groups and delivered a message that they related to. Opposite him, our HS drama club put on a performance of a skit they wrote and answered questions that they students had. Then each school had their own plan for the rest of the day. Throughout the rest of the week, our schools did follow-up activities that included pep rallies, classroom activities, and the hanging of visual reminders around the schools. One common thread in all of our elementary buildings was a Create a Culture of Kindness quilt. Each student created their own square by drawing or writing a message they got from the day. The squares were then put together to form quilts. It remains an awesome visual left over from our week.
The work in preparing for this week was intense, stressful, and at times, all-encompassing, but well worth every minute put into it. Our students raved about the week and asked that we "do stuff like that more often." They made it clear that they don't want our efforts to end there. As such, we have some follow-up activities loosely planned out for the spring. We are hoping to bring in a speaker for a one-hour assembly that can speak on the merits of being an upstander, and give our students some great ways to "step in" if they see an instance of bullying. We are also working on putting together a panel of students to share with our teachers what is really going on in our schools. We are also hoping to create a Public Service Announcement for our community. We have a lot of work ahead of us, but we remain inspired based on all of the progress we've made and interest we've received! In closing, I want to share the primary message we received from our students: they want to talk about these types of issues; they want to work with the adults in preventing instances of bullying!