This year, I've enjoyed being in touch with Trisha Prabhu, a 14-year-old freshman at Neuqua Valley High School in Naperville, Illinois. In the fall of 2013, after hearing about a young girl's suicide because of cyberbullying, she set out to design a long-term solution to cyberbullying. Her work led her to the product Rethink, which won a spot as a Google Science Fair 2014 Global Finalist. Rethink gives adolescents trying to post an offensive message on social media a second chance to reconsider their decision.  Her product idea also won first prize at the PowerPitch Competition at 1871, Chicago's technology and entrepreneurial hub. Rethink has been covered on Business Insider, the International Business Times, the Huffington Post, and several other media outlets. She currently holds a Provisional Patent with the United States Patent and Trademark Office for her Rethink idea. Finally, she recently spoke at TEDxTeen in London (and did amazing)!

I thought it would be valuable for our audience to hear the specifics of her story, because it is just really inspiring. I want teens to know that many times, your answers and solutions can truly make a difference. Adults don't have things figured out, and we need teens to help us tackle the problems that they face in adolescence. Their voices and their ideas matter, and they can transform their schools and communities – and ultimately even contribute to the betterment of society – as Trisha hopes to do!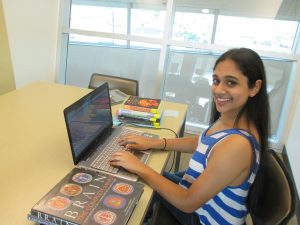 In the fall of 2013, I came home from school to read the story of a young girl named Rebecca Sedwick. She was 11 years old and lived in Florida. Over the last few years, she had been extensively cyberbullied by classmates. After contacting administrators and switching schools, the cyberbullying persisted. Rebecca jumped off of her town's water tower to her death. I was shocked, heartbroken and angry when I learned of the news of this young girl's suicide. How could a girl younger than myself be pushed to take her own life? How could this have happened? I didn't even want to imagine what her life must've been like during the last few weeks before her suicide, and what her family was going through now. I knew immediately I had to do something to stop this hurting from ever happening again – I became passionate to help stop cyberbullying.
From a young age, I've always had thick skin. I've received offensive messages online about my wardrobe, etc. but I've always brushed them off and moved on with life. But after reading about how cyberbullying had so terribly affected Rebecca, I decided that enough was enough. Statistics showed that a large number of adolescents in the United States alone had been cyberbullied, and that many of them showed signs of suicidal tendencies. As I researched more, I was stunned – one quarter of the world's population are adolescents. That's about 1.8 billion teens. Cyberbullied victims suffer silently from low self-esteem, depression, drop out of school and suffer from suicidal tendencies. Some of the recent studies show that the negative effects of cyberbullying lasts decades after the offensive messages were first posted.
Current solutions to stop cyberbullying are short-term and ineffective. Many popular social media sites today offer a STOP, BLOCK, TELL solution to try to stop the cyberbullying. But why, I wondered, were we placing the burden on the victim to block the cyberbullying, after the damage was done? Many other sites recommend immediately alerting a parent or guardian about the cyberbullying – but 9 out of 10 times, adolescents don't tell anyone that their being cyberbullied and suffer in silence.
I truly couldn't believe that adolescents could be so awful and cruel on social media. What was the root cause of this problem? What was the science behind this awful behavior? Why did kids cyberbully? Research showed that adolescents' brain is likened to a car with no brakes. There is an area of the brain called the pre-frontal cortex that controls decision making. It isn't fully developed until the early to mid-twenties, which is why we often see adolescents making quirky, rash behavior. Research has already linked this behavior to early drug and substance abuse, decisions that students can later regret, but no one had ever drawn a correlation between this research and social media abuse. But what if that correlation actually existed? I wondered – what if adolescents were given a chance to reconsider their decision to post an offensive message on social media – would they change their minds and decide not to post that message?
I decided to use my science and technology skills to come up with a way to test this idea, and created two software systems, Baseline and Rethink. The Baseline System would present test subjects with a series of hurtful messages and measure the adolescents' willingness to post them on social media. The Rethink Software System would also measure the test subject's willingness, but if they agreed to post anything hurtful, it would alert them indicating "Hold on – that message that you are about to send, that may be hurtful to others.  Are you sure you want to post it?" After a total of 1500 well-controlled and fair trials, I was faced with some stunning results. An incredible 93% of the time, when adolescents were posed with a Rethink alert, they changed their mind, and decided not to post the offensive message! Overall willingness dropped from an initial 71.4% to 4.6%. That was a huge success.
I couldn't believe it – but this could be the long-term, effective method to stop cyberbullying at the source, before the damage was done! More than ever, I felt like Rebecca, Tyler Clementi, and so many others around the world that had ended their life because of cyberbullying had finally got the justice they deserved. The fact is, cyberbullying is a huge problem. It's a silent pandemic that has already affected so many, and left ignored, in this social media revolution, with many to come. It's been an amazing journey to have come one step closer to conquering cyberbullying.
I am working tirelessly on making this a reality so that Rethink works with any social media site (old, new and ones to come) on both web and mobile platforms. I am hoping to get Rethink up and running in the next few months. My high school is already working on adopting Rethink as their new anti-cyberbullying slogan. It's amazing to know I've been able to give back to my community.
Whenever I receive an email saying, "Trisha, thank you so much. I feel safer for my kids to be going on social media now that I know Rethink is going to be implemented," it really brings joy to my heart. Recently, someone asked me, "What do you want to be when you grow up?" I remember smiling and saying, "If I've made this world a better place in the next 10 years, then I think I'm on the right track." For now, making the world a better place is stopping cyberbullying – and Rethink has brought me even closer to that reality.