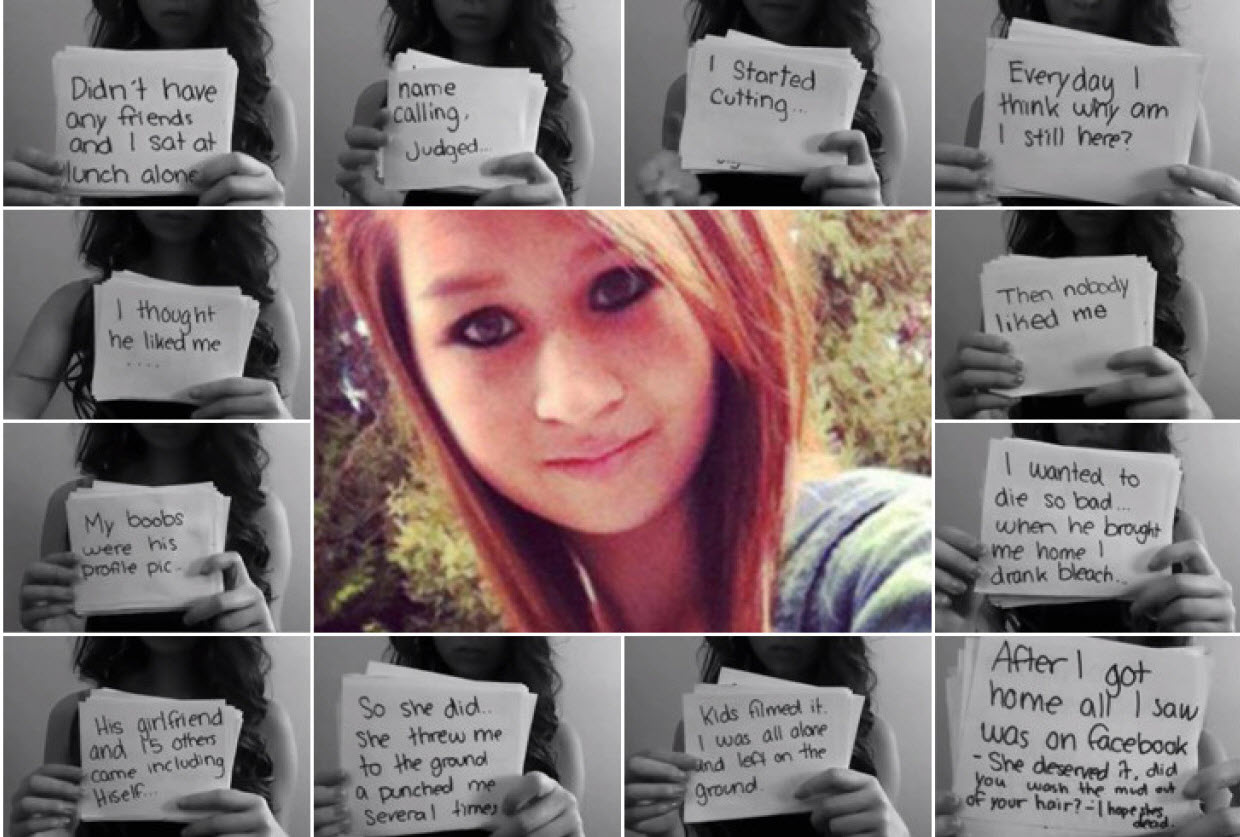 By now, most people are familiar with the Amanda Todd tragedy. The 15-year old from British Columbia, Canada posted a cry-for-help video on YouTube using note cards to detail the torment she endured from classmates and strangers in the wake of a revealing (topless) video chat photo being released to her Facebook friends and others by an extorting stranger. She got depressed and anxious and experimented with drugs and alcohol. She cut herself and had at least two previous attempts at suicide. People commented on her Facebook page that she should try harder to kill herself: "I hope she dies this time and isn't so stupid." Unfortunately, on October 10th, 2012, she did.
Many students have written out note cards and taken to YouTube to tell their story (Alye, Kegan, Kate, and perhaps most famously, Jonah). These are often referred to as "If You Really Knew Me" or "secrets" videos and feature young people exposing their souls in a very public, but still somewhat private way. I mean, the reality is that most of these videos are viewed only a handful of times and very few have garnered as much attention as Amanda Todd's has. My fear is that others who are struggling with the common (and not-so-common) trials that accompany the teenage years will feel that suicide is the only way to bring full attention to their struggles.
My heart breaks when I read story after story of teens who felt suicide was the only answer to their situation. Just a few days ago a 15-year old Staten Island, New York girl jumped into the path of an oncoming train (to her death) after apparently being "tortured" by other students. Earlier in the week she tweeted: "I can't. I'm done. I give up." Less than a month ago it was a 16-year old East Hampton, New York student who ended his life after being bullied, reportedly due to his sexual orientation. There are just too many of these horrendous stories to keep up with.
Research has shown that experience with bullying (whether as a target or bully) is linked to heightened risk for suicide. A recent review of 41 incidents that were reported in the media where cyberbullying appeared to be the cause of a teen's suicide showed that experience with bullying was just one of many factors that likely led to the teen's death. This finding is consistent with what we have found in our work over the years. In our paper published in 2010, we found a small, but statistically significant increase in risk for suicidal thoughts and attempts among students who were bullied or cyberbullied (and among those who did the bullying or cyberbullying). But the experience with bullying (in whatever form) explained only a small amount of the variation in suicidal behaviors. That is, there are other factors that we weren't able to account for in that study that were also related to suicide. There are, to be sure, many challenges that teens are confronting on a day-to-day basis, and often these pile up to the point where some simply cannot take them any longer. In our paper, we concluded that "it is unlikely that experience with cyberbullying by itself leads to youth suicide. Rather, it tends to exacerbate instability and hopelessness in the minds of adolescents already struggling with stressful life circumstances."
If you or someone you know is in such a place, please get help. Talk to an adult you can trust. Please. If you are the adult, connect with each of the students, children, or other young people in your life in a way that enables them to come to you in times of crisis. You could be their savior. Visit the National Suicide Prevention Lifeline website or call 1-800-273-TALK (8255) for emergency help. If only Amanda, or someone who cared about her, would have done the same.
Image source: http://i.huffpost.com/gen/812481/thumbs/o-AMANDA-TODD-facebook.jpg