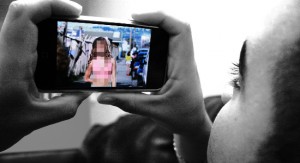 If you are a teen and receive a sexually-explicit image of a classmate via your cell phone (or email, or instant message, or via a Nintendo Dsi, or any other type of electronic communication), what should you do? This can be a challenging situation, to say the least. We know that anywhere from 10-30% (or more) of teens have received such images, and many probably don't know what to do. You have no doubt seen the examples in the media of teens being cyberbullied, arrested, or even committing suicide as a result of bad decisions involving the circulation of nude personal pictures. My thoughts here are intended to provide you (youth) with a specific and simple strategy to help avoid any of these consequences.

If you do receive such an image, odds are that it was sent by a good friend (or a boyfriend or girlfriend). As a result, you probably don't want to get this person into too much trouble, but you also know that peddling in these kinds of pictures is probably not going to lead to great things in life (because if you think about it, it is highly inappropriate, morally wrong, and potentially illegal). So what do you do? Well, most adults might advise you to "tell an adult you trust." This is generally good advice for a lot of problems you run into, however in the case of a naked photo of an under-aged youth, this can be devastating for all involved. For example, if you show the image to a teacher, he or she is likely required by law to report it to the police. Teachers who don't can lose their teaching license and/or be fired. If they don't know what to do and seek guidance from a fellow teacher, they could get into even more trouble. For example, if you hand your cell phone with the nude image over to the teacher, and he or she shows another teacher, both teachers (and you) could be charged with "possession" of child pornography since they had possession of your phone. That's because the police often treat these images as child pornography – irrespective of the intent of the sender or the relationship of those involved. This means that if you take the picture, you can be charged with the "creation of child pornography." If you send or forward the pic, you can be charged with "distribution of child pornography." If you keep it on your phone, you can be charged with "possession of child pornography." In some cases you could even end up on state sex offender registries.

My advice to teens who receive a nude or semi-nude image of a classmate is simple: immediately delete it. Don't tell anyone about it. If there is an investigation and someone asks if you received the image, you should tell them yes, but that you immediately deleted it. If necessary, they can get your cell phone records from your service provider, and search the contents of your phone, which will show that you deleted it within seconds of receiving it. This is the best situation for you. Of course, some adults aren't going to like this advice because they want to be in the "know" to attempt to deal with the problem, but I think it is the only safe advice I can offer youth at this point.

The primary goal in sexting incidents is to limit the victimization of the person portrayed in the image. If the individual(s) who initially received the image immediately delete it, there would be no distribution and victimization would be minimized. Be sure to tell your friends that it is in their best interest not to hold onto or send these kinds of images. It just isn't worth the potential long-term and irreversible consequences to your (and their) reputation.

If you find out that your friends are continuing to distribute naked pictures of themselves or others, you would be wise to let them know how such behavior can seriously mess up their future. Strongly encourage them to stop and to delete the images. If you are concerned about the well-being of the person depicted in the images, you may want to anonymously report the behavior to your school (if there is a way to do this).

We have said it many times on this blog, but it bears repeating here that neither Sameer nor I are attorneys, so you should not interpret this blog as formal legal counsel. We are simply looking out for the best interests of teens and those who interact with them. Stay tuned for a follow-up post in the near future on what teachers should do if a student tells them (or shows them) a sexting image involving a student.

Postscript: I offer additional thoughts on this topic in the next post, which you can read here.