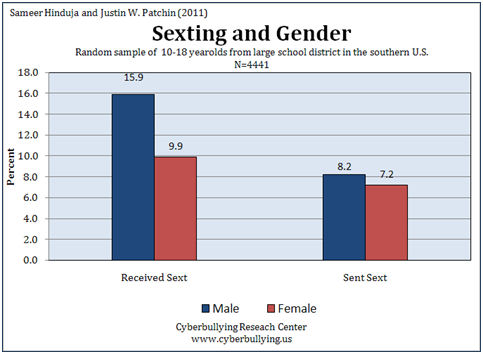 There has been a lot of interest in our sexting guide for educators and parents and so I thought it would be a good time to highlight a couple of other findings from that research. Data for this study were collected in the spring of 2010 among a random sample of middle and high school students in a large school district in the southern United States. About 4400 students completed the electronic survey from computer labs within their schools. The sample was evenly split between boys and girls (50.7% male and 49.3% female) and the sample ranged in age from 10 to 18.
With regard to gender and sexting, we found that males were more likely to have received a naked or semi-naked image of someone from their school via cell phone. Specifically, about 16% of males received a naked or semi-naked image compared to about 10% of females (this was statistically significant p<.001). Males were also slightly more likely to have sent a naked or semi-naked image via cell phone (8.2% of males versus 7.2% of females). This too was a statistically significant difference (p=.021).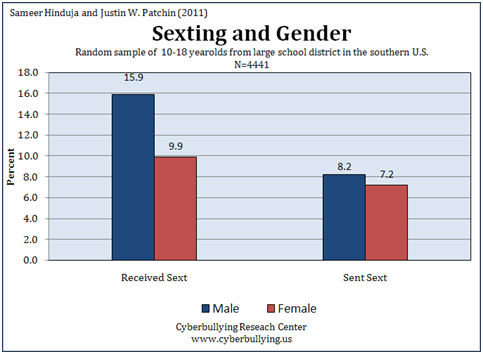 We all have heard tragic examples of sexting incidents leading to long-term or even permanent consequences for both boys and girls across the United States, and these experiences continue to remind us to work to educate teens about the safe and responsible use of technology. Teens need to understand that if they take a picture of themselves and send it to others or post it online, they lose complete control over how that image is used. They shouldn't be surprised if it ends up on the front page of the newspaper, or on the desk of their principal, or in front of their parents. While many teens view sexting as a safer way to be intimate with a romantic partner, too often the images are seen by a much wider audience than intended.
As adults who work to educate teens, it is imperative not to panic about this but to understand the motivations of the youth involved and take steps to prevent it from happening in the first place. Our research demonstrates that teens are listening when caring adults talk with them about using technology with wisdom and discretion. The fact that you are reading this blog is evidence that you are a caring adult – now translate that compassion into action. Talk to the adolescents in your life about this issue and make sure that they are aware of the potential costs and consequences.