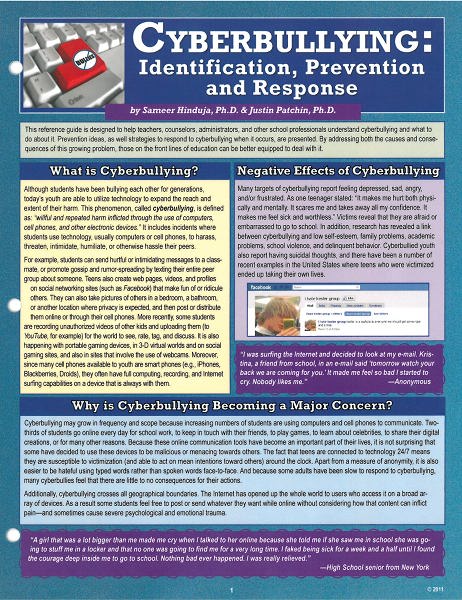 One of greatest and fastest growing threats to our youth today is cyberbullying. With the explosion of technology and social networking sites on the Internet, bullying has moved from physical confrontation in the schoolyard to a more psychologically damaging experience. Cyberbullying is having a profound impact on students across the globe and educators are scrambling on know how to deal with it.
Threatening text messages, unauthorized dissemination of private videos, and Facebook and Formspring postings on social networking sites are just a few of the many ways students are using cell phones and computers to ridicule, humiliate, harass and intimidate one another.
Written by respected authorities and authors of Bullying Beyond the Schoolyard: Preventing and Responding to Cyberbullying, and Co-Directors of the Cyberbullying Research Center, this guide helps educators on the front lines be better equipped to implement strategies that prevent cyberbullying and, if/when it occurs, respond effectively.
Learn about:
the need to specifically address cyberbullying in school policies/procedures
the collection of data on cyberbullying through student surveys
ways to integrate education on cyberbullying into the classroom
ways to empower bystanders and targets of cyberbullying
the use of peer mentoring
developing creative responses to cyberbullying incidents
working with law enforcement, cell providers and social networking sites
and much, much more!
All staff members need to better understand how cyberbullying can negatively impact their classroom and school climate and work together to eliminate it in all its forms.
This is a tri-fold laminated guide.
Hinduja, S. & Patchin, J. W. (2011). Cyberbullying: Identification, Prevention, and Response. Port Chester, NY: National Professional Resources, Inc.
Order Now