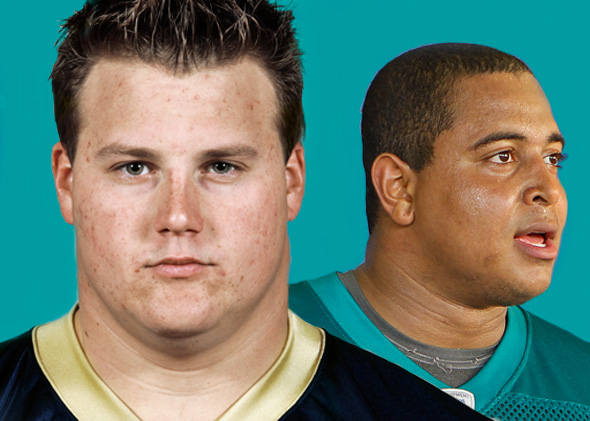 The independent investigation report into the Miami Dolphins' bullying scandal was released today.  I blogged about this story a couple of times last November because it really hit me deeply, because we care so much about the bullying problem, and because I've published a few academic articles on workplace harassment.  I have previously discussed in detail the implications for society stemming from the situation, and also how the relevant institutions may have contributed to the problem.
The new report is pretty eye-opening. Here are the take-home points:
"The Report concludes that three starters on the Dolphins offensive line, Richie Incognito, John Jerry and Mike Pouncey, engaged in a pattern of harassment directed at not only Jonathan Martin, but also another young Dolphins offensive lineman and an assistant trainer. The Report finds that the assistant trainer repeatedly was the object of racial slurs and other racially derogatory language; that the other offensive lineman was subjected to homophobic name-calling and improper physical touching; and that Martin was taunted on a persistent basis with sexually explicit remarks about his sister and his mother and at times ridiculed with racial insults and other offensive comments."
"The Report rejects any suggestion that Martin manufactured claims of abuse after the fact to cover up an impetuous decision to leave the team. Contemporaneous text messages that Martin sent to his parents and others months before he left the Dolphins—which have never before been made public—corroborate his account that the persistent harassment by his teammates caused him significant emotional distress. The Report concludes that the harassment by Martin's teammates was a contributing factor in his decision to leave the team, but also finds that Martin's teammates did not intend to drive Martin from the team or cause him lasting emotional injury."
The report concludes with a call to action, asking the NFL to create new conduct guidelines to promote peer respect in that unique workplace environment. I am sure there is more that will still come out, but it seems like Jonathan Martin may have cause to file a harassment lawsuit against the Dolphins. And, more importantly, we have victimization that took place, and continued extensive fallout and negative press for the organization and the NFL.

Okay – how is this relevant to our focus on teens? All of this has inspired me to really try to think through the issues.  One thing I've honed in on is why some children grow up to be bullies, and why some grow up to be bullied.  Perhaps those victimized deal with it during adolescence and then continue to face it during adulthood, without ever really learning what to do in these situations, and without ever receiving the help and guidance they might need.  Perhaps children on the receiving end turn into adults who dish it out later in life, once again because they weren't shown or taught how to cope and respond.  And perhaps mean kids just become mean grownups, and stay that way no matter what because they too never got what they needed to change.
We never really know all of the facts (in this case, or in any bullying case), and the situations tend to be complex and laden with emotion.  We also know that there are no cure-alls – parents can only do so much, and then have to let go and have faith that things will work out.  But if you are a parent, and don't want your child or teen to eventually behave similarly to Richie Incognito as an adult, you should:

Remain calm.  Nothing is going to work if you try to tackle this while internally or externally freaking out.
Cultivate empathy.  Get them to understand that words wound, and if they don't have something nice to say, they really (and frankly) should keep their mouth shut.
Identify their "sore spot" – where they are especially sensitive.  Discuss with them how they would feel if someone made fun of them for that personally sensitive issue.
Help them to appreciate all differences (race, religion, sexual orientation, appearance, dress, personality, etc.) and never use them as a reason to exclude, reject, or embarrass another person.
Teach them that their way to be or act is not necessarily the right way.  There often is no right way.  People should be allowed to be people.  People should be allowed to be who they are, whatever that is.
What may be a joke to them may actually be a cruel and hateful act to another.  Everyone is wired differently; some can shrug off things easily, while others internalize them.  This does not make them soft or weak.  Personal traits perceived as a positive may be a negative in some situations, and vice versa.
Determine if they are dealing with any personal struggles which might be manifesting in harmful actions towards others.
The "birds of a feather" adage is typically true.  Figure out if those with whom they hang out encourage or condone meanness and cruelty. Counter those messages as best as you can, with the help of others they look up to.
If you are a parent, and don't want your child or teen to eventually behave similarly to Jonathan Martin as an adult, you should:

Remain calm.  If you come to them all riled up and panicky, you're not going to get through to them.
Teach them to never allow others to disrespect them or tear them down.  They don't have to subject themselves to that, even if it's done in the name of "hazing" or forming a brotherhood or sisterhood.
Help them learn conflict resolution skills, as they may help diffuse small problems before they blow up.
Make sure they have multiple people they can always go to for help – someone who will definitely be their advocate and do everything possible to help them.  Identify those individuals, and make sure they "check in" regularly to ensure your child or teen is doing okay.
Continually remain keyed in to their emotional and psychological health to detect warning signs that might point to struggles and issues that could benefit from professional help (counseling, etc.).
Be their biggest fan no matter what, and surround them with others who will pour into them and keep them encouraged in the midst of difficult life situations.
Immerse them in environments (inside or outside of school) among kids of character, where everyone stands up for each other and has each other's backs.
These strategies won't keep every kid from relational problems now or when they are grown up, but it will help them.  Ideally, it will make them more emotionally healthy individuals who are less likely to be a jerk to others, who understand how they should and should not deal with conflict, and how to lean on others early on for support and assistance before situations get irreparably bad.  The bottom line is that we have to be involved, and exercise due diligence now to prevent problems in the future.  When you're dealing with the messy fallout, you end up kicking yourself for not doing all you could to prevent it back when you had the chance.  So start now – it's totally worth it.
Photo illustration by Lisa Larson-Walker. Photos by Getty.