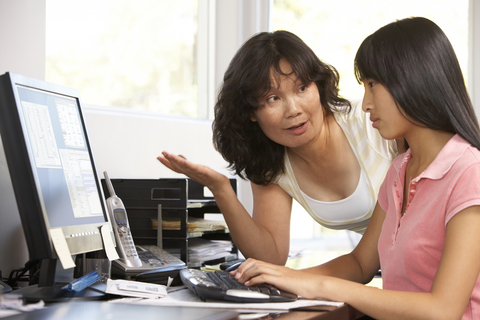 Without a doubt, parents have a duty to do their part to ensure that their kids do not bully others.  They need to regularly remind their kids about the importance of treating others the way they would want to be treated.  They should talk about how some things we might do or say to someone that seem funny at the time are actually pretty hurtful.  When it comes to preventing cyberbullying, parents need to regularly check in on the online behaviors of their kids.  Problematic behaviors need to be addressed with reasonable and appropriate discipline.  In general, parents need to instill in their children an ethic that includes respecting others and always acting and interacting with integrity, whether online or off.  And they can do that in a caring and authoritative manner that encourages emotional connectedness yet demands respect and accountability. Indeed, research has shown a positive parent-child relationship makes it less likely that youth will engage in bullying behaviors as they do not want to risk damaging the valued bond.

But if parents fail to take these steps and their child bullies others, should the parents themselves be held criminally responsible?

Latest Attempt at Accountability

An ordinance approved last month by the Monona, Wisconsin, Common Council allows parents of children who bully to be fined $114.  The city appears to be the first in the country to pass such a measure.  The Council also amended its ordinances to incorporate existing state criminal statutes that prohibit disorderly conduct, unlawful use of a telephone or computerized communication systems, and harassment.  All of this sends a clear message to citizens that harassment in all of its forms is not welcome within the city limits.

Last fall I wrote about a growing movement among municipalities to criminalize cyberbullying locally by enacting ordinances.  As occurred in Monona, many times city ordinances simply mirror existing state laws. As I wrote back then, there are a few reasons for why this move might make sense. It allows a city attorney to pursue charges against an individual even when the county-level district attorney is unwilling.  It also allows for the cases to be handled in a municipal court (which Monona does have–many cities do not), rather than the state circuit court system.  This has the added effect (for better or worse) of shielding violators from the public shame of being eternally listed on Wisconsin's Consolidated Court Automation Program website (CCAP) for all to see.

History and Theory Behind Parental Liability Laws

Parental liability laws hold parents accountable, and financially liable, for the behavior of their children when it is deemed that the parents were negligent in their obligation to provide proper parental care and supervision. In theory, these laws make a lot of sense: the idea is to compel parents to make sure their kids aren't behaving in a reckless or delinquent manner. School law states that educators can be held liable for damages when they are found to have been deliberately indifferent to harassment that happens at schools. Maybe it is appropriate to hold parents to the same standard.  Parents who are not adequately "parenting" ought to be punished right along with their kids, right?  Well, in practice it is much more complicated than that.

States have long had various laws on the books that can be used to hold adults responsible for the actions of youth (for a detailed history, see this article).  In 1903, Colorado was the first state to make it a crime to "contribute to the delinquency of a minor."  California law generally requires parents to "exercise reasonable care, supervision, protection, and control over their children."  Parents who fail in this mandate could be found guilty of a misdemeanor and sentenced to jail. Massachusetts law states that "a parent is under a duty to exercise reasonable care to prevent his minor child from inflicting injury, intentionally or negligently, on others."  In fact, some have suggested that parental responsibility laws can be traced back to 1646 when Massachusetts enacted its Stubborn Child Law which noted that parents can be fined if their child is caught stealing.  Of course the same law also proclaimed that "stubborn and rebellious" sons who do not obey their parents "shall be put to death."

Other Possible Causes of, and Solutions to, the Problem

A number of years ago I was involved in evaluating a truancy reduction initiative in three elementary schools in Michigan.  One element of the program was to hold parents accountable if their elementary-aged children did not attend school.  For students younger than 12-years-old whose parents did not cooperate with school officials, a warrant was sought for parental prosecution under the state's compulsory attendance law.  The key phrase here was that the parents targeted were uncooperative (and indignant).  Only 3 parents out of the nearly 300 families involved in the program fell into this category.  Most were just looking for help to address a relatively simple problem that contributed to the absenteeism, like providing an alarm clock or transportation to school.

I think the same can be said when it comes to bullying. Most often when parents learn about the bullying behaviors of their children they will take the necessary steps to ensure that such behaviors do not continue.  In some cases they just don't know what to do and with a little guidance they will be fine. (For recommendations on how to respond to cyberbullying, see our suggestions.)  In very rare cases, a few parents simply do not recognize the bullying behavior of their children as hurtful, or worse they may even encourage it.  Or parents completely ignore what their kids are doing online, even after being made aware of possible problems. Presumably, these are the types of parents that parental responsibility laws are directed toward.

One problem I see with this approach is that it is also likely to have a result that is opposite of that which was intended.  We know that the quality of the parent-child relationship is integral in preventing a whole host of inappropriate behaviors.  The concern is that threatening to punish a parent for the behavior of the child may serve to further weaken this relationship.  Parent and child are pitted against one another when the child misbehaves: "Because of what you did I have to pay $114!"  Furthermore, anyone who has a child of their own or who has worked with youth in a professional capacity (I fall in both camps) knows that even the best-intentioned guardian can run into an obstinate child who refuses to follow any instructions.  It would be inappropriate to hold parents responsible in situations where it is clear that the parent is doing everything they can to try to remedy the behavior.  These laws are really intended to handle the opposite – when parents are doing very little to respond.  And again, I feel like this happens very rarely.

Research Lacking

Unfortunately there has not been any evaluation research done to assess the effectiveness of parental liability statutes so we really do not know what kind of effect they will have.  Dr. Eve Brank, who is a professor of law and psychology at the University of Nebraska in Lincoln, has studied parental responsibility laws in depth and told me "it's impossible to speak about whether they are a good tool or not. We know that parents certainly play an important role in raising their children, but we do not know the effect of imposing legal sanctions on them when their children are involved in illegal behavior." Indeed, in the project I referred to earlier that targeted elementary absenteeism in Michigan, we were unable to follow the students long enough to determine if the threat of parental prosecution actually resulted in better attendance.  So we frankly just don't know if holding parents criminally or financially responsible for the behavior of their kids will result in reduced bullying.

Critics have argued that this is simply another way to limit free speech and that the parents of outspoken youth will be punished for the protected speech of their kids.  If a child speaks up about his or her moral objections to homosexuality, for example, it could be construed as bullying and therefore could invoke punishment for the child and now the parent as well.  Even though the Monona ordinance clearly states that it does not apply to any "constitutionally protected activity or speech," there is admittedly ambiguity when it comes to defining an incident as bullying, especially when it involves contentious subjects.  As adults (parents and others), it is our responsibility to teach teens to disagree, and even debate, in a civil manner.  So if you disagree with my thoughts here, feel free to sound off.  But please keep it respectful–your kids could be watching!