Instagram is great. I use it and like it very much, for a number of reasons. Even though I have to view it through the lens of "online safety" given my work and professional passion, I still completely support (and am excited about) its widespread and growing adoption by teens (and adults). Similar to other blogs I've written, I want to provide some thoughts to those teens who use it, and those who don't – just a variety of important things to know and consider. Overall, we obviously care greatly that youth embrace technology and have a ton of fun with it, but are also safe and responsible so they can do it for the rest of their lives…without also messing up their lives (or the lives of others) in the process.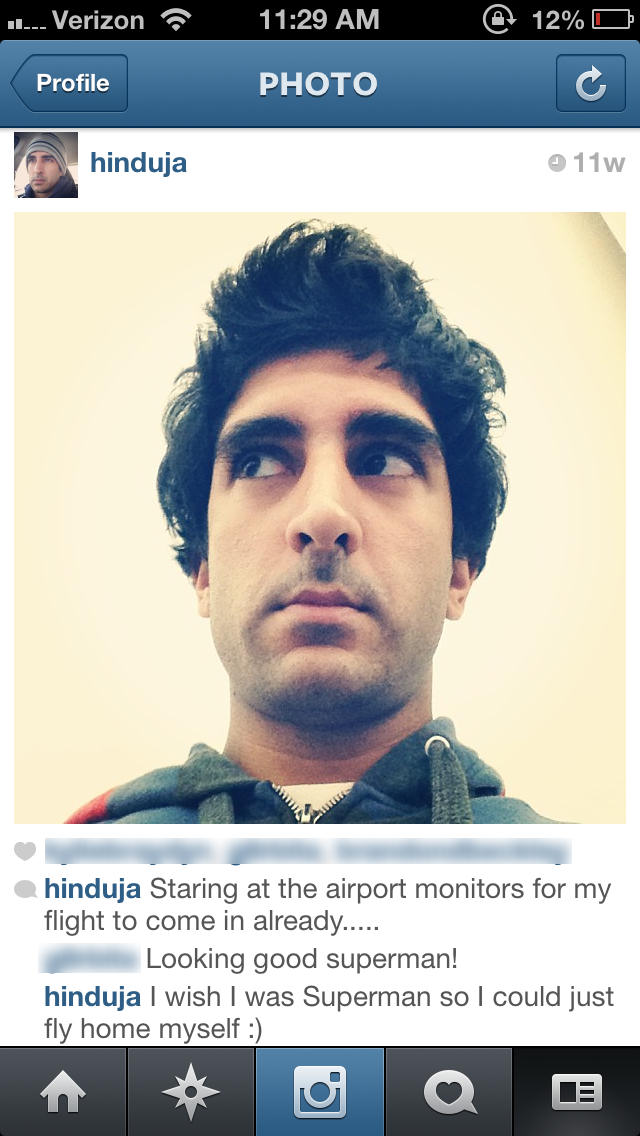 My favorite aspect of Instagram is that it is minimalistic. Keeping the design, interface, functionality, and interaction options naturally reduces points of vulnerability in social media participation. As compared to Facebook, you can't see, share, or do much – and I like that. You can take a picture through the app (or just access your Camera Roll to select a picture), add a filter if you want, correct colors and levels, and add a location if you want (which we advise against – if you want someone to know where you are, just text them using your phone – don't post it in relatively public social media environments!).
After you tweak your photo, you then can share it with others through your account (40 million are uploaded every single day!). Also, like in other social media environments, you can add a caption, tag other users in the caption or in comments, and add hashtags in the caption or comments to help others find similarly tagged/categoried photos. For those of you who don't know, a hashtag is what you're seeing more often in captions and comments – a word or phrase preceded by a "#". For example, I could tag a picture of myself at my local beach with hashtags such as #surfsup and #soflo (south florida) and #sunshine and #atlanticocean (or whatever I want). That way, others can select that hashtag (which becomes a hyperlink that you can click through) and see all of the other images that have been similarly tagged or categorized.
Instagram's latest update added the ability to tag others users in your pictures, and I understand why they did this (to facilitate further connections and interactions) but I was like, "nooooooooooo." I don't want it to be feature-rich. I want it to be stripped down. I want it to do what it was originally intended to do, and do it well. That said, we are seeing a shift from the way it was originally used as its user base grows.
Initially, I would say that it was primarily used as an avenue of artistic expression where unique, creative photos enhanced by fun hipster filters were uploaded – and where others would critique and praise those creations of "instant art." Now, it's most-often used by teens and young adults to just take and share pictures of themselves, and themselves with others. In fact, I see a TON of selfies on Instagram, which shows me that it's just another (currently cool and relevant) way for teens to express themselves to get likes and comments. No big deal. I like selfies. My friends give me crap because I probably post a selfie a week. But it makes me happy to do so, so I am going to keep doing it! And clearly, it provides that same benefit to many others.
There are much fewer ways to open yourself up to victimization (or victimize others) on Instagram (than on Facebook or sites which encourage more information sharing). For example, you are not sharing as much of yourself as you typically do on Facebook. You have a nickname, you have a short biographical sketch, you upload photos, and you follow others who do the same. I could say that I don't want teens to use their first and last name as their nickname, but I don't think it's a fatal mistake to do so.
I do see some teens post contact information in their Instagram bio sketch (like their Kik nickname, or their Skype nickname, their Facebook username, etc.), and I would strongly advise against that. If you choose to put other contact information in your Instagram profile, know that you're opening yourself to being contacted by people you don't know. And maybe you want that, because you're bored, or lonely, or just really want to connect with others who are into the same things as you (no problem). Just check yourself to make sure it's not because you're desperate for random strangers to notice you, like you, and chat with you. Based on the stories we hear from teens, that sort of thing tends to lead to more problems and drama and headaches than it's worth.
Some of the teens that I know would love for there to be some sort of one-on-one behind-the-scenes messaging functionality within Instagram. I hope that never happens. Instagram is a comparatively safe space for users in large part because you can't privately message another person. Let's say you are exploring users, or hashtags, or your friend's followers – and you see a really good-looking girl, and really want to message her to get to know her better. Unfortunately for you, you can't.
All you can do is post a comment to one of her photos (if her account is not set to private). And she may reply in a comment under your comment – once again, publicly viewable to everyone – but she may not because she might think you are creepy for commenting on a photo of someone you're not actually following. I love this. I don't want weird, creepy people with malicious or perverse motives having the ability to message others to try and connect and bond with them just because they liked a photo of theirs. Not that you are like that. But you know what I mean. Please, Instagram, don't add a messaging functionality. Allow other social media environments to do that. Don't try to be all things to all people. It will completely ruin what you've created.
This also brings up another point – teens, please set your Photos to Private, so that people you don't intentionally accept to be your follower can't view your photos. Stay in control of your online experience, and what you share (and don't share) with others. I know you want to gain more and more followers, and perhaps the best way to do this is to let anyone see all of your photos through your own account and by following hashtags to get to your photos. But amassing more and more followers is a never-ending pursuit, and it's shallow. First, you were so happy when you got a few likes to a picture you uploaded. Then you weren't happy until you got double-digit likes. Now you want triple-digit likes. And multiple comments. And it kind of bums you out when it doesn't happen. This is madness, and there is no end to this. It's never going to be enough, and you are going to waste so much of your life this way.
And honestly, you need to remind yourself that people just quickly scroll through hundreds of pictures when they check their phone in moments of boredom (because they are, like you, often following hundreds of people), and just touch each one to like them. Liking a photo on Instagram is a quick, relatively thoughtless piece of interaction that often doesn't mean much at all. It's barely a token demonstration of interest. So please do not get caught up in it. It seriously makes me sad when I see so many teens that do. As I've mentioned before, your identity cannot be wrapped up in the number of times you are noticed, liked, or validated on Instagram.
Oh, and we also see more and more memes being posted and shared on Instagram. We initially saw that occurring most frequently on Tumblr, with memes being blogged and reblogged there. The bottom line is that teens love Instagram and are on it doing things they used to do exclusively on Facebook, Twitter, and Tumblr. While many adults use and love Instagram, I would say that teens have largely taken it over, and repurposed it within their own circles. This isn't a bad thing; in fact, it shows that the fundamental structure and functionality of the site is simply brilliant.
Finally, it should be mentioned that emojis are fun. It's just really a blast to be able to use them (appropriately)! That said, though, don't post too many in your captions or comments. It makes you seem like you're five years old. And it will, in time, open you up to haters. I think one, or a couple, are perfect. In my opinion, they just lose their meaning otherwise!
Next time, I'm going to talk in detail about cyberbullying among teens on Instagram – what we are seeing, and how it's affecting who are targeted. And then we'll talk about what can be done. I welcome your comments and input!