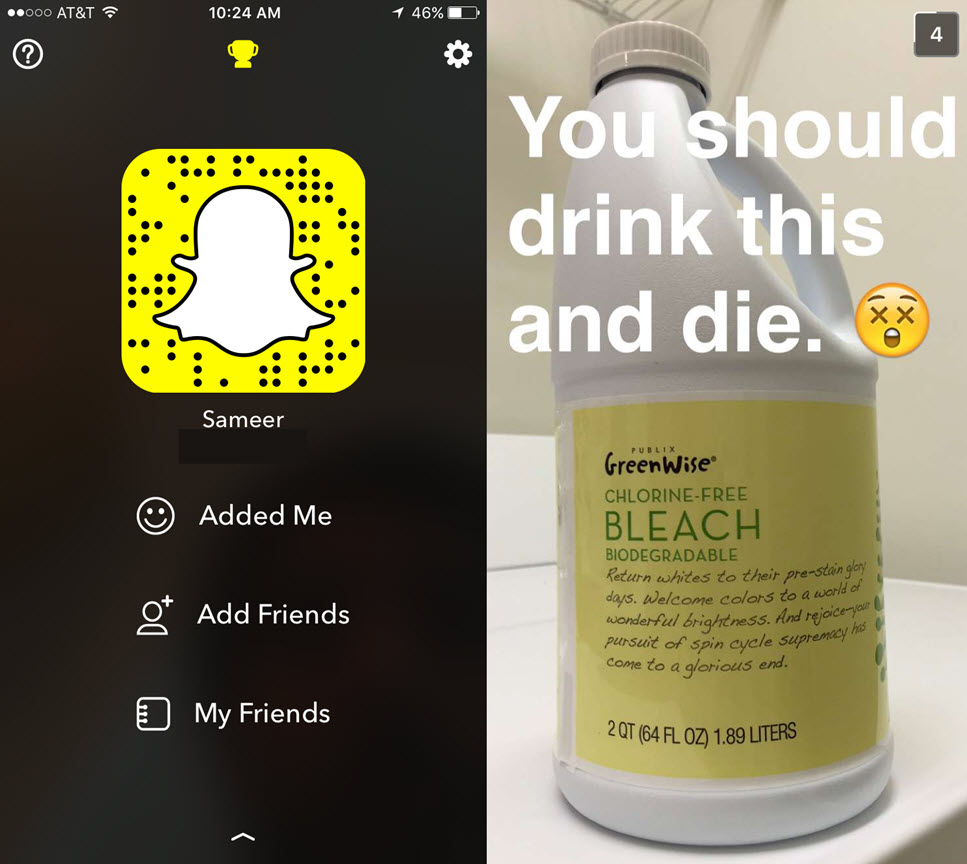 In my last blog entry, I sought to help readers unfamiliar with Snapchat with a primer on its background, use, and notable features. While emphasizing that the vast majority of youth use the app in positive ways (based on our extensive anecdotal observations), there are some negatives that may arise on rare occasions. It is now time to turn our attention to what we can do to prevent those negatives from befalling the youth we supervise and care for.
Know Your Kid's Level of Maturity

Like other social media platforms, Snapchat is not causing cyberbullying, sexting, or any other behavioral problems. Misuse can happen with any app and in any environment by those interested in doing so. That said, there are certain steps that users can take to stay safe and reduce their potential vulnerability to harm – and are worth exploring and sharing. These won't necessarily prevent all possible forms of victimization via Snapchat – if they were to occur – but they will help.
To begin with, parents should make sure their kids are mature enough to use the app in prosocial and positive ways, and wise enough to respond appropriately if someone uses an image or video they sent against them. Parents can review Snapchat's software updates and policies to obtain a greater understanding of the application, its intended uses, and any new features that become available. For example, one of the most overlooked parts of Snapchat's acceptable use policy is the minimum age of 13 required to download the application (this minimum age standard applies to almost all social media apps and sites). The reality, however, is that it is easy to lie about one's age and we have seen it happen with many other apps and websites across the Internet. What is most important is that kids are developmentally mature so that they make wise decisions with what they capture and share. Parents should critically assess where their child is at, and provide access accordingly.
[total-poll id=17202]
Snaps May Still Be Retrievable
Snapchat has policies in place declaring that users are not to send any snaps that are mean, or illegal, including pornography, nudity or sexually suggestive content involving minors, threats, harassment, impersonation, and bullying. The app developers also asks users to mindful of the content they share because others could take screenshots and take pictures using other devices. They even admit in their Terms of Service that the app does not always notify users when screenshots of their images are taken! More importantly, Snapchat discloses that they can retrieve the content of sent messages if at least one recipient has yet to view the snap, and that they will assist law enforcement in criminal investigations when a search warrant is obtained. Forensics companies and hackers have also been successful at retrieving the contents of sent and received snaps from phones. The astute reader can recognize, then, that if Snapchat is able to retrieve snaps sent between users from its servers, and digital forensics specialists can retrieve snaps from devices on which Snapchat is installed, then the content doesn't actually completely self-destruct or disappear (as users may have been led to believe).
"It's also possible, as with any digital information, that someone might be able to access messages forensically or find them in a device's temporary storage. Keep in mind that, while our systems are designed to carry out our deletion practices automatically, we cannot promise that deletion will occur within a specific timeframe. And we may also retain certain information in backup for a limited period of time or as required by law."

Snapchat's Terms of Service
Parents who keep up-to-date with Snapchat's ever-evolving features and policies should talk to their teenagers about Snapchat without feeling intimidated by their comparative lack of knowledge of the application. Specifically, parents should discuss the dangers associated with Snapchat with their children, as well as the emotional and legal consequences of all of their online interactions. Parents who maintain open lines of communication with children regarding social media are more likely to be kept in the loop about problematic issues and experiences that arise.
Understand the Privacy Controls
Parents are not only advised to discuss the potential dangers of misusing Snapchat and how to prevent incidents from occurring, but also how to respond when one is a target of cyberbullying or sexual harassment. Snapchat has various security options that users can customize to minimize some of the risks. Users can access their privacy settings by selecting the gear icon on their profile page and choose who can send them messages and view their stories by choosing one of two options: Everyone, or My Friends (their contacts). Plus, we don't recommend that users engage with strangers they discover through the "Add Nearby" feature, which allows a person to connect with other Snapchatters in one's vicinity. It may seem paranoid, but we highly recommend that snaps be sent only to others a person knows and trusts in real life. It is so very difficult to recover when one's trust is violated and it involves a picture or video that could be interpreted in an unintended way. It's just not worth it.
"My advice for parents is to talk with your kids about Snapchat. Don't lecture them, don't panic and don't expect the worst. Just ask them if they use the app and what they're doing with it."

~ Larry Magid, Internet Safety Expert
Know How to Screenshot, Block, and Delete
All Snapchatters also should know when and how to screenshot content, block or report another individual, or completely delete their account. To capture and save what you see on your phone or tablet as an image file to your Camera Roll or Gallery, it varies depending on what you own. For Apple devices, hold the Home button and Sleep button simultaneously until the screen flashes. On Android devices, hold the Volume Down and the Sleep/Wake button until the screen flashes. To block someone else, individuals should go to their profile screen and select "Added Me." Once the list of their friends appears, they can tap on a name and select "Block" or "Delete." Furthermore, if users would like to completely remove their own account, they are required to login at the following link – https://accounts.snapchat.com/accounts/login – and select "Delete my Account" from the choices presented. Parents of minors can also request for their child's account to be deleted by Snapchat administrators by completing the Legal Guardian Account Deletion request form. Also, parents need to periodically make sure Snapchat (and any other social media app kids are using!) is updated to the newest software version to prevent against code vulnerabilities and hacking.
Password Safety is Still Important
The last recommendation we have to help prevent problems is to strongly advise youth against sharing passwords with friends. The vast majority of kids know at least one other person's password, and many times "best friends" deal with misunderstandings or disagreements and all of the sudden are "worst enemies" who then have the power and potential to abuse other accounts by hacking them, changing their password and locking out the actual account creator, or impersonating them by sending inappropriate snaps from that account.
Thankfully, Snapchat has shown its commitment to promoting secure communications by creating the Snapchat Safety Center and Safety Advisory Board with help from several non-profit agencies, educators, and other organizations. The Safety Center contains resources for parents and teachers who need assistance keeping children safe on their app. In addition, our colleagues at ConnectSafely.org have created a Parent's Guide to Snapchat, which is also worth exploring. Finally, the app's Support web page has a number of useful tutorials, as well as thorough explanations of their updates and policies, so that individuals can easily learn step-by-step directions to create and maintain a safe and entertaining Snapchat experience.
All Snapchat users can and should enjoy the fun features and opportunities to express themselves and communicate with others creatively. The app itself – and the technology behind it – is not the problem or root cause of any issues. Like we've mentioned many times before, there will always be a small population of users who simply do the wrong thing and will use any technology to take advantage of or hurt others. Learning how best to use social media is analogous to learning how to drive a car. At the onset, one must learn the expectations, policies, and the fundamentals of use. Most parents would not let their children take a car on the road without any instruction or experience because various issues – some small and some huge – can possibly happen. Similarly, Snapchat can be used safely and responsibly – and can provide plenty of connectedness, belongingness, and fun – when kids are fully and accurately informed about the features, functionality, and foibles of the platform. Don't just hope that nothing bad ever happens; take the time now to review what we've shared above, and convey what you've learned to the youth in your life.