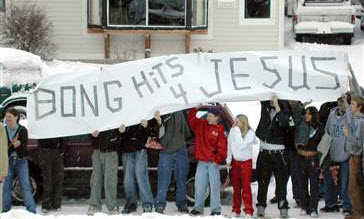 I have written quite a bit over the years on the question of whether it is necessary to enact new criminal statutes to combat cyberbullying. Be it a proposal for an amended state statute or a new city ordinance, it seems popular these days for politicians to publicly proclaim the scourge of cyberbullying by offering legislation to make it a crime. Few stand on the side of cyberbullies on Election Day, so it is probably a safe platform. But is it the right approach?
The latest incident to thrust this issue into the public light is a test case out of Albany, New York, where, back in 2011, a 15-year-old student was arrested and charged with a then recently-passed county-level cyberbullying law. The student in this case is accused of having created a "flame page" wherein he posted photos and disparaging comments about a number of his classmates. Some of the comments were sexual in nature. He attempted to challenge the law in city court, but lost and ultimately pled guilty to one count of cyberbullying, pending appeal. The Albany County Court affirmed the city court judge's ruling and it is now being reviewed by the New York State Court of Appeals.
Proponents of the law (and of the criminalization of bullying behaviors generally) say that cyberbullies need to be held accountable, and if schools and parents can't—or won't—do it, then society should. Opponents see this law as an attack on free speech, or challenge it as hastily written, with many essential elements left undefined or otherwise ambiguous. Others point out (quite rightly, in my opinion), that further criminalization will do little to solve the underlying causes of bullying overall.
Generally speaking, I feel that the criminal justice system should be the absolute last resort when trying to resolve the vast majority of cyberbullying incidents. If a teen repeatedly targets a peer with hurtful, harassing, or malicious online insults, and family- and/or school-based responses prove ineffective, then perhaps law enforcement does need to get involved. Even with that, though, I would hope the police and prosecutor would work to develop an appropriate solution that avoids a criminal stigma being placed on the teen.
For example, one option might be a deferred prosecution deal that is contingent on improved online behaviors. If the teen refrains from inappropriate online interactions for a specified period of time, then the charges would go away. Or maybe the accused could participate in a teen court, or meet with people who have been victimized by bullying in the past in a kind of restorative justice approach. Again, there are so many other possible avenues for dealing with bullying that hold much more promise for effectiveness than a misdemeanor criminal charge. All of these other options should be exhausted before requiring the teen to appear in front of a judge.
The other, broader issue being evaluated in Albany, is whether laws like this one infringe on a person's right to free speech. All U.S. citizens—even students—have free speech rights. There are, of course, limitations to this. We simply don't have the right to say anything to anyone under any circumstances. Moreover, inasmuch as the content of the speech matters (what is being said), so too does the context and consequences of that speech.
For example, it is perfectly fine for me to express my hatred for the University of Michigan athletic teams. I can stand on a public park bench and proudly and loudly proclaim my disdain for the Wolverines. That is protected speech. But if I am a high school student and repeatedly express that view during the middle of algebra class, in a way that disrupts the learning environment at school, well then that speech which was otherwise protected is now subject to reasonable discipline. The school has long been recognized as a unique environment where extraordinary restrictions on speech and other forms of expression are allowed, when necessary, to uphold school rules and maintain an appropriate school climate. As noted in Bethel School Dist. No. 403 v. Fraser, 1986: "The undoubted freedom to advocate unpopular and controversial views in schools and classrooms must be balanced against the society's countervailing interest in teaching students the boundaries of socially appropriate behavior. … Nothing in the Constitution prohibits the states from insisting that certain modes of expression are inappropriate and subject to sanctions." More recently, this interpretation has been expanded to include some student behaviors and speech expressed from beyond the school walls (to the extent they impact the school).
Similarly, if I call someone up in the middle of the night and repeatedly, over the course of many weeks, tell them that "the Wolverines suck!" – that too may be subject to criminal sanction (for harassment or stalking). While the content of the speech is protected, the way in which it is conveyed is not. So, those tasked with keeping schools safe and orderly need to evaluate not only what was being said, but also what impact it had (or is likely to have) on the environment at school. Even speech that is protected in most circumstances could be subject to discipline under certain conditions.
I don't know much more about the Albany case other than what has been discussed in the media, so it is difficult to comment on whether a criminal response was necessary in that particular situation. I don't know if the school intervened or if the child's parents disciplined their son in an effort to resolve the situation. But I also don't believe that his speech should be protected by the First Amendment. The appellate court in New York is expected to return its findings within the next several weeks. But rest assured, no matter what the ruling, this will not be the end of this debate.
Image courtesy of Morse v Frederick (2007) (U.S. Supreme Court Case in which student speech was legitimately restricted)