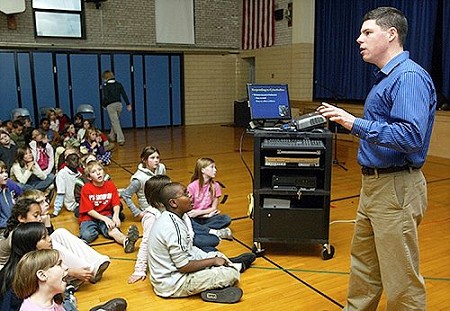 NOTE: Since April 2020, we have been offering every one of our presentations and trainings in virtual modalities (e.g., Zoom, WebEx, Teams, Hopin, Skype). Reach out if you need specifics, as we've optimized the way we engage with our audiences from afar!
---
Our upper elementary assembly is designed for students in grades 3-5 who need a general introduction to the safe and responsible use of technology. Students will learn what to do if they are being mistreated at school or online, or if they see something bad happening to one of their friends. Students are encouraged to communicate with adults that they trust about what they are doing and seeing online. General safety principles are covered, including: (1) don't meet anyone in real life who you only know online without your parent present, (2) don't share passwords with friends, (3) don't say mean things to others online, even if they say mean things to you, and many others. Students are encouraged to use technology, because it is great and fun and educational – but they need to be safe and smart while interacting online. We utilize an interactive PowerPoint presentation with real-world examples, anonymous flash polling (if permitted), and video clips and seek to keep students engaged through a high-energy speaking approach.
This presentation will help upper elementary school (grade 3-5) students:
• Learn how bullying and cyberbullying can occur and what to do about it
• Understand the emotions that are felt when one is victimized
• Resist meeting up with people they only know online
• Consider relatable and true-story examples
• Understand how who you "friend" and "follow" on social media and similar sites is a reflection of you
• See how easy it is to track individuals because of their digital footprint
• Be inspired by other students who are positively changing their school and community by promoting the responsible use of technology
Key issues discussed: bullying; cyberbullying; smart social media usage; online integrity; respecting others
(35-40 minutes)
Here are numerous testimonials from schools and other organizations with whom we have worked.
Contact us today to discuss how we can work together!