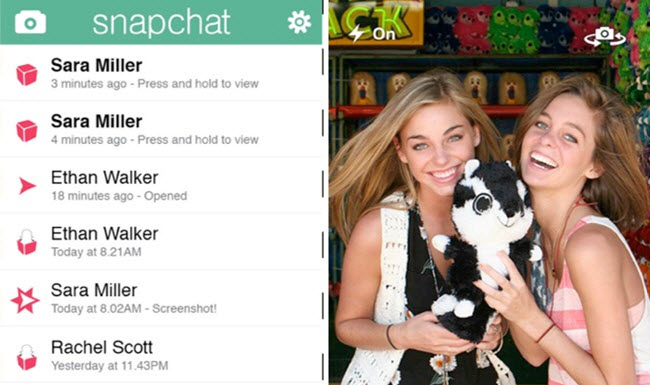 Snapchat. If you work with youth, you know it's all the rage. And if you don't, I bet you're still hearing about it on a regular basis. Maybe you've taken the time to download it and use it. Maybe you have some familiar with how it operates, and why it is the next big thing. But if you don't – and most adults we know simply haven't had the time to really get to know the app – we thought we'd try to help. Snapchat is an insanely popular social media app where interaction primarily revolves around image and video messaging on your phone. However, there is a lot more to it. Let's break it down, and provide some examples to help you understand how it works – and why it's gaining so much traction….
Basic Communication
Snapchat provides multiple methods of communication to users: user-to-user picture/video sharing, "Story" posts, text/voice/video messaging through its Chat functionality, and voice/video calls. The first form consists of users sending pictures and videos ("snaps") to Friends in their contact list. The only people who can view the pictures/videos are the recipients the user has selected. Users can also post content to their Story, a feature that allows them to create a simple chronological archive or collection of only the pictures/videos of the day they want to archive, and post it on their account for all of their contacts to access. To reiterate, individuals to whom a person does not send a snap and has not archived it in their story cannot see it (unless they are looking over the shoulder of someone else who received a snap, or a snap gets screenshotted and distributed in some other way).
Stories are different from the regular snaps exchanged because that collection is comprised of images and videos that individuals have specifically shared for all contacts to choose to view. The best way to describe it is if you took some snaps and wanted any of your contacts to view them to see what you've been up to recently, they can – even if they weren't personally sent one or more of those snaps from you. Next, a variety of communication can occur through the Chat method. Initially, this afforded the ability to send direct text messages and any stored images, screenshots, or videos in one's phone. In late March 2016, the company added new features that allow users to send short Audio and Video Notes to their friends, as well as actually make Audio or Video Calls to them (and toggle between voice and video on the fly). To be honest, using Snapchat is quicker and easier for many than texting – which is a main reason why Snapchat has gained such traction among young persons, given their preference for instantaneous communication with as few actions (e.g., touchscreen presses) as possible. Arguably, there is now no need to switch between different text messaging, photo taking, or video recording and communicating apps – Snapchat does it all.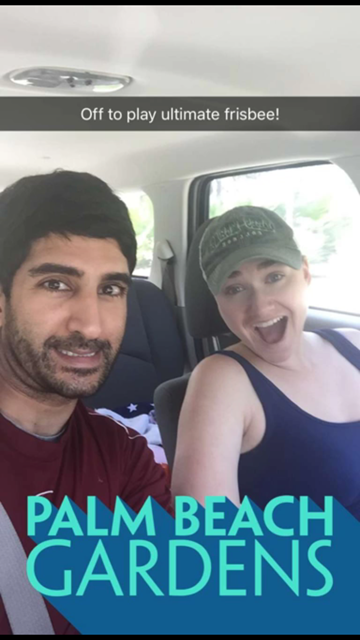 Unique Features
These methods of messaging alone aren't too revolutionary. However, there are two major features of Snapchat that clearly set it apart from its competitors, and arguably have made it a "disruptive app." They are its self-destruct component and its fun customizable messaging capabilities. Regular snaps between users can be shared for between 1-10 seconds before they are automatically deleted, while Stories are displayed for up to 24 hours on the creator's account for his/her contacts to access. This feature provides individuals with a sense of security since pictures or videos presumably aren't saved or archived on someone else's device and potentially used against them in the future. That said, Snapchat does in fact warn users that recipients can save images by taking a screenshot or capturing it with another phone or camera (until mid-2015, third-party apps were also available to archive all snaps received, but Snapchat shut the door on all of them following a privacy breach). When someone does take a screenshot, the sender is immediately notified that happened with an alert. The second major feature of customizable messaging basically means that users can add text, emojis, drawings, and location-specific filters and frames to pictures and videos. This fosters a creative sharing experience that is very different from traditional text messaging, and allows individuals to connect in unique, fun, and zany ways through the snaps they send.
Snapchat users clearly appreciate the fact that the app doesn't save any content for individuals apart from their intended recipient to see, question, or judge them by. Moreover, despite the ephemeral nature of the content, it seems (anecdotally, at least), that most teens are using the app responsibly. While no research has been conducted on the ratio of appropriate vs. inappropriate content exchanged via Snapchat, it seems that the vast majority of the pictures and videos shared are random, unremarkable selfies and snapshots of mundane moments of life that are sent and received simply to stay relationally connected to others. From our conversations with teens, most realize that the information exchanged on Snapchat can be resurrected if it comes right down to it, but they also know that the content shared there is more private than if they posted it to Facebook or Instagram. They aren't generally looking to get away with anything. Rather, they are just interested in getting away from the prying eyes of parents, grandparents, other kids who aren't (or don't need to be) in the loop, and Internet companies and their marketing machines.
[total-poll id=17172]
Snapchat's Population
In the span of three years, Snapchat has attracted over 100 million users worldwide, with 54% on the app daily. What are they doing, you might ask? Well, they are sharing approximately 9,000 pictures and videos every single second, and watching 8 billion videos each 24-hour period. Young people in particular have been the driver of user growth; according to research conducted by the Pew Research Center in late 2014 and early 2015 41% of American youth between the ages of 13 and 17 use the app. More specifically, 51% of all teen girls are on it, as compared to 31% of all teen boys. Older teenagers between the ages of 15-17 (47%) use the application more often than their younger counterparts (aged 13-14) (31%). Similarly, within the older teen subset (15-17), girls make up the majority of users (56%) when compared to boys (39%). Furthermore, among users 18 years of age and older, almost half (47%) are under 25 .
Cyberbullying
While Snapchat's distinguishing features have provided new and innovative methods for communication among the younger crowd, there have been isolated cases of misuse in which those same notable components were used to victimize others. The disappearing messages in particular might provide an appealing medium for cyberbullying since without the appropriate digital evidence it is difficult to prove that one person sought to harass, intimidate, embarrass, or threaten another. Cyberbullying can also occur if an individual takes a screenshot or uses a secondary device to capture and distribute embarrassing or private content that a user intended to keep among a privileged audience. Would-be aggressors can even customize the saved picture/video to include hurtful comments or markup drawings, and share them far and wide via Snapchat or on other social media apps.
A less direct form of cyberbullying occurring on Snapchat involves the social exclusion of friends through the use of the Story feature. In essence, individuals post images/videos on their Story collection as a way of broadcasting who was invited to a party or get together, and who was not. When those stories are posted to the user's feed all of their contacts can access them and consequently know who was featured and highlighted (demonstrating social value and importance) and indirectly noting who was neglected.
Sexting
Initially, Snapchat made headlines because the media often portrayed it as a "sexting" app, which stirred up fear and moral panic among adults even though such a notion was not based on research but on a few isolated anecdotal cases. It's arguable that this initial negative portrayal led to a buzz and curiosity that then ignited and fueled rapid adoption of the app among youth specifically who embraced its ease of use and for the novel and positive features it provided. Here's the thing: no research has been done on the quantity of "appropriate" (prosocial, positive, or neutral) snaps vs. "inappropriate" (antisocial, deviant, or negative) snaps sent among users. All I can say is that I use Snapchat regularly, and so do my friends, and so do a ton of teens with whom I work – and none of us have personally known a sexting situation on the app. That said, it has happened, and we can learn about some incidents out there in the nation and world via Google.
Apart from the embarrassment and emotional fallout when private pictures or videos are saved and shared without authorization, harassment, bullying, and threats can also follow. There have even been cases of blackmail sometimes classified as sextortion, when someone intends to profit from sexually implicit/explicit images of another person, or otherwise attempts to manipulate them to do something they don't want to do. This occurred to a nineteen-year-old college student in Ohio in 2014, and to multiple boys and young men in Connecticut in 2015. Also in 2015, four students at a high school in Illinois faced criminal charges for using Snapchat to obtain explicit images and distribute them to more than 25 other students. The students claimed that they didn't know sexting between minors was an illegal act and considered child pornography.
Hopefully by now you see that Snapchat provides a lot of positives to a population of adolescents and young adults who are all about fast, easy, continued interaction and connectedness with their friends. I've also tried to make clear that problems can and do occur on any social media app, and that Snapchat is no exception. In just a few days, I'll post Part II of this writeup – it will let you know exactly what you should know and do to help kids avoid various issues on Snapchat in a way that fosters good decision-making on their part. Stay tuned!