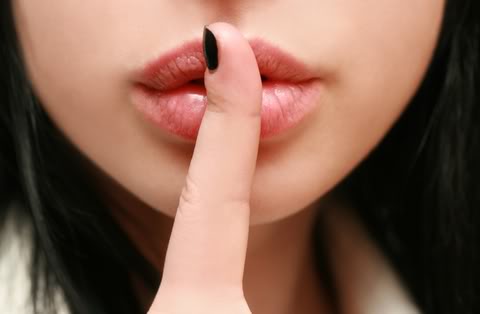 Describes Facebook and Twitter confession pages, as well as how apps like Secret and Whisper are being used – both for cyberbullying and to help teens cope.
What many adults don't understand, they freak out about. Especially as it relates to teens. I'm generalizing here, but you know what I mean – we really don't want the youth we care for to be having secrets, telling secrets, and keeping secrets away from us. Because we don't fully trust them, either due to past experiences or due to messages from current events and the popular media. Well, in this environment we have seen the increasing popularity and notoriety of online mediums and platforms over which teens (and adults) can anonymously say whatever they want to those around them (see Justin's post on Yik Yak) or to a larger social grouping. And it's worth taking some time to discuss these, so that we know fact from fiction and don't overreact.

To begin, Confessions pages/sites on social media have received some attention in the press over the last year, and here at the Cyberbullying Research Center we continue to regularly hear about the experiences of teens on Facebook- and Twitter-based pages. . Confession pages allow anyone to share personal secrets, rumors, gossip, and anything else they might want others to know about but are hesitant to post publicly or in a way that is tied to their identity. And, of course, everyone who knows about the page (in a community, or school or other organization) can "like" it and thereby can stay in the loop by receiving its updates in their either in their News Feed or via the Twitter account they are following. At this point, they can then participate as a voyeur, or more actively by liking, commenting on, or sharing specific confessions.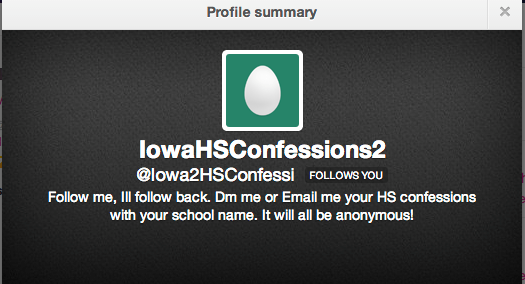 As an example of how it works on, say, Facebook, a user first creates a "Fan" page (meaning, a page that represents a group or brand or entity, instead of a "Profile" page for themselves. Facebook does not require creators of "pages" to reveal their identity. Visitors can then send private messages to the page with specific confessions, and the administrator of the page then posts them publicly to the Wall for all "followers" to see. Another way to keep posts anonymous is to create an email account specifically to receive confessions from others, or set up a form via free online tools such as Google Docs (or Survey Monkey, or even an Ask.fm page). Then, "confessors" can clink on a link, open up the form, share their confession without giving any identifying information, and click "send." The person behind it all then receives these anonymous confessions via email, and then can post them for all to see.

Outside of using Facebook or Twitter, other confessional platforms for smartphones have recently gained traction. Secret is a new app that recently came out for iOS (Apple) users only and has been described as an anonymous "community with no names, profiles or photographs." When you make a post, it sends it to you and also to a select subset of your friends (i.e., your contacts), and possibly friends of those friends – all of whom (of course) must have the app (or they are not involved at all). The more people like it within the app, the further it will spread. More secrets are shown to a user when they have more friends (based on unique algorithms), with the primary goal being to ensure secrecy and prevent people from finding out who truly said what. According to the creators, "We built Secret for people to be themselves and share anything they're thinking and feeling with their friends without judgment. We did this by eliminating profile photos and names and by putting the emphasis entirely on the words and images being shared. This way, people are free to express themselves without holding back." They also mention that the anonymous nature of Secret allows for people to like, comment, and re-share other people's posts that may be considered controversial, giving them the freedom to endorse anything without shame.

Similar to Secret is Whisper, which allows users to post anonymous confessions written on different images and is available for Android devices as well. Basically, you are asked to create a username and PIN, upload or select a picture from their vast library, add a custom filter, and then add custom text (whatever you want to whisper to the world). Then, you can decide to share your location, post it with hashtags to enable others to find it, and share it on other social media platforms. People who see it can like it and leave comments just like we've grown accustomed to on Facebook and Instagram, and can also share it across other platforms. Oh, and users can private message each other – which I think is an interesting feature which may provide the app with more "stickiness" and frequent usage than other apps. Whisper never knows who you are, doesn't access your phone's Contacts, and shows anonymous posts from all over the world (instead of just from your friends).

Anyway, in an effort to prevent bullying and "reduce negative comments," Secret recently stated that it is "adding features that detect when people's names are typed into in messages and warn those who would include them to think before they post." Relatedly, Whisper's CEO, Michael Heyward, stated that their app does not allow people to "use anonymity to hurt anyone else." In other words, users are not permitted to use proper names in posts (unless they are names of public figures). So, for instance, "Justin Bieber is okay, but Justin from Spanish class is not. Whisper also employs 120 human moderators to comb through posts in real time" (see here for more information).

Anonymous confession posts can vary from sexual fantasies for another student, to a crush on someone, to revealing one's sexual orientation or another thing that may often be stigmatized or judged. Other posts are cruel and hateful, and clearly represent cyberbullying: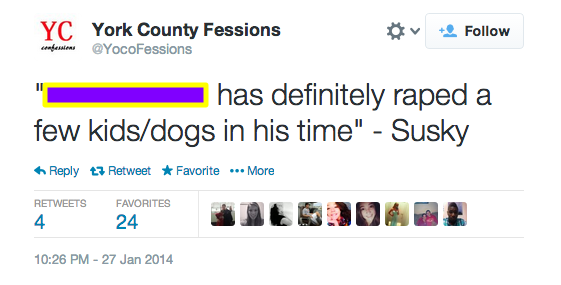 Students do understand the negatives that arise when these sites are embraced within certain populations. One recently stated to the media that "they degrade people and make them feel unnecessarily bad about themselves." But even so, confession pages have garnered tremendous popularity in some circles for the same reasons that other novel environments breed cyberbullying. As we know, people are "more likely to speak their mind" online if their "words can't be traced back to them." Furthermore, (and as Justin recently stated) teens are "hungry for an online environment where they can interact and communicate that is outside the prying eyes of parents."

In terms of solutions, victims should always take the time to report these pages on Facebook or Twitter, as they violate their Terms of Service IF (and only if) what is being posted is harassing or threatening. To encourage this, you should remind teens that reporting a problematic account on Facebook or Twitter simply alerts the site to look into it and respond. It does not "out" the person reporting. To reiterate, when you follow the Report links on pieces of content provided by these companies in their site and app infrastructure, the person about whom you are reporting does not get any type of notification that you are the one who reported on them. While I don't have any experience yet working with the creators of Secret and Whisper, I hope they will follow in the footsteps of Yik Yak and do what they can to combat harassment, threats, stalking, and hate speech because it is in their best interests to create a user community that flourishes in a healthy and functional way.

Schools which struggle with fallout from confession pages or apps must always remember that they can discipline students for their online expressions if it substantially interferes with the learning environment or infringes upon the rights of another student (to feel safe, comfortable, and supported at school). And while it may be difficult to discern the identity of who posted what, it's not impossible since every posting has a digital footprint (which we will explain further in a future blog). We've fleshed out these clauses in great detail here and here, in case you need a refresher. With specific regard to Secret and Whisper (and current and future apps with similar feature-sets), it's quite likely they will go the way of previous platforms like JuicyCampus.com and Formspring.me) because most eventually devolve into a "network full of lies and hate." We just have to continue to educate teens to watch their words even when presented with a prime opportunity to be disrespectful or cruel towards someone else. These opportunities will often be turning points in their lives that dictate how they turn out. As such, taking the narrow road in spite of internal and external pressure to do otherwise is what they need to habituate now, so that it becomes their regular course of action during adulthood.

Outside of the cyberbullying issues, though, it's important to discuss some of the positives of these environments when considering these environments. Not doing so is neglectful because the use of technology is always a double-edged sword. A DV High Confessions page administrator has commented that although Confession pages "stirred up drama," they were a "great way for students to voice their thoughts and feelings," because "these days, there's a crazy amount of stress that just comes with being a teenager and in high school alone, so being anonymous makes it easier for people to express themselves." And so it brings teens together to vent, commiserate, and find common ground in each other's experiences, which reminds them that they are not alone and that their situation (as painful as it may be) is survivable.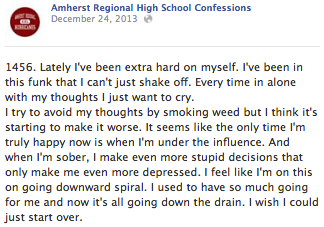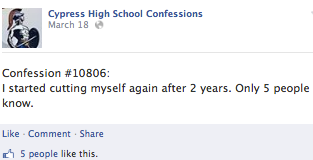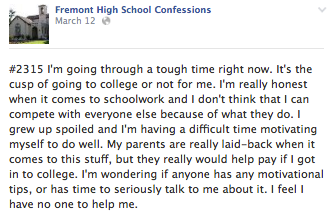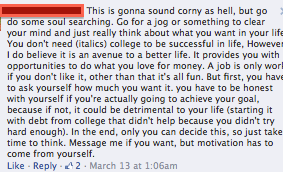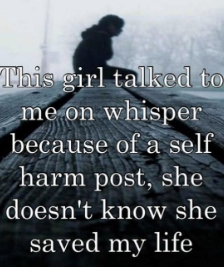 It doesn't happen every single time, but it does happen a lot: teens are not sociopaths, and have good hearts, and do take the time to reach out and extend kindness towards one another in this way. And it clearly matters and makes a difference. Perhaps similar to your own personal experiences growing up, I remember clearly how difficult adolescence was, and how at times I felt like the tornado of emotions and stress and insecurities and pain and pressure that swirled around me was going to swallow me whole. And I did have a couple of online pen-pals at that time to whom I felt free to pour out my heart and vulnerabilities in ways I would simply not feel comfortable expressing to my parents, or a school counselor, or even a friend in real life because words typed with my fingers flowed easily while words spoken from my mouth fumbled and sputtered and tripped on themselves as I tried to convey how I felt. And those people were kind to me. Having this outlet and connection helped me so much, just like it is helping so many teens right now. And that is the story with pretty much every technology.

I remain incredibly aware of, and sensitive to, the potential for cyberbullying with these pages and apps, but never want to dismiss an app outright until we have had time for its possibly positive uses to surface. As youth-serving adults, we need to constantly support positive, healthy, and healing self-expression online and offline, but still set and hold to a hard line on expressions that harm others. Education, awareness, reminders, consequences, empathy-building, and conflict resolution skills continue to be most important in combatting harassing and threatening speech made via technology or in the real world. Who knows how long Secret and Whisper and Confession pages on Facebook and Twitter will attract attention. And even when they lose their luster, there will always be other apps and even networks (e.g., Tor) that provide anonymous communications and functionality to users. As such, I'd rather we focus our efforts on building an ethical and character-based foundation for decision-making within our youth. This way, they ideally do the right thing irrespective of whether everyone is watching them or no one knows who they are.

Image sources:

http://www.thirdparent.com/wp-content/uploads/2014/02/twitter-confession-high-school.png
https://www.facebook.com/Amhersthighconfessions
https://www.facebook.com/confesshs
https://www.facebook.com/pages/Fremont-High-School-Confessions/425401247544037
http://www.economist.com/blogs/schumpeter/2014/03/anonymous-social-networking