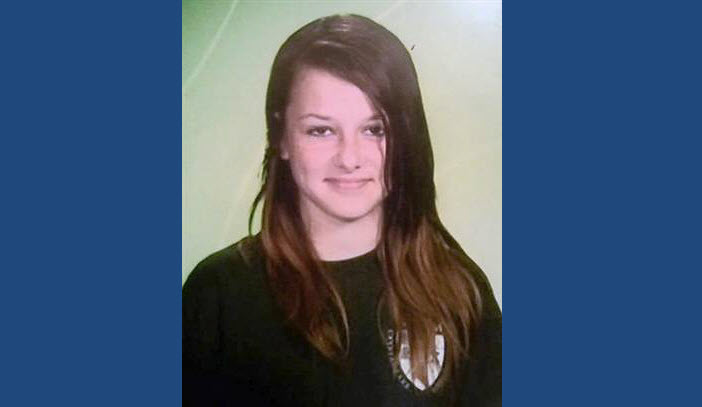 Two girls (a 14 year-old and a 12 year-old) have now been arrested and charged with felony aggravated stalking for their involvement in the bullying of 12 year-old Rebecca Ann Sedwick. Rebecca jumped to her death on September 9th after enduring months of bullying, online and off, from as many as 15 classmates at Crystal Lake Middle School. Among the messages were repeated calls for Rebecca to end her life, including "Drink bleach and die" and "Can you Die Please?" She changed her Kik Messenger profile name to "That Dead Girl" and then did just as they had asked, and committed suicide.

Two of the tormenters are now facing criminal charges. But at least one of the them doesn't seem to be too concerned about that. According to an AP report, the older of the two who were charged allegedly boasted about her behavior toward Rebecca, even after the suicide: "'Yes, I bullied Rebecca and she killed herself but I don't give a …' and you can add the last word yourself," Polk County Sheriff Grady Judd noted, referring to a Facebook post. This kind of response from a teen accused of bullying is actually very rare. Most of the time, when teens are confronted with their bullying behaviors, they are dismissive, but generally apologetic. Not brazen. The question is, does her behavior (or maybe just her attitude) warrant a criminal response?

Additional Criminalization of Cyberbullying Generally Still Not the Answer

I've long advocated against the further criminalization of cyberbullying as it occurs among adolescents. As a criminologist, I can appreciate the purpose and role of the criminal justice system to ensure public safety by intervening in targeted and meaningful ways with those who violate the norms of society. Lately, however, our "interventions" have largely amounted to mass incarceration with little offered in terms of rehabilitative services. While the juvenile justice system has traditionally been more focused on providing treatment to troubled youth rather than simply locking them up, the scarcity of resources certainly has constrained the ability of juvenile and family courts across the country to provide the type of comprehensive programming needed to solve the underlying problems.

As a result, the justice system (for minors and adults alike) should be reserved for the most serious of cases involving the most obstinate of offenders for which alternative remedies have failed. It is unknown whether any of the girls involved in bullying Rebecca had been disciplined at home, at school, or elsewhere. Given the seriousness of the actions committed over an extended period of time, coupled with the ultimate outcome, perhaps this is precisely the kind of case where a criminal charge is warranted.

But I am still reluctant to resign myself to that position, especially given the ages of the girls involved. What they did was wrong and requires intervention and appropriate discipline. I'm not sure, however, that prosecuting them criminally brings us any closer to solving this problem among teens. It is unlikely to deter them from future misbehavior (any more than other school and family responses), and is even less likely to deter others from similar behaviors. In general, an adolescent's behavior is more influenced by caring adults and peers than the threat of legal sanction. So it is the primary responsibility of parents and educators to work together to prevent incidents from escalating to this point, and to work together to come up with an appropriate response strategy when it does.

What About the Parents and the School?

Many have rightly asked "Where were the parents in all of this?" It appears that Rebecca's parents were trying to do everything in their power to resolve the situation. She contacted the school but when the behaviors continued she felt it necessary to remove her daughter from the environment and home-school her. Even with that, the bullying continued. Not much is known about how the parents of those accused of doing the bullying responded. Some have suggested that the parents be charged for their inability to control the behaviors of their children. Holding parents accountable for the behavior of their children is challenging, but may be applicable when parents know about delinquent behavior but fail to make a reasonable effort to stop it. It is very likely that the parents in this case will claim that they had no idea about the nature and extent of their child's online behaviors. They should have.

It's also unclear what actions the school took to remedy this situation. Schools have a responsibility to ensure a safe learning environment for all students in their buildings and from what is being reported, Rebecca was bullied at school for months. Clearly she did not feel safe since her parents felt it was necessary to remove her from the school. Not only do schools have an obligation to respond to bullying, but they must do so in a way that stops the bullying. For example, last year a jury ordered Pine Plains Central School District pay a former student $1 million dollars when he was unable to attend his regular high school because of repeated harassment. In this case the school did respond by suspending those who were doing the bullying when it was reported to them, but the court said that they should have taken more steps to ensure the bullying ceased.

In short, the vast majority of bullying and cyberbullying incidents can and should be handled by parents working with schools to resolve the situation in a way that ends the bullying. It seems that there were many missed opportunities in this particular case where those adults could have gotten involved to stop the bullying more effectively, but didn't. The bottom line is that the bullying needs to stop. If it doesn't, then additional steps need to be taken until it does. A criminal charge should fall at the far end of any comprehensive continuum of punishment and reserved for those rare instances where all other efforts fail.