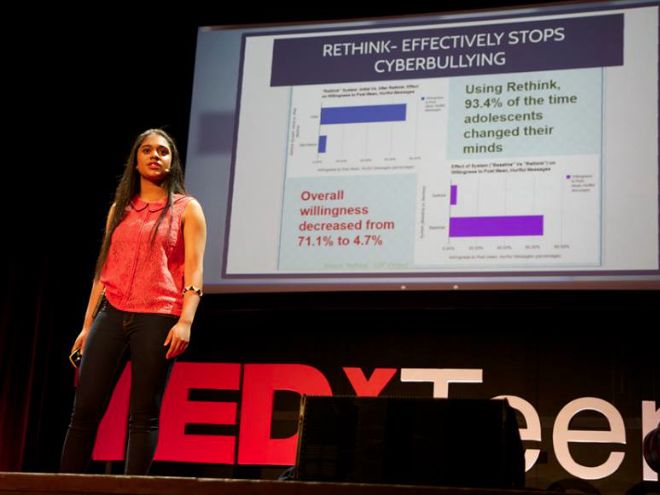 Last October, we profiled Trisha Prabhu, who as a young teenager designed software intended to reduce the prevalence of cyberbullying by invoking the conscience of users before they post or send a malicious or cruel text. Her project and efforts have deservedly received much praise on a national and international level, and Justin and I were particularly excited to see a teen who wanted to create a tech-based solution that empowered individuals themselves to make right choices in the moment of a difficult decision (e.g., to be mean or be nice). I recently reached out to Trisha to provide our readers with the scoop as to what is new in her life, and how her good intentions have continued to translate into meaningful and measurable action. Her update is below.

After another incredible year filled with hopes, dreams and the fruitful realities of immense hard work to stop cyberbullying before it happens, I'm more excited than ever to see what the future holds. My name is Trisha Prabhu, I'm 15 years old, and the founder of ReThink, anti-cyberbullying software. ReThink proactively stops hurtful messages before they are posted and provides a second chance for the cyberbully to stop, review and ReThink before sending a hurtful message, before the damage is done! When I was invited to be a part of Coca Cola's #makeithappy campaign to speak about ReThink for the Super Bowl 2015 earlier this year, I shared the stage with victims of cyberbullying that suffer everyday, silently, because they are too afraid to speak out. The statistics didn't lie, and neither did their heartbreaking stories. It was clear – cyberbullying was a silent pandemic affecting millions around the globe, and I had to continue on my journey to eradicate it forever.

There are so many solutions out there to stop cyberbullying after the damage is done. Blocking the bully or reporting the abuse to adults or school authorities/law enforcement are important steps that victims are encouraged to take to help end the cyberbullying. Unfortunately, these solutions often do not work, due to the fact that nine out of ten cyberbullied teens do not tell anyone that they are suffering. When victims receive those hurtful messages, the damage is done, and suffering begins. Sadly, this is not short-term pain. Recent research from UK found out that the scars of repeated bullying and cyberbullying lasts well into victims' 50s and 60s.

Why is that adolescents choose to post these detrimental, demeaning messages? Why don't we recognize the consequences of our actions? The question has baffled parents and researchers alike. The answer, though, is linked to the brain. The adolescent brain is likened to a car with no brakes. No pausing. No thinking about consequences of an action. In the heat of the moment, at a point of peer-pressure, with a sense of urgency and desire to "fit in," teens often say or do things they later regret.

ReThink helps adolescents consider the possible consequences of posting a hurtful message before posting that message. With a simple, non-intrusive alert, adolescents have an opportunity to pause, review, and rethink what it means to post that message, before they make their final decision. My internationally acclaimed, award-winning study presented at the Google Global Science Fair proved that with ReThink, over 93% of the time, adolescents changed their minds and decided not to post a hurtful message. The overall willingness to post hurtful messages dropped from 71% to just 4%.

In the spring of 2015, when I was at the White House Science Fair presenting ReThink to several dignitaries, businessmen and women, and law-makers, I realized that this was just start – there is still so much work to do to stop cyberbullying. I had the opportunity to have several conversations with lawmakers about importance of making legislative changes to consider cyberbullying front-and-center for schools and communities. As a We are Family Foundation Global Teen Leader for the Just Peace Summit this past spring, I had the opportunity to interact mentors and turn some of my dreams into realities this summer.

ReThink is now available for both Android and iOS phones and tablets on the Google Play Store and on the App Store, respectively. It was an unforgettable moment when ReThink was officially launched, for free, and became available to millions around the world. Interest communities, parents, law enforcement officials, teachers, principals, school psychologists, guidance counselors, and so many more has been overwhelming and humbling. ReThink has already been downloaded on thousands of devices and will soon be released as a Chrome Extension and in multiple languages.

ReThink is more than just a software solution – it is a mind-set, a movement, a call to action to help end a social issues plaguing so many of our young people everywhere. My goal is to have schools around the globe adopt the ReThink slogan as their campaign to combat cyberbullying and to have ReThink rolled out to schools communities around the world. During Cyberbullying Awareness Month this October, please help our cause by nominating student ambassadors from schools at www.rethinkwords.com.   These ambassadors will be trained to help influence their peers to "ReThink" before sending hurtful messages, saying hurtful words. In addition, numerous experts are working hard to stop cyberbullying at the Cyberbullying Research Center and there are incredible training materials, resources, workshops are available at cyberbullying.org. If those resources are appropriately availed, and if ReThink is rolled out to every teen, together I really believe we can conquer cyberbullying – one message at a time.