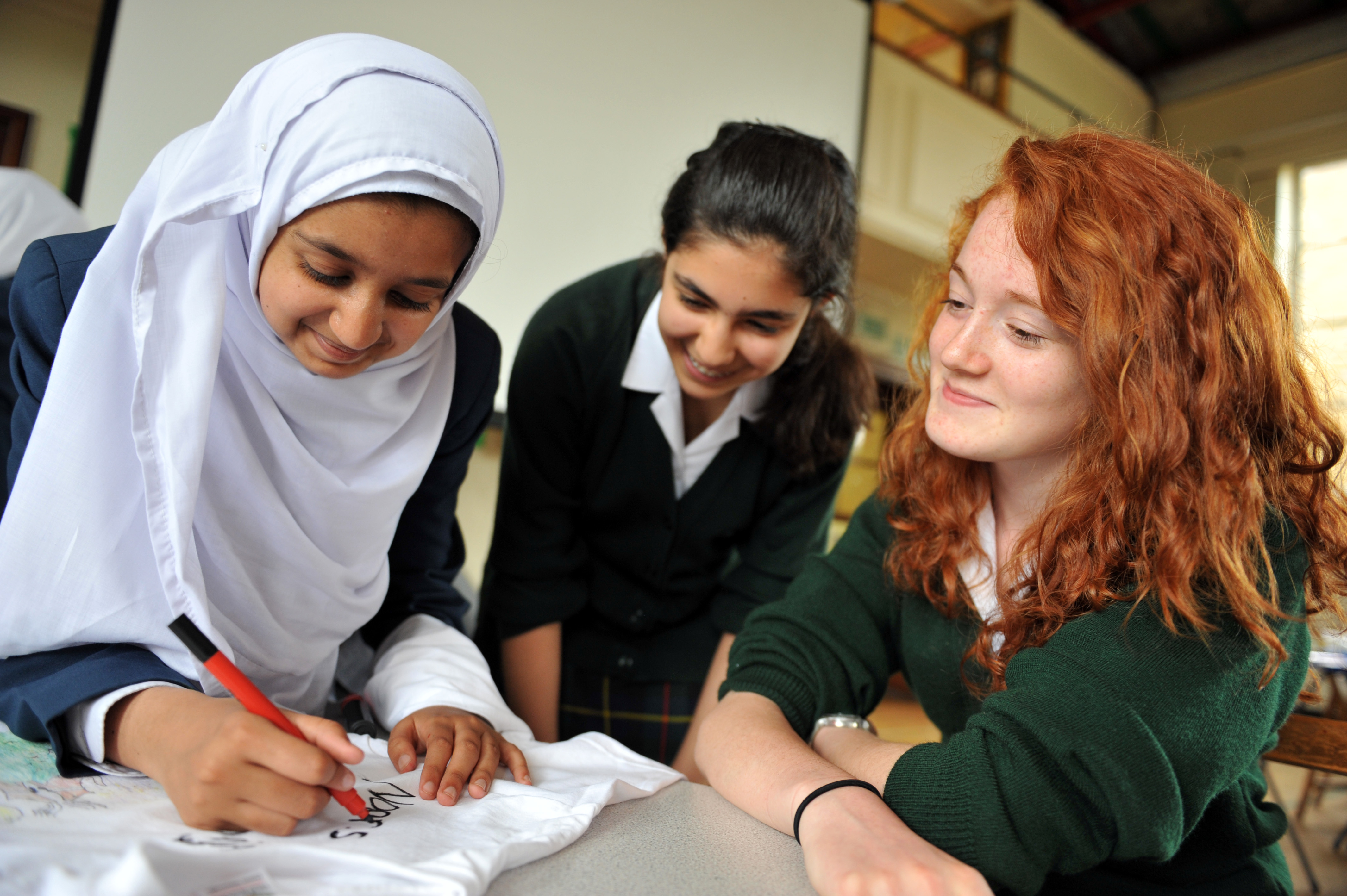 When youth are bullied because of something specific to their identity – like their religion, sexual orientation, or race, , it very well may take a deeper emotional and psychological toll than bullying based on non-identity-related factors (Almeida, Johnson, Corliss, Molnar, & Azrael, 2009; Every & Perry, 2014; Garnett et al., 2014; Rippy & Newman, 2006). If you know me personally, you know that I think (and blog) a lot about identity, and that my faith in particular is central to my life. Having been bullied and cyberbullied for it as an adult, I greatly sympathize with youth who have faced it, and thinking about their experiences redoubles my desire to prevent this type of cruelty.
Hopefully you agree that schools, communities, and society need to do more to make sure that everyone feels safe and supported to practice beliefs that are sacred to them (as long as they do not harm others). Earlier this year in Washington, DC, I spoke at an interfaith religious summit organized by Facebook and Instagram where we talked a lot about solutions (read my summary here, which has plenty of practical ideas to implement). Now I want to explore this issue in greater detail so that we can better protect the freedoms our country was built upon and prevent hate and bigotry with more success.
Findings from Youth Across America in 2019
Very recently, we finished collecting a new round of data from a nationally representative sample of 5,000 middle and high schoolers across America. As you can see from the chart below, students of various faiths seem to be bullied at school relatively equally.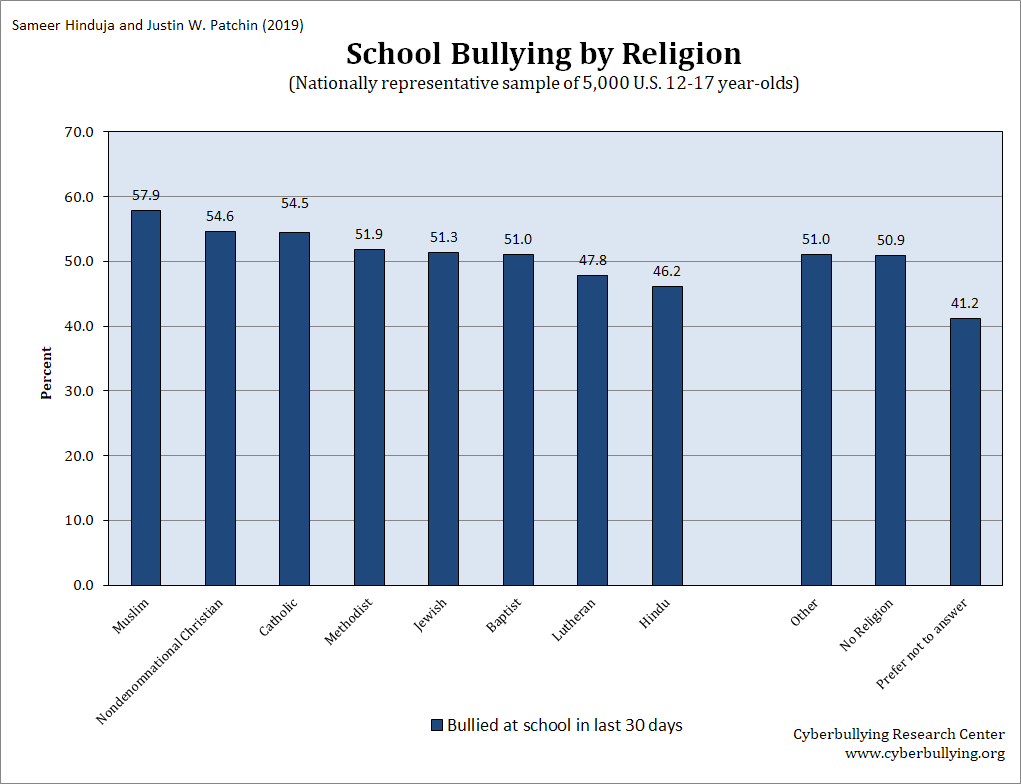 However, when you consider cyberbullying, more Muslim youth said they were targeted than those of other faiths.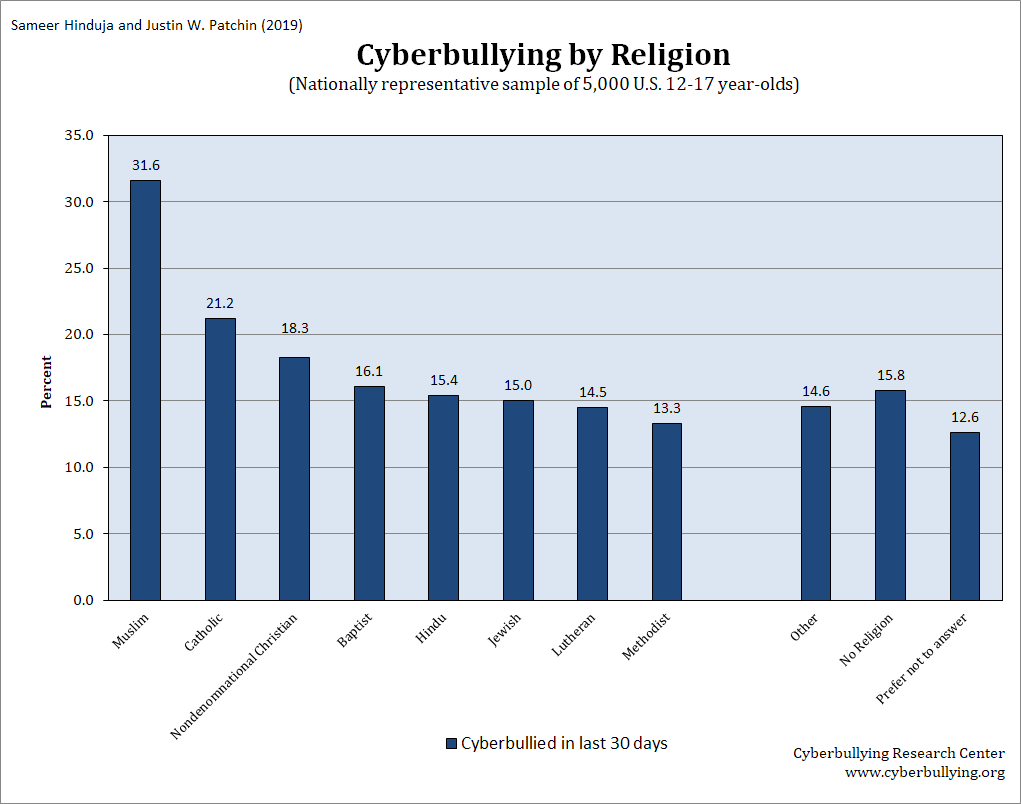 In case you are wondering why the charts do not reflect those of the Sikh faith (a religious group historically targeted with bullying (Ahluwalia, Nadrich, & Ahluwalia, 2019)), it is because the number of Sikh students in our sample was so small that we had to include it in the "Other" category. Future research should intentionally oversample Sikh students (and other religious minorities) across the nation to better understand their specific experiences.
Now, let's turn our attention to bullying based on religion. As you can see below, 34.3% of Muslim youth, 25% of Jewish youth, and 23.1% of Hindu youth say they have been targeted at school over the last 30 days because of their faith.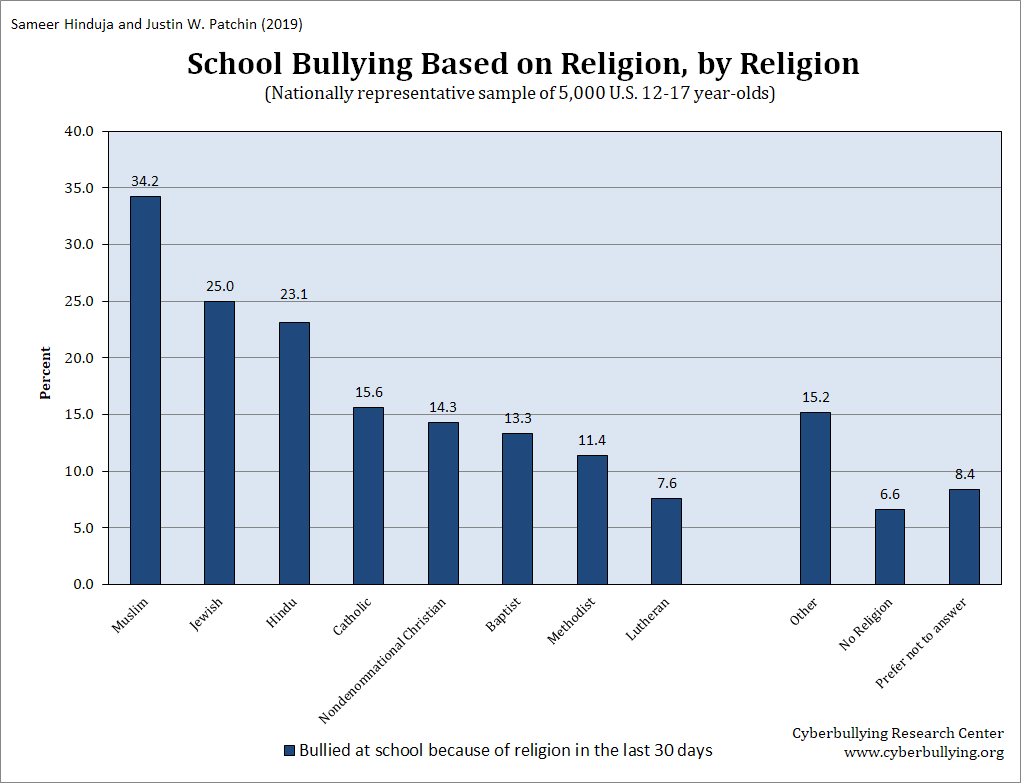 When it comes to cyberbullying, 26.3%of Muslim students reported that they were targeted in the last 30 days, as did 15.4% of Hindu students.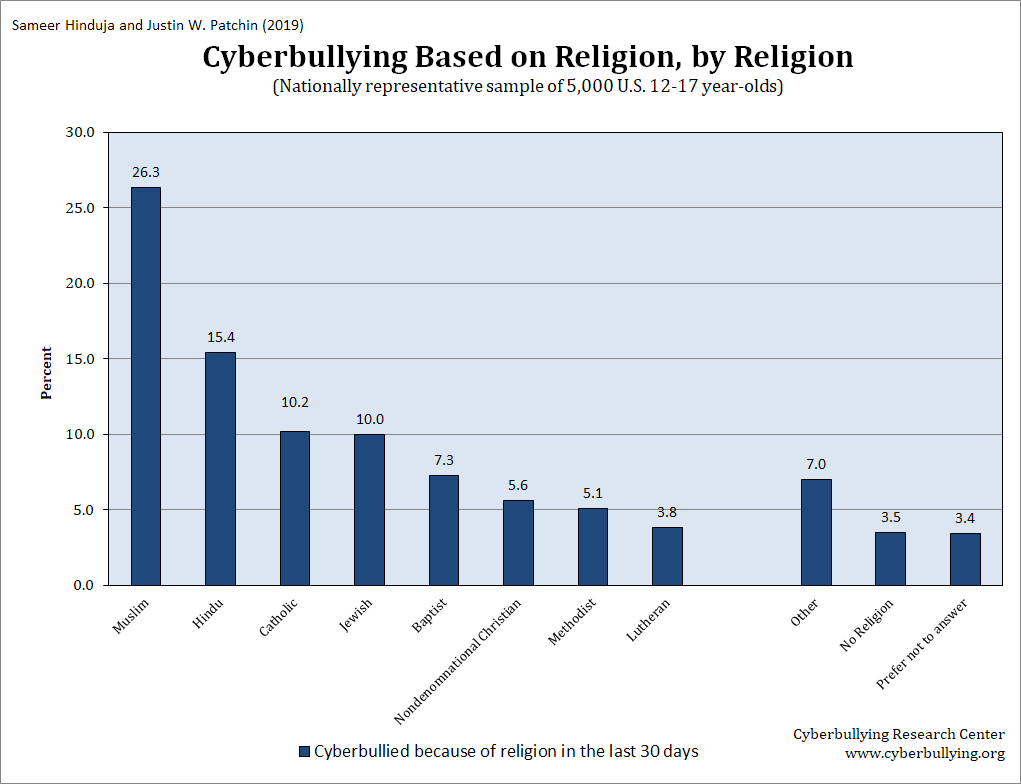 What Can We Do to Prevent Religious-Based Bullying?
When you ask youth professionals what should be done to prevent faith-based bullying, they always mention increased education and awareness. Okay. Great. I am on board with that. I think everyone is. But shouldn't we be more specific? What does this look like in practice?
Curriculum Solutions
To begin, formal curricula is extremely important (check out Teaching Tolerance's learning plans to help students understand and support diversity, ADL's "No Place for Hate" Resource Guide for discussion prompts and tons of sample activities, the outstanding talking points and full presentations for students and adults that you can download from The Sikh Coalition, and the comprehensive Teaching Holocaust and Human Behavior lessons related to anti-Semitism from Facing History and Ourselves). I also very much recommend the "One Survivor Remembers" Oscar-winning documentary (and lesson plan) made available by Teaching Tolerance to use with students to foster empathy for those of the Jewish faith.
Online Campaigns
Second, faith-based nonprofits should organize digital campaigns which, if done well, can go viral and greatly raise awareness about oft-misunderstood religions and customs, while also highlighting the amazing people and beliefs behind the faith tradition. This year, the Hindu American Foundation launched their "I am Hindu American" campaign, which I thought did a wonderful job of honoring the contributions of Hindus to American society. Online campaigns are the best way to reach masses of people through bite-sized, compelling storytelling that dispels myths, promotes compassion, celebrates diversity, and educates the uninformed.
Empower Students to Lead the Way
We also want to encourage students themselves to feel empowered to be the catalysts for change on their campuses. By way of example, a couple of Islamic students who came from thousands of miles away to attend a private school in New Jersey (which represented 22 faith traditions!) felt alone and unsupported in meeting their own religious obligations. As such, they worked with the school to transform part of a building on campus into a Muslim prayer space and organized a club and various events to build community and foster fellowship among other Muslim students.
Celebrate Different Faiths!
In addition, a variety of holidays that have religious significance can and should be celebrated by the entire school. Celebration doesn't just mean a day off from classes. It means facilitating a deeper understanding of the history and importance of that special day to those of a certain faith. Rather than devoting an hour or a day to the cause, it appears valuable to dedicate an entire month (e.g., California has declared November as Sikh Awareness Appreciation Month, as have other states). Hindu Student Associations (HSAs) at schools organize celebrations of Diwali and Indian Cultural Night to spread awareness about Hinduism and to foster cross-cultural interaction and engagement on issues that matter. To be sure, efforts to promote tolerance and diversity do not need to be compartmentalized and siloed; many schools have Interfaith clubs where students of varying religious backgrounds endeavor together to create inclusive spaces for all.
Muslim Student Association (MSA) groups are doing the same thing (here is one in my neck of the woods). Typically, they arrange Friday prayer groups/times, special dinners, and other Islamic events throughout the year at school. Here's some background from the High School Muslim Student Associations Facebook group, which supports these associations across America:
Through your actions and implementation of the Islamic morals and characteristics, we will display the beauty of our religion to the people of our communities. We together as a group can fight radical, extremist illogical ideologies that might spark within the youth, to together better our communities and make them a safe place for all people. Religion has become a taboo to many people and through the various activities of the MSA both in school and within the community we need to make people more comfortable with our peaceful way of life. Using the MSA as a platform we can fight faithism and make our schools and our communities more tolerant towards peoples of all faiths and backgrounds.
Consider Creative Strategies to Promote Engagement
These groups often come up with some amazing ideas to denounce stereotypes. Many MSAs around the nation have organized "Walk a Mile in Her Hijab" events to honor Islam appreciation, where women on campus pledge to wear a hijab for the entire day so they can know what it feels like to be stared at or otherwise mistreated, and to grow in their understanding about the richness of the faith and its requirements. Interestingly, at our International Bullying Prevention Association Conferences, the Sikh Coalition helps us do something similar by giving attendees the opportunity to tie on a dastaar (turban) and learn more about Sikh values, beliefs, identity, and the articles of faith. This has been done in Times Square on the Sikh holiday of Vaisakhi, and at high schools and universities across the United States through Sikh Student Associations (SSA).
Make Sure Solutions Involve BOTH the School and the Community
Finally, we know that any anti-bullying efforts should target the entire community (Farrington & Ttofi, 2009; Ttofi & Farrington, 2008)) and to get families involved by intentionally connecting schools to communities (Oliver, de Botton, Soler, & Merrill, 2011; Spriggs, Iannotti, Nansel, & Haynie, 2007). This is particularly important because some of the events mentioned earlier may affect the mass of students differently. Some will grow in empathy and appreciation for different religions by putting on a dastaar or hijab (and taking the time to grow in cultural proficiency). Others may have their parochial, prejudiced views reinforced as the differentness of other religious groups is spotlighted as unique or exotic (I thank Dr. Nadia Ansary of the Institute for Social Policy and Understanding for this insight).
Here's one example of a great school-community solution that can bear long-lasting change. When one town sought to help oft-bullied Muslim students, parent events were scheduled and held to discuss certain cultural stereotypes that were prevalent in the community (Gómez, Munte, & Sorde, 2014). These events gave members of the Muslim community the chance to share about their lives and experiences, which paved the way for empathy and specific decisions to better support them. Also powerful was when Muslim fathers engaged with the school in more direct ways, which allowed for them to be seen and known – which consequently decreased the tolerance and frequency of discriminatory comments.
Coexistence Committees
Also, I'm a big fan of what can be termed a Coexistence Committee, where parents of school kids of all races and religions come together and have a voice in the rules, policies, and culture-building on campus. This often leads to more volunteers at school of varying racial and religious backgrounds, which built relationships and connection while also helping to tear down misperceptions and prejudices based on ignorance (Gómez et al., 2014). Ultimately, those on the fringes or margins of the school became central to the transformation possible within it.
Leverage the Support and Resources of Faith-Based Nonprofits
As a final example of school-community partnerships, we encourage districts to work hand-in-hand with the numerous faith-based non-profits in their area to foster appreciation and empathy for different religions and cultures. Near Washington DC, teachers from Montgomery County Public Schools participated in a three-part training organized by the Hindu American Foundation, Kaur Foundation, and Sikh Kid To Kid – which included cultural immersion trips to Hindu and Sikh houses of worship, diversity workshops, and reflection sessions. The express goal was to combat religious bullying and clear up misunderstood conceptions about the respective faith traditions.
For Even More Strategies…
I shared other concrete suggestions and strategies in my blog on Addressing Religious-based Bullying. We will continue to explore this problem and work with relevant stakeholders across America and beyond to make a measurable difference in combating bias and hate based on one's faith. We'd love to know what you're doing in your community, and if you've identified any best practices that we can share far and wide, and so please reach out to chat!
Image source:
https://bit.ly/2L9wzLX
Acknowledgements:
Study made possible through the support of Facebook Research.

References
Ahluwalia, M. K., Nadrich, T., & Ahluwalia, I. S. (2019). Sikh Youth Coming of Age: Reflections on the Decision to Tie a Turban. Counseling and Values, 64(1), 20-34.
Almeida, J., Johnson, R. M., Corliss, H. L., Molnar, B. E., & Azrael, D. (2009). Emotional distress among LGBT youth: The influence of perceived discrimination based on sexual orientation. Journal of Youth and Adolescence, 38(7), 1001-1014.
Every, D., & Perry, R. (2014). The relationship between perceived religious discrimination and self‐esteem for Muslim Australians. Australian Journal of Psychology, 66(4), 241-248.
Farrington, D. P., & Ttofi, M. M. (2009). School-based programs to reduce bullying and victimization. The Campbell Collaboration, 6, 1-149.
Garnett, B. R., Masyn, K. E., Austin, S. B., Miller, M., Williams, D. R., & Viswanath, K. (2014). The intersectionality of discrimination attributes and bullying among youth: An applied latent class analysis. Journal of Youth and Adolescence, 43(8), 1225-1239.
Gómez, A., Munte, A., & Sorde, T. (2014). Transforming schools through minority males' participation: Overcoming cultural stereotypes and preventing violence. Journal of Interpersonal violence, 29(11), 2002-2020.
Oliver, E., de Botton, L., Soler, M., & Merrill, B. (2011). Cultural intelligence to overcome educational exclusion. Qualitative Inquiry, 17(3), 267-276.
Rippy, A. E., & Newman, E. (2006). Perceived religious discrimination and its relationship to anxiety and paranoia among Muslim Americans. Journal of Muslim Mental Health, 1(1), 5-20.
Spriggs, A. L., Iannotti, R. J., Nansel, T. R., & Haynie, D. L. (2007). Adolescent bullying involvement and perceived family, peer and school relations: Commonalities and differences across race/ethnicity. Journal of Adolescent Health, 41(3), 283-293.
Ttofi, M. M., & Farrington, D. P. (2008). Bullying: Short-term and long-term effects, and the importance of defiance theory in explanation and prevention. Victims and Offenders, 3(2-3), 289-312.