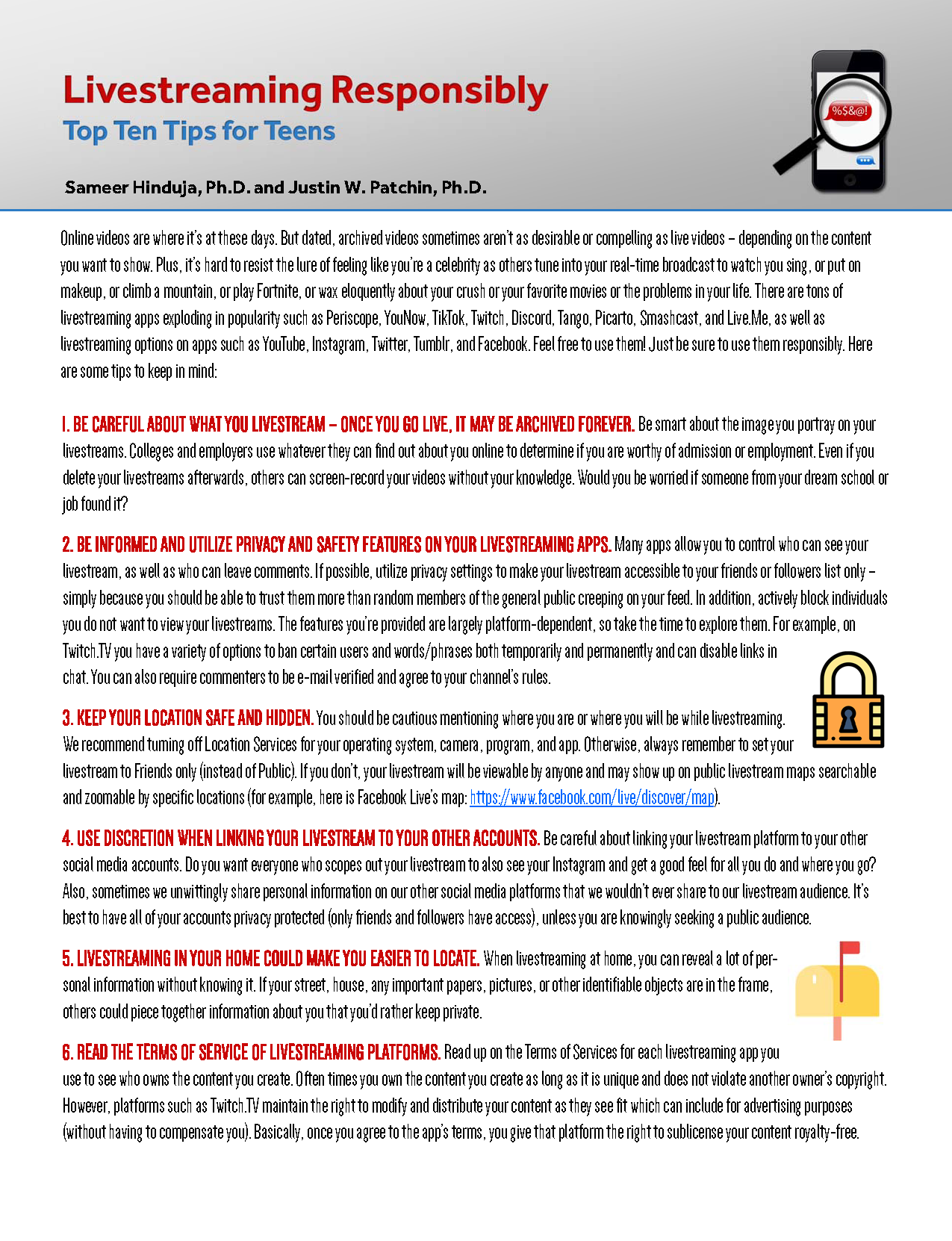 (For a formatted .pdf version of this article for distribution, click on the image above [or click here]).
Spanish Translation Available Here
Online videos are where it's at these days. But dated, archived videos sometimes aren't as desirable or compelling as live videos – depending on the content you want to show. Plus, it's hard to resist the lure of feeling like you're a celebrity as others tune into your real-time broadcast to watch you sing, or put on makeup, or climb a mountain, or play Fortnite, or wax eloquently about your crush or your favorite movies or the problems in your life. There are tons of livestreaming apps exploding in popularity such as Periscope, YouNow, TikTok/Musical.ly, Twitch, Discord, Mixer, Picarto, Smashcast, and Live.Me, as well as livestreaming options on apps such as YouTube, Instagram, Twitter, Tumblr, and Facebook. Feel free to use them! Just be sure to use them responsibly. Here are some tips to keep in mind:
1. BE CAREFUL ABOUT WHAT YOU LIVESTREAM – ONCE YOU GO LIVE, IT MAY BE ARCHIVED FOREVER. Be smart about the image you portray on your livestreams. Colleges and employers use whatever they can find out about you online to determine if you are worthy of admission or employment. Even if you delete your livestreams afterwards, others can screen-record your videos without your knowledge. Would you be worried if someone from your dream school or job found it?
2. BE INFORMED AND UTILIZE PRIVACY AND SAFETY FEATURES ON YOUR LIVESTREAMING APPS. Many apps allow you to control who can see your livestream, as well as who can leave comments. If possible, utilize privacy settings to make your livestream accessible to your friends or followers list only – simply because you should be able to trust them more than random members of the general public creeping on your feed. In addition, actively block individuals you do not want to view your livestreams. The features you're provided are largely platform-dependent, so take the time to explore them. For example, on Twitch.TV you have a variety of options to ban certain users and words/phrases both temporarily and permanently and can disable links in chat. You can also require commenters to be e-mail verified and agree to your channel's rules.
3. KEEP YOUR LOCATION SAFE AND HIDDEN. You should be cautious mentioning where you are or where you will be while livestreaming. We recommend turning off Location Services for your operating system, camera, program, and app. Otherwise, always remember to set your livestream to Friends only (instead of Public). If you don't, your livestream will be viewable by anyone and may show up on public livestream maps searchable and zoomable by specific locations (for example, here is Facebook Live's map: https://www.facebook.com/live/discover/map).
4. USE DISCRETION WHEN LINKING YOUR LIVESTREAM TO YOUR OTHER ACCOUNTS. Be careful about linking your livestream platform to your other social media accounts. Do you want everyone who scopes out your livestream to also see your Instagram and get a good feel for all you do and where you go? Also, sometimes we unwittingly share personal information on our other social media platforms that we wouldn't ever share to our livestream audience. It's best to have all of your accounts privacy protected (only friends and followers have access), unless you are knowingly seeking a public audience.
5. LIVESTREAMING IN YOUR HOME COULD MAKE YOU EASIER TO LOCATE. When livestreaming at home, you can reveal a lot of personal information without knowing it. If your street, house, any important papers, pictures, or other identifiable objects are in the frame, others could piece together information about you that you'd rather keep private.
6. READ THE TERMS OF SERVICE OF LIVESTREAMING PLATFORMS. Read up on the Terms of Services for each livestreaming app you use to see who owns the content you create. Often times you own the content you create as long as it is unique and does not violate another owner's copyright. However, platforms such as Twitch.TV maintain the right to modify and distribute your content as they see fit which can include for advertising purposes (without having to compensate you). Basically, once you agree to the app's terms, you give that platform the right to sublicense your content royalty-free.
7. REPORT ABUSE OR INAPPROPRIATE BEHAVIOR. If you ever experience bullying, harassment, or any other suspicious behavior that makes you unconformable, make sure you report it to the app. All livestreaming apps have reporting tools, though some are more robust than others. For example, YouTube has strict Community Guidelines for user behavior, and repeat violators can have their accounts terminated.
8. BE MINDFUL OF RULES AND LAWS WHEN LIVESTREAMING. If you livestream a concert performance, at a museum, or other certain events, you may be infringing on copyright laws. If you are livestreaming a unique animation, video game, or song the copyright owner of that content may have your stream taken down. That being said, livestreaming in the street or in a public place is most likely okay, unless you're doing it for commercial purposes (and if so, you need to get releases signed by everyone you stream). Certain livestreaming platforms will take down your video if it is flagged for copyright infringement by an artist, publisher, or other content owner. Also remember that people in your livestream might do or say things you really don't want broadcasted in real-time to everyone out there.
9. DETERMINE WHAT IS ACCEPTABLE, AND DON'T TOLERATE WHAT IS UNACCEPTABLE. Both kids and adults alike can be coerced to reveal personal information or engage in unwanted behaviors during livestreams. Remember that you are in charge of your livestream and you can and should control the behavior of others so that everyone plays nice and no one gets victimized. The last thing you want is for your channel to be known as a haven for trolls or predators. Stop it before it really starts.
10. OPENLY DISCUSS AND AGREE ON BOUNDARIES AND RULES ABOUT LIVESTREAMING FOR YOURSELF WITH YOUR FAMILY OR FRIENDS. Livestreaming doesn't seem like a big deal, but the reality is that you can never fully trust everyone out there who may access your feed. It is important to discuss what personal information should and should not be shared – including your location – with someone else who can keep you accountable and make sure you're not forgetting to consider something. Ideally, it should be your dad or your mom, or an older sibling. Again, the point is to take precautions at the beginning to keep you from dealing with fallout, headaches, and heartaches in the end.
Citation information: Hinduja, S. & Patchin, J. W. (2018). Livestreaming: Top Ten Tips for Teens. Cyberbullying Research Center. Retrieved (insert date), from https://cyberbullying.org/Livestreaming-Top-Ten-Tips-for-Teens.pdf
Keywords: tips, teens, cyberbullying, livestreaming, video, prevention, activities, teach, educate