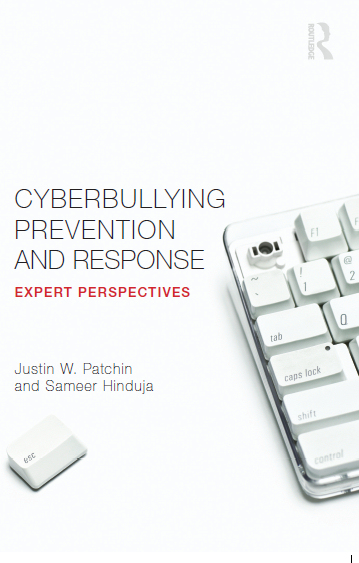 Given the prominence of several high-profile incidents in recent months, cyberbullying has been all over the media. As a result, parents, educators, and other youth-serving adults are looking for information to educate themselves about this problem. Even though cyberbullying may seem fairly new to many, a core group of researchers and Internet safety advocates have been exploring this problem for years and therefore have a unique, empirically informed perspective to offer. Even before much of the recent attention on cyberbullying, Sameer and I came up with the idea to approach these experts and invite them to contribute a chapter for a cyberbullying book. We identified a hand-picked selection of contributors who we feel best understand cyberbullying issues and are widely recognized as authorities on this topic. In addition to these select experts, we wrote two chapters (one summarizing the current state of the research and another directed toward school-based law enforcement officers. Our vision was to collect in one text all of the major issues adults need to be aware of with respect to cyberbullying identification, prevention, and response. The result is our new book: Cyberbullying Prevention and Response: Expert Perspectives, which will be in print on June 24th, 2011.
We hope that Cyberbullying Prevention and Response: Expert Perspectives will serve as the definitive guide to assist you in addressing the ways teens misuse technology to cause harm to their peers. This book voices the views and experiences of the best and brightest youth online risk professionals in the United States. The knowledge and resources shared in this book are guided by research, but presented in an accessible way that will be useful for all who work with teens. What is more, they can be considered some of the "best practices" currently known regarding preventing and responding to cyberbullying. We hope that you benefit greatly from what is shared throughout the following chapters:
Table of Contents
1. A "Living Internet": Some Context for the Cyberbullying Discussion, Anne Collier
2. Cyberbullying: An Update and Synthesis of the Research, Justin W. Patchin and Sameer Hinduja
3. Cyberbullying and the Law, Nancy Willard
4. Youth Views on Cyberbullying, Patricia Agatston, Robin Kowalski, and Susan Limber
5. Cyberbullying: How School Counselors Can Help, Russell Sabella
6. Empowering Bystanders, Stan Davis and Charisse Nixon
7. You Mean We Gotta Teach That, Too? Mike Donlin
8. A "Toolbox" of Cyberbullying Prevention Initiatives and Activities, Jenny Walker
9. Responding to Cyberbullying: Advice for Educators and Parents, Elizabeth K. Englander
10. School Law Enforcement and Cyberbullying, Sameer Hinduja and Justin W. Patchin
Appendix A: Select Cyberbullying Curricula, Lesson Plans, and Materials
Appendix B: List of States with Bullying and Cyberbullying Laws
As a pre-publication promotion, the publisher (Routledge) is offering a 20% discount on books ordered through their Web site. Just enter the discount code "ERJ60" after the book is added to your shopping cart. If you would like to place a bulk order of this book, let us know and we can get you an even deeper discount! As always, we appreciate any feedback you have about our publications and resources. Don't hesitate to drop us a note to tell us what you think.