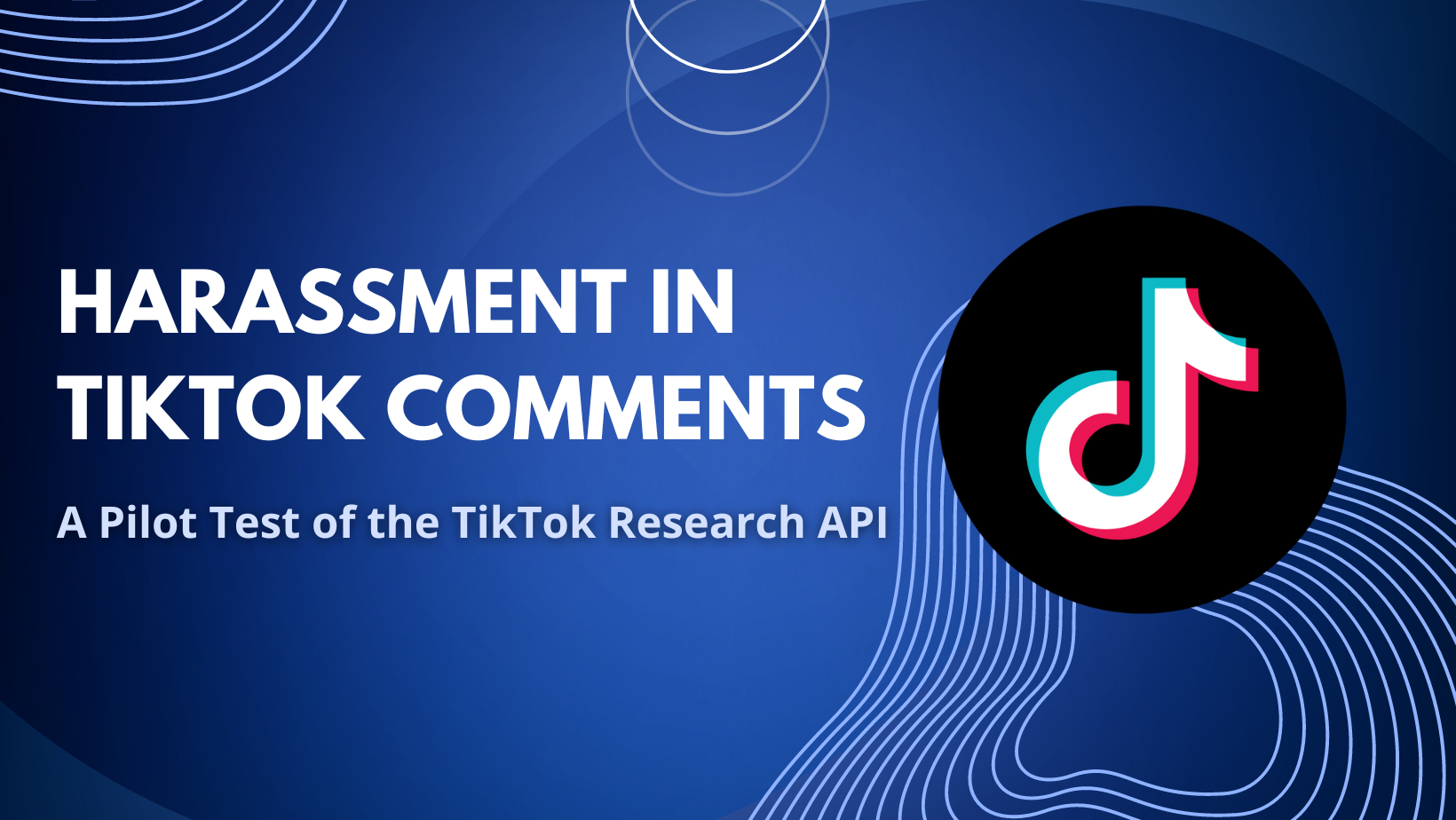 In the Spring of 2023, TikTok released a Research API to academic researchers in the United States in an effort to "enhance transparency with the research community" and "stay accountable to how we moderate and recommend content."1 According to their documentation, approved access allows for the retrieval of:
• Public account data, such as user profiles, comments, performance data, such as number of comments, likes, and favorites that the user receives
• Public content data, such as comments, captions, subtitles, performance data, such as number of comments, shares, likes, and favorites that the video receives
• Public data for keywords search results
TikTok reached out to us with a request to test-drive their new Research API. We were provided access on May 30th, 2023, and were to publish a report of our findings by June 30, 2023, prior to its deployment to other regions of the world. The goal was to put the Research API through a real-world research application to identify any potential barriers to researchers. We agreed to use the tool to examine a specific research question related to the extent of harassment that occurs in TikTok comments.
We need to be clear at this point that while TikTok asked us to put the new tool through its paces, they did not provide any guidance, feedback, support, input, or opinions as it relates to the process and outcomes of this project and this report. They were not made privy to any aspect or version of this report prior to its public release. We must also acknowledge that TikTok provided a monetary contribution to the work of the Cyberbullying Research Center in exchange for our efforts on this project, but again we completed this work independently of TikTok.
To explore the Research API, we chose to examine the extent of harassment that occurs in comments to user videos. For the purposes of this analysis, we chose to focus on public figures. When it comes to harassment, we were generally looking for any targeted expressions that would make a reasonable person feel uncomfortable, distressed, demeaned, or bothered. We were also interested in identifying instances of sexual harassment, hate speech, or threats of physical harm directed toward these public figures.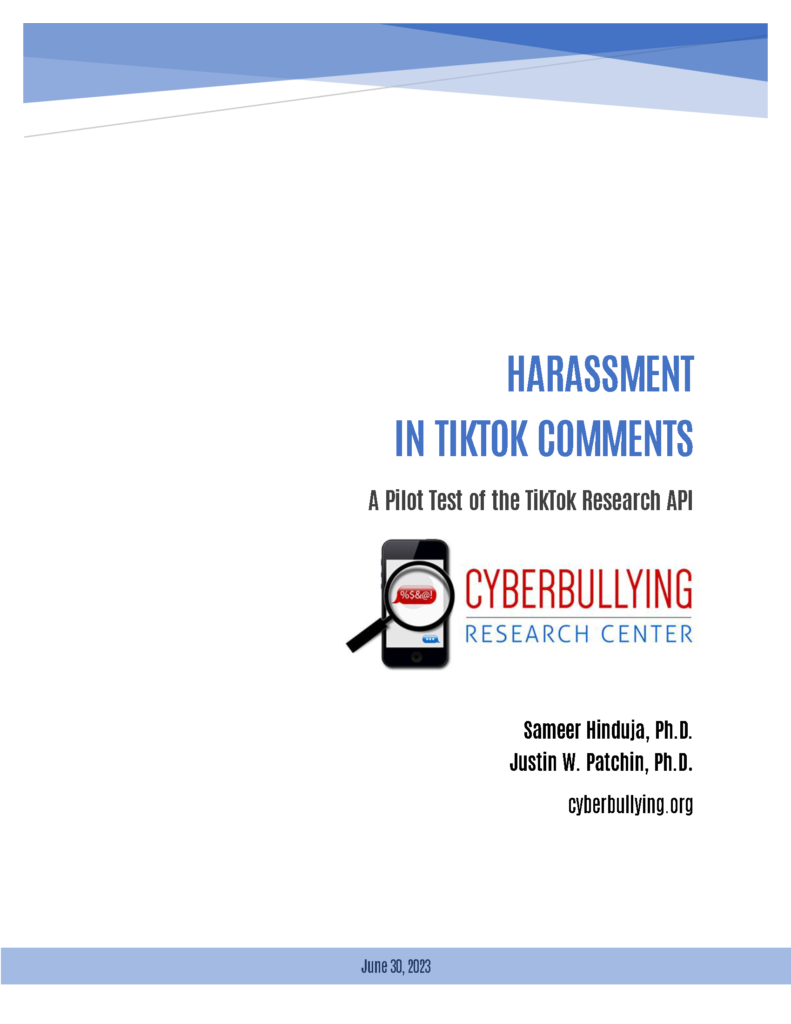 Public figures may be harassed more often than the average social media user because they have more exposure, influence, and followers. This may attract more attention, criticism, or envy from others when they express their perspectives.3 They may also face more targeted or coordinated attacks from groups or individuals who have political, ideological, or personal motives to do harm towards them.3
Public figures may also have more resources, support, experience, and/or resilience to deal with such attacks. Many presumably have social media handlers, legal support staff, and public relations and communications teams ready and able to serve as a protective layer against online aggression from others. All of this said, the presence and activity of public figures on TikTok is arguably one of the main reasons why private figures (i.e., general members of society) use the platform: to connect with and hear from those individuals who have achieved success and who occupy elevated positions in their respective fields. Accordingly, it seems prudent for the platforms that invite and host their presence and participation to more fully understand what public figures face, and then safeguard and enhance their experience so that they feel safe within the community.
For this pilot test, we identified 10 politicians and 10 celebrities that are among the most visible and active on TikTok. Some within our sample post more frequently than others, and one of the politicians has not posted new videos in 2023, but the goal was to focus on the public figures with a significant following. We then used their Research API to obtain a corpus of over 154,000 comments before proceeding with programmatic and manual analysis to identify general harassment, sexual harassment, hate speech, threats, or other forms of abuse. We have just released our report entitled Harassment in TikTok Comments: A Pilot Test of the TikTok Research API, which details our findings, the challenges we encountered using their API, directions for future research endeavors using this tool, and more.
You can download the report here.
References
1.         Lee C. TikTok now has 150 million active users in the U.S., CEO to tell Congress. NBCNews.com, March 19, 2023. Accessed June 28, 2023. https://www.nbcnews.com/politics/congress/tiktok-now-150-million-active-users-us-ceo-tell-congress-rcna75607
2.         TikTok. Research API Overview. TikTok.com. Accessed June 19, 2023. https://www.tiktok.com/transparency/en-us/research-api/
3.         Vincent J. TikTok bans deepfakes of nonpublic figures and fake endorsements in rule refresh. The Verge, March 21, 2023. Accessed June 18, 2023. https://www.theverge.com/2023/3/21/23648099/tiktok-content-moderation-rules-deepfakes-ai