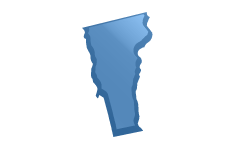 In Vermont, minors engaging in sexting will be adjudicated delinquent and may be referred to the juvenile diversion program for the first offense. For subsequent offenses, they may be prosecuted for sexual exploitation of children, but do not have to be a part of the sex offender registry. All records will be expunged on the minor turning eighteen. It is not a violation if the person that received the text deleted the image.
https://law.justia.com/codes/vermont/2012/title13/chapter63/section2802b/
Revenge porn: §2606. DISCLOSURE OF SEXUALLY EXPLICIT IMAGES WITHOUT CONSENT
A person violates this section if he or she knowingly discloses a visual image of an identifiable person who is nude or who is engaged in sexual conduct, without his or her consent, with the intent to harm, harass, intimidate, threaten, or coerce the person depicted, and the disclosure would cause a reasonable person to suffer harm. A person may be identifiable from the image itself or information offered in connection with the image. Consent to recording of the visual image does not, by itself, constitute consent for disclosure of the image. A person who violates this subdivision (1) shall be imprisoned not more than two years or fined not more than $2,000.00, or both.
https://legislature.vermont.gov/statutes/section/13/059/02606