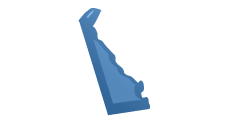 No sexting law as of July, 2022.
AN ACT TO AMEND TITLE 10 OF THE DELAWARE CODE RELATING TO THE DELAWARE UNIFORM CIVIL REMEDIES FOR UNAUTHORIZED DISCLOSURE OF INTIMATE IMAGES ACT. (signed 9/23/2020)
This Act adopts the Uniform Civil Remedies for Unauthorized Disclosure of Intimate Images Act. This Act addresses an increasingly common form of abuse that can cause severe and often irreversible harm: the disclosure of private, sexually explicit images without consent. Much of the abuse is carried out electronically through internet websites, social media, email, or text messages, making it an interstate problem that is particularly suited for treatment by uniform state laws. This Act provides a uniform, comprehensive, clear, fair, and constitutionally sound definition of this harmful conduct and remedies for the harm it causes. Some intimate images disclosed without consent were originally created with consent or obtained within a confidential relationship. In other cases, the images were originally created or obtained without consent through surreptitious recording devices or other forms of voyeurism, or through theft, computer hacking, coercion, bribery, fraud, or force. Like many existing privacy laws, this Act applies only to sensitive content created or obtained under circumstances in which the individual had a reasonable expectation of privacy. Also similar to existing privacy laws, the Act includes limited exceptions for certain disclosures, including those made in the course of law enforcement, legal proceedings or education, medical treatment, or investigations of misconduct. This Act also includes an exception for disclosures relating to matters of public concern or public interest and disclosures reasonably intended to assist the victim. The Act further notes federal statutory limitations on the liability of providers and users of interactive computer services. The Act is narrowly drafted to avoid imposing liability on a discloser who lacks the requisite awareness of any of these elements: (1) that the image was created or obtained under circumstances in which the individual had a reasonable expectation of privacy or that the image was obtained through theft, bribery, false pretenses, voyeurism, or other wrongful acts, (2) that the individual shown in the image did not consent to the disclosure, or (3) that the individual shown was identifiable. (file:///C:/Users/patchinj/Downloads/SB169.pdf)
Revenge porn law: http://www.legis.delaware.gov/LIS/LIS147.NSF/vwLegislation/HB+260?Opendocument
"Revenge porn" typically refers to the situation where visual depictions are consensually given to an intimate partner who, after the end of the relationship, later disseminates them without the consent of the person depicted.
This bill further amends the existing crime of Violation of Privacy to make this offense a class B misdemeanor and to make this offense, when aggravated, a class G felony.