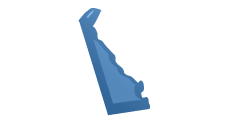 There is no sexting law in Delaware.  However, the law below may be indirectly or directly implicated.
Revenge porn law: http://www.legis.delaware.gov/LIS/LIS147.NSF/vwLegislation/HB+260?Opendocument
"Revenge porn" typically refers to the situation where visual depictions are consensually given to an intimate partner who, after the end of the relationship, later disseminates them without the consent of the person depicted.
This bill further amends the existing crime of Violation of Privacy to make this offense a class B misdemeanor and to make this offense, when aggravated, a class G felony.