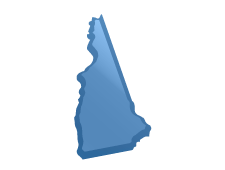 RSA 193-F:4. Pupil safety and violence prevention.
I. Bullying or cyberbullying shall occur when an action or communication as defined in RSA 193-F:3:
(a) Occurs on, or is delivered to, school property or a school-sponsored activity or event on or off school property; or
(b) Occurs off of school property or outside of a school-sponsored activity or event, if the conduct
interferes with a pupil's educational opportunities or substantially disrupts the orderly operations of the school or school-sponsored activity or event.
Took effect July 1, 2010
HB 1523 (2010); Update which revises the Pupil Safety and Violence Prevention Act. "The sole purpose of this chapter is to protect all children from bullying and cyberbullying." RSA 193-F:2 through RSA 193-F:5 are repealed and reenacted, and 193-F: 6 through 193-F:10 added. Takes effect beginning July 1, 2010. http://www.gencourt.state.nh.us/legislation/2010/hb1523.html
The school board of each school district shall adopt a written policy prohibiting bullying, harassment, intimidation, and cyberbullying. A school district shall involve, to the greatest extent practicable, pupils, parents, administrators, school staff, school volunteers, community representatives, and local law enforcement agencies in the process of developing the policy. To the extent possible, the school district policy should be integrated with the school's curriculum, discipline poli­cies, behavior programs, and other violence prevention efforts.
2000 N.H. Laws, S.B. 360; HB 1523; Creates the Pupil Safety and Violence Prevention Act.  Requires local school boards to adopt a pupil safety and violence prevention policy that addresses bullying and provides technical assistance. Requires school employees to report any information regarding bullying behavior to the school principal and provides immunity to any school employee who makes such a report from any cause of action arising from a failure to remedy the reported incident.
Criminal electronic harassment (does not expressly include electronic forms): http://www.gencourt.state.nh.us/rsa/html/lxii/644/644-4.htm