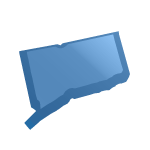 Signed by governor on 7-13-2011; "An Act Concerning the Strengthening of School Bullying Laws", or S.B. 1138).
"Cyberbullying" means any act of bullying through the use of the Internet, interactive and digital technologies, cellular mobile telephone or other mobile electronic devices or any electronic communications…" School policies must "include provisions addressing bullying outside of the school setting if such bullying (A) creates a hostile environment at school for the victim, (B) infringes on the rights of the victim at school, or (C) substantially disrupts the education process or the orderly operation of a school…" http://www.cga.ct.gov/2011/TOB/S/2011SB-01138-R00-SB.htm
H.B. 5826 (2008): http://www.cga.ct.gov/2008/ACT/PA/2008PA-00160-R00HB-05826-PA.htm Requires schools/school districts to implement anti-bullying policies.
2002 Connecticut Public Act 2-119, SHB 5425; Statutes § 10-222d; defines a policy that Schools must adhere to for the severity of bullying but does not clearly define punishments nor explain thoroughly what bullying means.
Criminal electronic harassment:
Harassment in the first degree: Class D felony.
Harassment in the second degree: Class C misdemeanor.