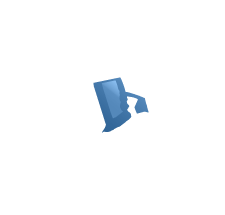 Rhode Island General Laws Title 16. Education § 16-21-34.
The Rhode Island department of education shall prescribe by regulation a statewide bullying policy, ensuring a consistent and unified, statewide approach to the prohibition of bullying at school.  The statewide policy shall apply to all schools that are approved for the purpose of § 16-9-1 and shall contain the following:
(1) Descriptions of and statements prohibiting bullying, cyber-bullying and retaliation of school;
(15) Students shall be prohibited from accessing social networking sites at school, except for educational or instructional purposes and with the prior approval from school administration.  Nothing in this act shall prohibit students from using school department or school websites for educational purposes.  School districts and schools are encouraged to provide in-service training on Internet safety for students, faculty and staff;
(https://codes.findlaw.com/ri/title-16-education/ri-gen-laws-sect-16-21-34.html)
CHAPTER 16-21—Health and Safety of Pupils (SECTION 16-21-34) http://webserver.rilin.state.ri.us/Statutes/TITLE16/16-21/16-21-34.HTM
Statewide bullying policy: http://www.ride.ri.gov/Portals/0/Uploads/Documents/Statewide-Bullying-Policy.pdf (June 30, 2012)
2012, 2008: General Laws §16-21-26; school districts adopt policies to determine how to deal with this bullying; repeat offenders of the policy under Rhode Island general law will go to family court.

http://www.rilin.state.ri.us/BillText08/SenateText08/S2012B.pdf

(Repealed)
Criminal electronic harassment: Cyberstalking and cyberharassment prohibited.