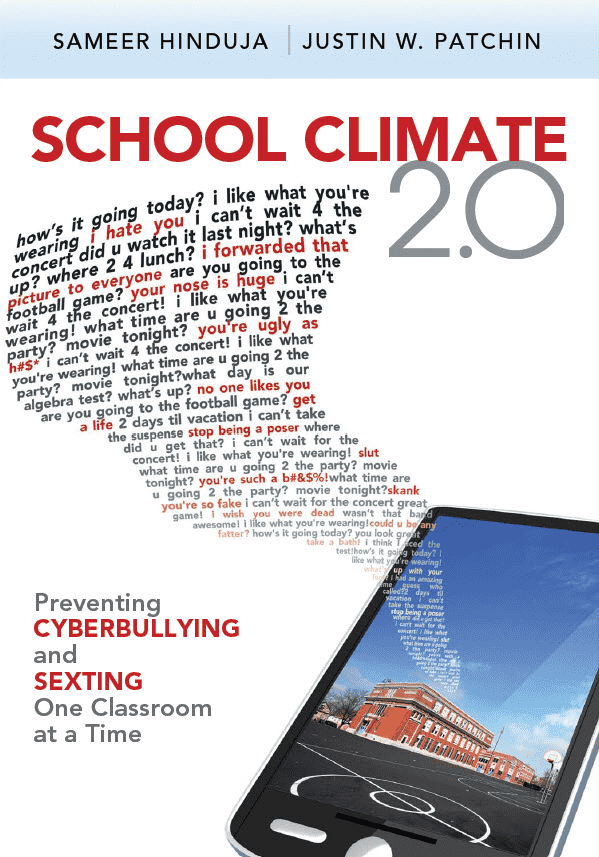 By Sameer Hinduja and Justin W. Patchin
"School Climate 2.0" seeks to explain and promote the importance of creating and maintaining a positive school climate in unique ways to reduce teen technology misuse.  Available books on this topic simply describe the nature of cyberbullying or sexting (e.g., what it looks like, how much of it is occurring and among whom) and offer an assortment of random suggestions to deal with the problem.  We seek to meaningfully build on that knowledgebase by offering numerous informed, creative, and practical strategies within a novel framework to improve the existing school environment and consequently foster increased positive behavior, both online and offline.  The book is supported by over 10 years of research among thousands of teens, teachers, parents and others who work with youth.
Within "School Climate 2.0", we concisely summarize the scope, prevalence, and nature of cyberbullying and sexting, and encourage educators to marshal the powers of peer influence and school culture to curtail these behaviors.  The majority of the book introduces and details specific, pragmatic school climate initiatives that educators can implement in their schools. These include social norming, youth grassroots campaigns, peer mentoring, data-driven action plans, and multi-pronged policy and programming approaches by adults. Our overall goal is to enlighten educators, parents, and teens about the tremendous value inherent in a positive school climate, not only to enhance student achievement, success, productivity, and connectedness, but because a healthy, respectful climate at school will produce students who are safe, smart, honest, and responsible while using technology.
Hinduja, S. & Patchin, J. W. (2012). School Climate 2.0: Preventing Cyberbullying and Sexting One Classroom at a Time. Thousand Oaks, CA: Sage Publications.